Back at the track again, De Villota hears the engines roar and knows she's glad to be alive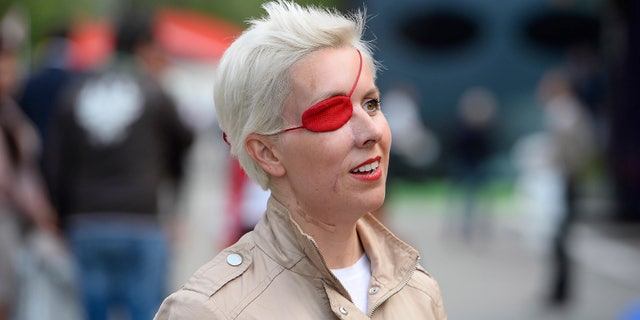 BARCELONA, Spain – Maria de Villota heard the roaring engines again.
She was in a Formula One paddock for the first time since her accident last July when she was an F1 test driver for Marussiain. She lost her right eye and nearly died.
Now, the 33-year-old Spaniard was back at the track after a sleepless night from nerves and anticipation.
"I've been racing my whole life. This has been my world and I have a big stop in my life for 10 months," De Villota told The Associated Press at the Spanish Grand Prix. "Now I'm here again. So I needed to check myself, my feelings, how I was going to react."
Walking through the gates was difficult, the sounds and smells triggering memories.
"It's a mix of adrenaline and also a little bit of sadness," she said. "It's a great weekend but on the other hand it's also not easy. But I think I'm going to enjoy (the race) on Sunday."
After her accident, she underwent operations for severe head and facial injuries in England before being transferred to Madrid's La Paz University Hospital. Doctors there had no need to perform brain surgery but she continues to be monitored by brain and eye specialists.
She was driving an F1 car for only the fourth time — and first for Marussia — when she hit a support truck during an exercise near an airfield in England on July 3. An internal team investigation concluded the car was not at fault.
Nearly a year later, it still feels raw.
"What should I tell you? I have dedicated my whole life to being a Formula One driver. That part of my life ... so many efforts, so many years," De Villota says, pausing to reflect on how her racing career was cut short in its prime.
"It's still a tough thing to think (about). But I'm alive, that's the other thing," she says, her mood brightening. "Doctors came and just said: 'This is like a miracle, Maria, we cannot believe you're alive.' I have been right into the line (close to death). When you realize you have a second chance in life, you don't have any other way to live it than with a big smile in your face."
De Villota is a daughter of a former F1 driver, British GP winner Emilio de Villota. She first drove an F1 car in 2011, a Renault R29 at the Paul Ricard circuit in Marseille, France.
She is close friends with Susie Wolff, an F1 development driver for Williams.
Although she can't race again, De Villota would like to be involved in motor sports in some capacity.
"Yeah, of course. It's still my escape," she said. "I hear for the first time in 10 months the noise of the engine and then my whole body reacts. For sure I would like to be involved."
She was warmly greeted Friday when she walked around.
"I spoke with Fernando (Alonso), I spoke with Checo (Sergio Perez)," she said. "When you are in the hospital, and you get their support, it was so important for me. Because you feel this tiny, you feel so small in that moment. You feel that you're not worth it."
Wolff has a special role to play in De Villota's recovery.
"As I told her, I cannot drive anymore but every time she's in the car I feel like I'm with her," said De Villota, who is raising funds for the Ana Carolina Diez Mahou foundation for children who have neuromuscular and mitocondrial diseases.
Wolff is just the fourth woman in a decade to drive an F1 car. She dedicated her first experience to De Villota, who says there should be more women riding.
"I think it's going too slowly. I think it's very difficult to get the respect, to get the encouragement," she said. "It's taking so much time. I really think that Susie needs that chance. We need to have our representation on the grid and I think she deserves it.
"Girls in go-karting need a reference (like) Susie, so they can say: 'OK, I want to be like her.' If you don't have a reference, how are you going to imagine what you want to be? For the guys it's easier because they say: 'I want to be like Fernando.'"