Attorney says Jon Jones was a victim of a contaminated product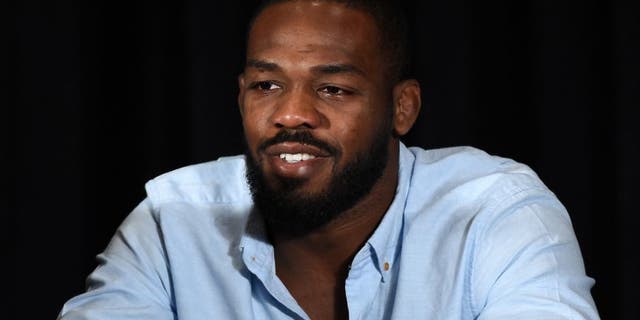 Jon Jones has his defense ready ahead of arbitration with USADA (United States Anti-Doping Agency) that will take place on Oct. 31.
According to Jones' attorney Howard Jacobs, the fighter was the victim of a contaminated product that he was taking in the lead up to his last scheduled bout with Daniel Cormier at UFC 200. Jones tested positive for two different anti-estrogen drugs in an out of competition test administered ahead of the fight.
The two substances found in Jones' system are banned by WADA (World Anti-Doping Agency) at any time by an athlete. Anti-estrogen drugs can be used for several different ways as a performance enhancer, but most notably they can be used to counteract the negative side effects of steroids.
Jacobs said that they've had the product tested and USADA also had the same product tested and the results both came back the same despite the supplement not having either substance listed in its ingredients.
"We've been able to establish the source of the prohibited substances," Jacobs told Sirius XM recently. "It came from a product that Jon took that was not labeled with either of these substances. We had it tested, the product was contaminated with both of them.
"I know USADA also independently had the product tested -- their testing confirms what we found. We then sent essentially the same pills that we had had tested to be tested by USADA's lab, which also found the same thing. So pretty much every time it's been tested, it's shown that the product is contaminated with both Clomiphene and Letrozole -- the two substances (found in Jones' system)."
Jacobs hopes that when he sits down with the arbitration panel on Halloween that they will see the facts of the case and offer Jones a reduced sentence.
Jones could receive anything from a warning from USADA for the infraction up to a one-year suspension for the incident.
"It should definitely lead to a significant reduction, that's our position," Jacobs said. "The way the anti-doping rules, at least with the UFC program, are written, they mirror the World Anti-Doping Code to some extent.
"There are some differences but essentially in a case like this you can't argue that you have no fault if you take a supplement or product that's contaminated but you can argue that you're not significantly at fault, which gives you the ability to argue for a reduced sanction. So the sanction range under the UFC rules would be between a warning at a minimum and of course the maximum is at a year."
Fellow UFC fighters Yoel Romero and Tim Means have both used the tainted supplement defense in previous cases with USADA and ultimately received reduced sentences as a result. Romero and Means were ultimately given six-month suspensions as a result of the contaminated supplements.
Jones' attorney may be confident about the upcoming hearing with USADA, but the judgment could still be overruled by the Nevada State Athletic Commission when they meet with the fighter in November.
Because Jones tested positive for a banned substance while licensed in Nevada for his fight with Cormier, the commission will still hold a hearing to decide on any punishment they could dole out.
In other words even if USADA ultimately only punishes Jones with a six-month suspension, Nevada could drop the hammer and suspend him for any amount of time they deem fit even if the tainted supplement defense was already proven by a different governing body.
Jones will first have his arbitration with USADA on Oct. 31 and he is then expected to appear before the Nevada Commission on Nov. 10.