Ashton Eaton wins second straight Olympic decathlon gold medal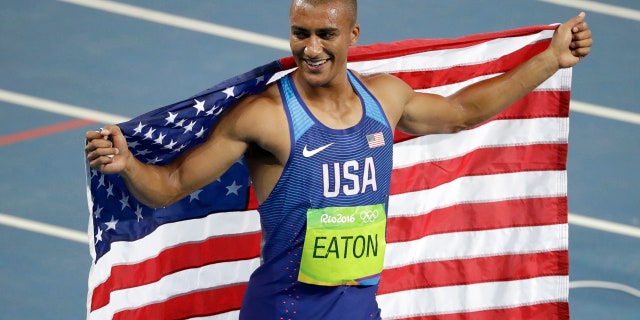 RIO DE JANEIRO – Ashton Eaton retained his title by tying the Olympic record in the decathlon, Ryan Crouser led an American one-two in the shot put with a new games record, and Kerron Clement delivered another gold for the United States in the 400 hurdles.
The "awesome hour" of the night before had evolved into a pretty great 24 hours for the U.S by Thursday night.
Also, the U.S. women's 4x100-meter relay team stayed on track for a medal, getting through on their second chance after re-running their race on their own because Allyson Felix was bumped making a handover in the preliminaries. The baton went down, the Americans protested, and they got another go.
With just the clock and the crowd for company in their re-run hours later, they took the stick around in 41.77 seconds to knock slowest-qualifier China out the final and get in through the back door.
"We were laughing and joking out there," said English Gardner, who ran the anchor leg. "Our coach said before we went out there, 'It's just like practice, just the whole world will be watching. Be patient, stay patient with each other, and just do your job."
World champion Eaton finished with 8893 points, incredibly matching exactly the Olympic record after 10 lung-busting events. He finished third in the final event, the 1,500 meters, to win gold from France's Kevin Mayer on 8,834 points. Canada's Damian Warner took the bronze.
Eaton has now won successive Olympic and world titles to confirm his status at the best all-around athlete in the world.
Crouser threw two personal bests in the shot before his Olympic record of 22.52 meters beat world champion and fellow American Joe Kovacs, who took silver at 21.78. New Zealand's Tomas Walsh got bronze with 21.36.
Crouser's Olympic record delivered his first major title.
With three days of competition to come after Thursday, the United States was up to 23 medals in track and field after Eaton's triumph, including eight gold. In one burst Wednesday night, dubbed the "awesome hour" by victorious long jumper Tianna Bartoletta, the U.S. team added six medals in around 60 minutes.
Also Thursday, South Africa's Caster Semenya, the outright favorite for the women's 800-meter title, qualified for the final as she breezed to victory in her semifinal heat, pretty much unchallenged, in 1 minute 58.15 seconds. It was the fastest time of the semifinals.
Eaton had briefly darted away from the decathlon in the morning session to congratulate Clement as his teammate knelt exhausted in the midday sun after the 400-meter hurdles final.
"I felt somebody ... I didn't know who it was. I was on the ground, exhausted," Clement said. "I'm sure when I get back to the village, I'll thank him."
Hurdler Clement was so confident of a first Olympic individual gold, he had his mother, Claudette, bring a star-spangled banner from home.
"We had a flag at home and I told her to bring the flag. I knew I was going to win," Clement said.
However tough his task was, it was made easier when Javier Culson, the 2012 Olympic bronze medalist from Puerto Rico, was disqualified for a false-start. Clement has been decorated enough, with two world championship gold medals, but the Olympic title had eluded him. Now he has gold, yet another one for the buoyant U.S. team, to go with his 400 silver and 4x400 relay gold from the 2008 Beijing Games.
Boniface Mucheru Tumuti of Kenya took silver, 0.05 behind, and Cuban-born Yasmani Copello of Turkey, the European champion, won bronze in 47.92. Four of the finishers produced national-record times, including Tumuti and Copello.
Without Usain Bolt, Jamaica's relay team did its bit to help the superstar's quest for an historic triple-triple at the Olympics. With Bolt focusing on the 200 final — part 2 of 3 for him in Rio — the Jamaicans qualified for the 4x100 final behind heat-winner Japan.
Veteran Asafa Powell just wanted to make sure that the Jamaicans didn't do anything stupid and Bolt will get the chance to run in the final on Friday.
"I was a lot more concerned about the start and getting the baton around. I mean, these guys, they're pretty excited," Powell said. "That's what gave me a bit of comfort, that they really wanted it so bad. There was some pressure to make it to the finals."