Argentina's del Potro returns for latest comeback with win at Wimbledon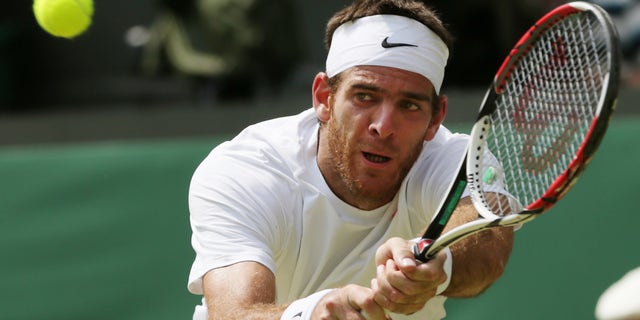 LONDON (AP) – Once deemed the "next big thing" in tennis, 2009 U.S. Open champion Juan Martin del Potro grew so frustrated after needing three operations on his left wrist that he considered quitting the sport last year at age 27.
Too many setbacks.
Too many comebacks.
He stayed the course, though, and on Tuesday, ranked only 165th, del Potro played his first Grand Slam match in 2½ years, moving into the second round at Wimbledon with a 6-1, 7-5, 6-0 victory over Stephane Robert, a Frenchman ranked 79th.
"I'm enjoying tennis again. I'm starting to talk about tennis and (not) about my wrist. That's important," del Potro said. "I would like to stay here on tour for (a few more) years. I think I'm close to get that goal."
This is del Potro's first appearance at the All England Club since losing to Novak Djokovic in the 2013 semifinals.
In January 2014, the Argentine lost in the second round of the Australian Open, then two months later had wrist surgery that sidelined him for the rest of that season. Two other procedures cut short his 2015 schedule.
"I'm feeling better, week by week. I'm doing all my steps. ... I wake up and I can (plan) my practice and I do it," del Potro said. "That's important for my mind, as well, because I'm not thinking about treatments or injuries or doctors or nothing like that."
He is right-handed, but he uses his left wrist on two-handed backhands, and it is clear that he is not quite fully comfortable hitting that shot.
The 6-foot-6 (1.98-meter) Del Potro's best, most imposing strokes have always been his big, flat forehand and his serve, and that is very much the case nowadays.
Against Robert, del Potro managed to produce 20 outright winners off the forehand wing — and zero with his backhand.
"I'm working hard mentally, too," said del Potro, who beat Roger Federer in the U.S. Open final seven years ago, "because I have to deal with some pains and some frustrations when I want to hit a good backhand, and I cannot do it."
He figures to face a much sterner test in the second round against No. 4-seeded Stan Wawrinka, who has won the Australian Open and French Open once apiece.
They have met five times previously, and del Potro leads the series 3-2, but the most recent encounter was back in 2012. There was one head-to-head match at Wimbledon, in 2008, which Wawrinka won in straight sets.
"For me, it's going to be interesting to play against him. It's been many years," said Wawrinka, who advanced Tuesday by beating 18-year-old American Taylor Fritz 7-6 (4), 6-1, 6-7 (2), 6-4.
"For sure, I think we (are) all happy that he's back on the tour, hopefully without any injury (so) he can play for long now," Wawrinka said about del Potro. "He's always been a great champion, a great player to watch."
Like us on Facebook
Follow us on Twitter & Instagram