Aramis Ramirez, Alfonso Soriano Dream of Cubs World Series Title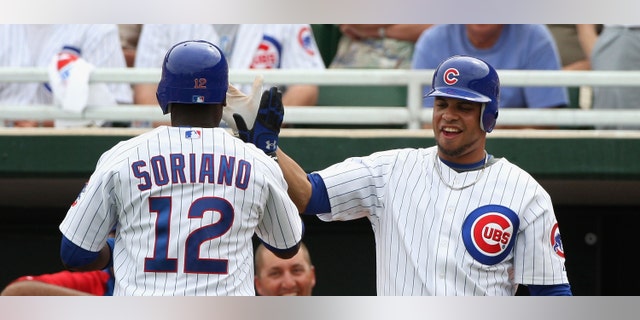 Aramis Ramirez has seen the highs and lows of what it means to be a Cub throughout his nine years on the north side of Chicago. And there is no doubt that this season qualifies as one of the lows during his tenure.
The Cubs wrapped up their home schedule at Wrigley Field on Wednesday and, with six games remaining this season, the "Lovable Losers" are in St. Louis this weekend for a meaningful three-game series. They close out one of the worst seasons in team history next week.
The end of a season without a World Series leaves players and fans with all-too-familiar emptiness. They last won a championship in 1908.
Now, 102 years removed from that glory, the team has a lot of questions to answer.
Do they sign Albert Pujols or fall back and rebuild? Can they live with Carlos Zambrano, who has trouble controlling his emotions and blows his top far too often? Do they bring back Ramirez, who recently said he will test free agency?
Alfonso Soriano, on the other hand, is a sure bet to be back since his contract is nearly immovable.
Both Ramirez and Soriano wonder what bringing a World Series to the Cubbies would mean not only to them, but to a legion of fans, one of the most loyal in sports. And they don't believe in curses involving the Billy Goat, the Black Cat and Steve Bartman.
They simply place the blame on the product that's on the field.
Ramirez came up as a 20-year-old and was stuck for his first five and a half seasons in a losing situation in Pittsburgh. It was all he knew until the Cubs traded for him on July 23, 2003.
Later that year, bad luck – as it always seems to with the Cubs – struck.
Ramirez was on the field in Game 6 of the NLCS against the Marlins in 2003. The Cubs were five outs away from going to the World Series for the first time since 1945, when a fly ball – one Moises Alou would likely have caught – lofted toward the stands and right toward Bartman.
He reached for it, and the rest is history.
"No I don't believe in that," Ramirez told Fox News Latino. "I believe in good baseball players and ballplayers that don't get the job done.
"If you do your job in between lines, you'll be good," he added. "I don't believe in curses and none of that stuff. If they haven't won it's because they haven't done the job on the field."
Ramirez added the the ball was foul on that fateful night. A barrage of hits, not to mention one costly error, followed.
"Things just went down from there," he said. "If we had done things the way they were supposed to be done, we would have gone to the World Series."
In Soriano's case, he caught a glimpse of what October baseball was all about in his first three years with the New York Yankees before spending his next three seasons in Texas and Washington.
While he went to the postseason in his first two seasons in Chicago, he, too, discarded the role of curses in the franchise's history of misfortune and losing.
"That stuff is nonsense. That's silly because those are things happened because they had to happen," he said. "You know, those are not things that are curses."
He blamed injuries that he and the rest of teammates have suffered as to why the team has been in a funk over the last three seasons. Two starters, Randy Wells and Andrew Cashner, got hurt in April, poor play followed, and a repeat of the losing continued for the rest of 2011.
On two separate occasions with the Yankees, Soriano's shot at a ring in October was dashed. Against the Arizona Diamondbacks in 2001, he hit a Game 7 blast that put the team ahead before ultimately losing the World Series in the bottom of the ninth inning. Two years later, the Yankees lost to the Marlins in six games.
As his contract nears an end, he says that winning it all in Chicago would be very special.
"That's something that all of the players that are here and the fans have been waiting for years," said Soriano, the highest paid player on the team. "We're waiting for one of these years, be it next year or 2013...the Chicago fans are great fans and they deserve more."
As for Ramirez, the future free agent knows baseball is a business. But he doesn't rule out a return, and would welcome back Zambrano, who has been away since his latest meltdown.
Aside from Cubs' great Ron Santo, there hasn't been another third baseman as productive as Ramirez.
"I have had some of the best years of my career here in Chicago. It's not good to be changing cities and teams. I would like to win a title here in Chicago," Ramirez said.
The team ends the schedule on Wednesday in San Diego. The best Cubs' fans can hope for is next year.
But when, or if, that dream is realized, Ramirez thinks it would be out of this world.
"It's been more than 100 years. Cubs fans are all over the place. Wherever you go, they follow us," he added. "You can't imagine it."
And so as another season wraps up next Wednesday at San Diego, Cubs fans will once again try to imagine what a title would be like.
Adry Torres, who has covered MLB, NFL, NBA and NCAA basketball games and related events, is a regular contributor to Fox News Latino. He can be reached at elpiloto137@gmail.com or follow him on Twitter: @adrytorresnyc
Follow us on twitter.com/foxnewslatino
Like us at facebook.com/foxnewslatino