Antti Niemi tops NHL's 'Three Stars of the Week'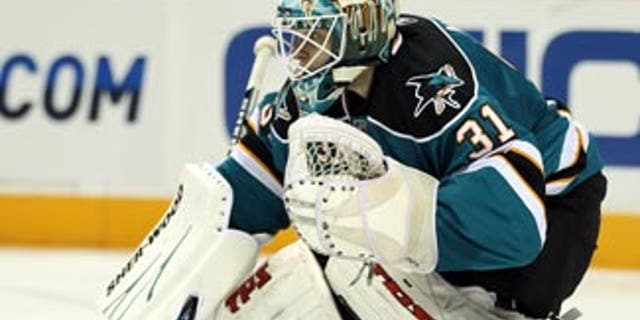 NEW YORK -- San Jose Sharks goalie Antti Niemi, New Jersey Devils goalie Johan Hedberg and Edmonton Oilers right wing Ales Hemsky have been named the NHL's 'Three Stars' for the week ending Feb. 13.
FIRST STAR – ANTTI NIEMI, G, SAN JOSE SHARKS
Niemi posted a 3-0-0 record, 0.98 goals-against average, .963 save percentage and one shutout as the Sharks (33-21-6) climbed to fourth place in the Western Conference standings. Niemi stopped 78 of 81 shots last week, beginning with a 30-save performance in a 2-1 overtime victory over the Nashville Predators Feb. 15. He recorded 23 saves in a 3-2 win over the Washington Capitals Feb. 17 and stopped 25 shots for his fifth shutout of the season in a 4-0 win over the Colorado Avalanche Feb. 19. Niemi improved his season record to 20-15-3 with a 2.43 goals-against average and .919 save percentage in 39 appearances. The 27-year-old native of Vantaa, Finland has started each of the Sharks' past 15 games, posting an 11-2-1 record in that span.
SECOND STAR – JOHAN HEDBERG, G, NEW JERSEY DEVILS
Hedberg posted a 3-0-0 record, 1.00 goals-against average, .956 save percentage and one shutout, helping the Devils (25-30-4) push their record over the second half of the season to an NHL-best 15-1-2. Hedberg stopped 65 of 68 shots last week, beginning with a 25-save performance in a 3-2 victory over the Carolina Hurricanes Feb. 16. He recorded 16 saves in posting his second shutout of the season, a 1-0 win over the New York Rangers Feb. 19, and stopped 24 shots as the Devils defeated Carolina 4-1 on Feb. 19. The 37-year-old native of Leksand, Sweden improved his season record to 12-10-2 with a 2.45 goals-against average, .909 save percentage and two shutouts in 29 appearances. He has won each of his six starts since Devils goaltender Martin Brodeur suffered a knee sprain Feb. 6 at Montreal.
THIRD STAR – ALES HEMSKY, RW, EDMONTON OILERS
Hemsky led all scorers last week with seven points (four goals, three assists) as the Oilers (19-32-8) posted three consecutive victories. Hemsky tallied multiple points in each game, beginning with one goal and one assist in a 4-1 victory over the Dallas Stars Feb. 15. He notched a pair of goals in a 4-1 win over the Montreal Canadiens Feb. 17 and recorded a goal and two assists, all in the third period, in a 5-3 comeback win over the Atlanta Thrashers Feb. 19. Playing in his ninth NHL season, all with the Oilers, the 27-year-old Pardubice, Czech Republic native leads the Oilers in scoring with 40 points (13 goals, 27 assists) in 42 games. He has 11 points in his past eight games (4-7--11) and is seven points shy of 400 for his career (113-280--393).