Allen signs one-day contract to retire as Viking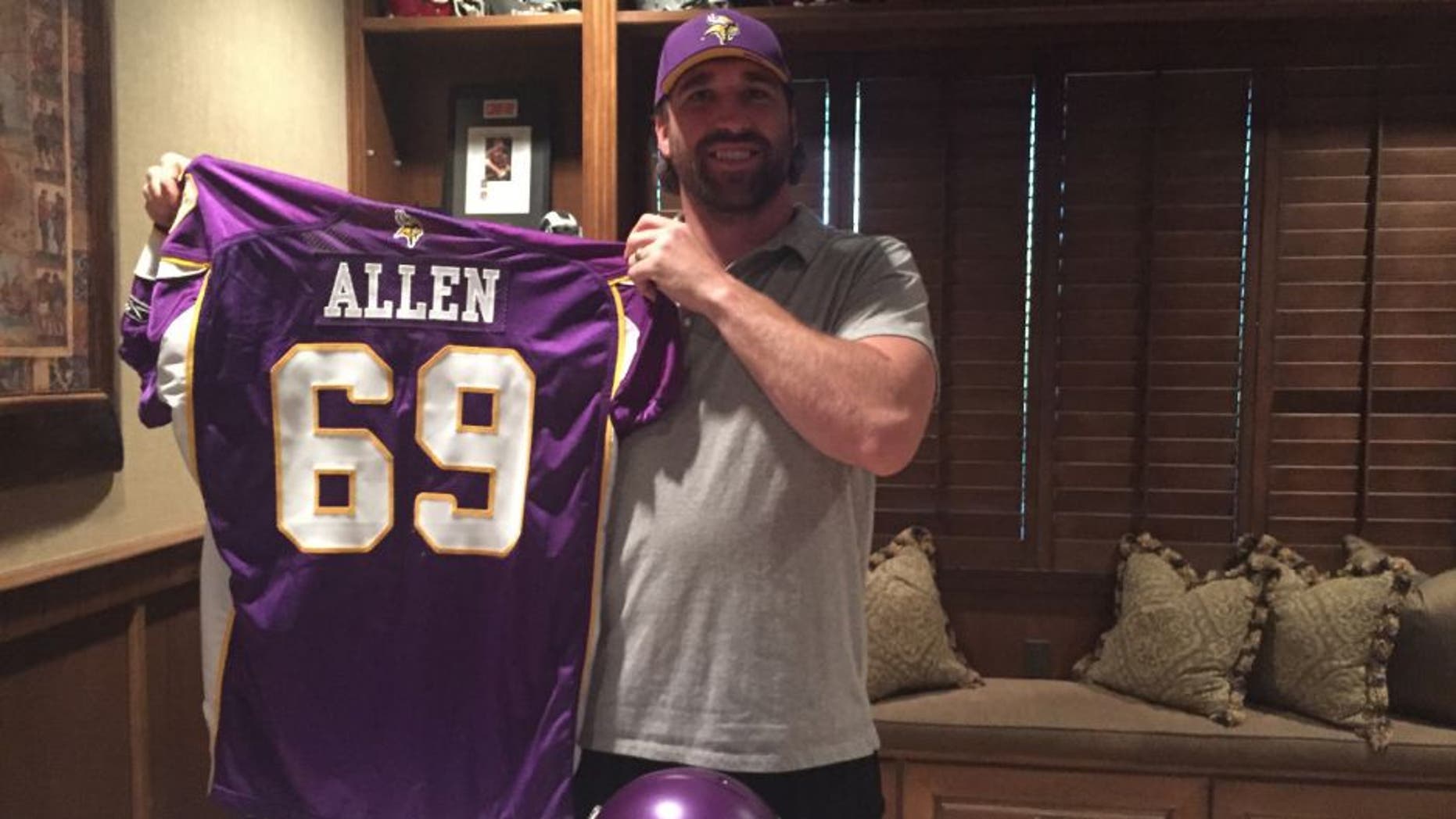 When Jared Allen announced his retirement he literally rode off into the sunset. Turns out he had one more stop to make. The All-Pro defensive end will officially end his career as a member of the Minnesota Vikings.
The 12-year NFL veteran signed a one-day contract Thursday with Minnesota, where he spent half of his career. Allen played in 100 games for the Vikings, notching 83.5 sacks and helping the team to division titles in 2008 and 2009.
"And just like that I'm back ... for a day," Allen said in a video released by the team. "It feels good to put the purple back on. It's a place my heart never left. Love everybody."
Allen ranks third on the franchise's all-time sack list. In 2011 he recorded a franchise-record and league-best 22 sacks, finishing one-half sack away from tying Michael Strahan's single-season record (22.5).
"We are incredibly proud to have Jared retire as a member of the Vikings franchise," Vikings owner/chairman Zygi Wilf said in a statement. "Jared was not only a phenomenal player on the field, but he was also a favorite among the fans and within the organization. He will always be a member of the Minnesota Vikings family."
The Los Gatos, Calif., native was drafted in the fourth round in 2004 by the Kansas City Chiefs. He started 181 of 187 games in 12 seasons and tallied 136 sacks, ranking ninth all-time in NFL history.
Allen played this past season for the Carolina Panthers, helping the team to a Super Bowl appearance. He also played for the Chicago Bears in 2014-15.
"Jared's impact was evident throughout the Minneapolis-St. Paul community from the moment he came to Minnesota," Vikings General Manager Rick Spielman said. "While I am very proud of his accomplishments as a football player, I am just as impressed with Jared's leadership and personal growth during his six seasons here. I look forward to seeing what he accomplishes now that he is retired from football."