All-Star Game: AL Manager Assures Fans Mariano Rivera Will Take The Mound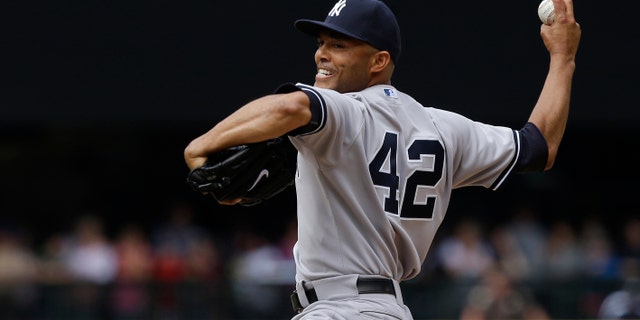 The first and last pitch of the All-Star game could well be "New York, New York."
Young ace Matt Harvey of the Mets will start for the National League on his home mound. Mariano Rivera, in his final season, may well finish for the American League.
With 30 saves in 32 chances and a 1.83 ERA in his farewell season for the New York Yankees, 43-year-old Rivera is still the best.
"I think it would be probably the most beautiful touch in the world if we could somehow get a lead on the National League and play the ninth inning with the greatest closer of all-time coming out of the bullpen," said Tigers manager Jim Leyland.
If not?
"You can rest assured, he will be on the mound at some point and you will see him pitch, whether it be to a hitter, an inning," Leyland said. "You will see No. 42 pitch."
A 13-time All-Star, still slender but his short-cropped hair receded, Rivera has thrown eight scoreless innings in All-Star games and has a record four saves.
"It's not emotional yet," he said. "Now, that could change by tomorrow."
The managers also announced their starting lineups Monday.
Bochy's batting order for the NL has Cincinnati second baseman Brandon Phillips leading off, followed by St. Louis right fielder Carlos Beltran, Reds first baseman Joey Votto, Mets third baseman David Wright, Colorado left fielder Carlos Gonzalez, Cardinals catcher Yadier Molina, Rockies shortstop Troy Tulowitzki, Colorado designated hitter Michael Cuddyer and Washington center fielder Bryce Harper.
In the AL, Leyland has the Los Angeles Angels' Mike Trout in left field and leading off, followed by New York Yankees second baseman Robinson Cano, Detroit third baseman Miguel Cabrera, Baltimore first baseman Chris Davis, Toronto right fielder Jose Bautista, Boston designated hitter David Ortiz, Orioles center fielder Adam Jones, Minnesota catcher Joe Mauer and Baltimore shortstop J.J. Hardy.
Based on reporting by The Associated Press.
Follow us on twitter.com/foxnewslatino
Like us at facebook.com/foxnewslatino