Albert Tumenov ekes out split decision win over Lorenz Larkin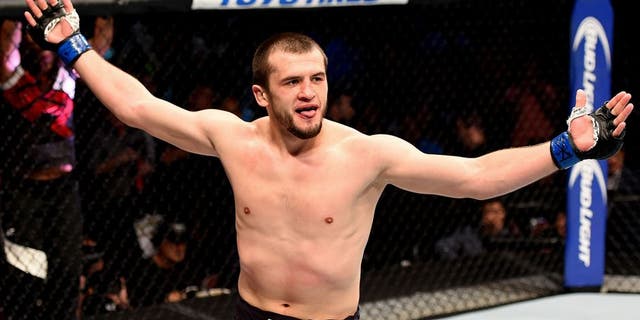 Albert Tumenov had to endure an absolute assault on his lead leg to out box Lorenz Larkin over three rounds to get a split decision win at UFC 195.
Tumenov, who has now won his last five fights in a row, had to battle through a ton of adversity to get the nod as Larkin gave him everything he could handle and more.
The bout pit two of the most dangerous knockout strikers in the division against each other and it was clear from the very start of the fight that Tumenov was going head hunting. The heavy-handed Russian put together a couple of flurries that pressured Larkin against the cage before uncorking a couple hard head kicks to finish the combination.
Larkin didn't back down an inch, however, and quickly fired back with a series of leg kicks that left Tumenov with a welt and a limp by the end of round one.
Larkin continued his assault with leg kicks in the second round, but Tumenov came back with a series of hard punches to the body including a series of vicious left hooks that crashed into the ribs over and over again.
With just about a minute to go in the second round, Tumenov landed arguably his best punch of the fight with a huge left that slammed home but as he walked back to the corner he had a noticeable limp once again from the barrage of leg kicks landed from Larkin through the first 10 minutes.
Larkin started to mix things up in the third and final round with a series of spin kicks that dug into Tumenov's thigh as the Russian's led leg turned a couple shades of purple from all the bruising.
Still, Tumenov stayed tough and refused to back down despite his leg beginning to fail him from all the abuse suffered from Larkin over the course of the fight.
As much damage as Larkin inflicted to the legs it was Tumenov's constant pressure and overall kickboxing game that gave him the advantage on two judges' scorecards in a very close split decision after three rounds.
The final scores came back 29-28 two times for Tumenov and the final 29-28 card in favor of Larkin.
Tumenov is going to be a tough matchup for anyone at welterweight and despite the loss, Larkin still remains a very dangerous fighter to watch now that he's found a home at 170-pounds.