After OT loss in opener, Rangers eager for split with Kings in Game 2 of Stanley Cup finals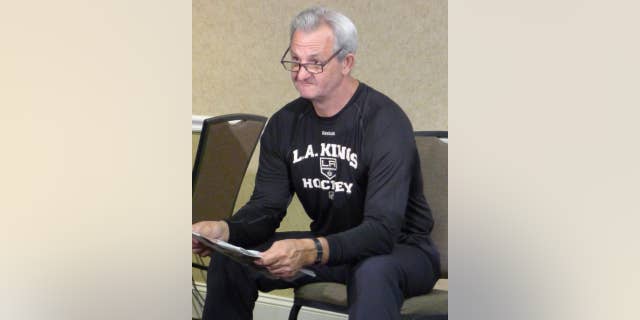 LOS ANGELES – Although Dan Girardi had two days to ruminate on the overtime turnover that led to the Los Angeles Kings' winning goal in the Stanley Cup finals opener, the Rangers defenseman only needed a few hours to put it behind him.
Girardi knows the Rangers can't think about the past if they hope to raise the Cup in the near future.
Los Angeles hosts New York in Game 2 on Saturday.
"We've got to move on," Girardi said. "It's a huge opportunity for us to get a win going back to our building. If we can find a way for everyone to pull in the same direction, we'll be fine."
The Kings are looking to keep up the momentum they established with their two-goal comeback in the opener — although coach Darryl Sutter insists momentum doesn't carry between playoff games. Despite that big finish, Los Angeles hopes it won't have to play from behind after overcoming two-goal deficits in each of its last two wins.
"We can't always get away with this (trailing) 2-0," left wing Marian Gaborik said. "We have to have a better start."
Here are five things to watch when the Rangers attempt to salvage a split at Staples:
EXTRA REST: The NHL gave the teams two days off before starting a potential sequence of four games and two cross-country flights in seven days. Both teams claim they've got plenty of pep despite their postseason grind, but the Rangers are particularly eager to atone for their dismal second half in the opener.
"I can tell you after the game, you wish you didn't have the (extra) off day," New York's Brad Richards said. "But as we go in today, get a good practice, now it's good to have that day to regroup."
GETTING BACK: Both teams could have key defensemen back in their lineups for Game 2. Sutter said Robyn Regehr "probably" would play after missing 14 consecutive games since May 3 with a knee injury. New York's John Moore is eligible to return from a two-game suspension for a head hit on Montreal's Dale Weise. Regehr and Moore, both stay-at-home defensemen, could add stability to their teams' back ends after a series opener featuring wild scoring chances both directions.
TIME TO GET NASHTY?: The Rangers insist Rick Nash is playing splendidly in the postseason, yet the seven-time 30-goal scorer has just three goals in New York's 21 playoff games, all in the Eastern Conference finals. The Rangers, who went scoreless in the final 49:33 of Game 1, are likely to need more offense if they hope to keep up with the Kings, who have five players with more postseason points than anybody on New York's roster.
"I've got to find a way to finish those chances," Nash said.
HOLLYWOOD SHUFFLE: Sutter juggled his lines for long stretches of Game 1, and his forwards responded to their new partners with a two-goal comeback and a dominant third period before winning in overtime. Los Angeles' four-line offensive balance has been a strength, and the Kings are winning without many goals from leading scorer Anze Kopitar, who has found the net just once in 15 games despite 13 assists. Los Angeles was the lowest-scoring team to make the playoffs, but has been the highest-scoring team in the postseason.
CENTER OF ATTENTION: Los Angeles is among the NHL's strongest teams up the middle, with Kopitar, Jeff Carter, Jarret Stoll and Mike Richards causing woe for every postseason opponent. New York's quartet of centers doesn't match up, but the Rangers nearly split faceoff victories with Los Angeles in the opener (29-28 for the Kings). Rangers coach Alain Vigneault sees aggressiveness against the Kings' pivots as a key.
"Our guys need to manage the puck better," Vigneault said. "We can play a faster game, and that's been one of our strengths."