After another blowout loss, Joe Philbin's days with Dolphins may be numbered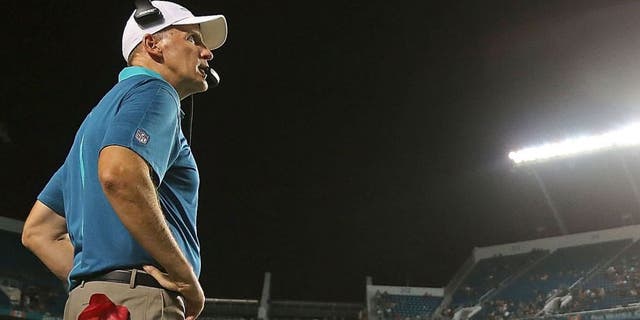 NEWYou can now listen to Fox News articles!
The team plane from London hadn't even landed stateside last season when word was already out that the Oakland Raiders were firing head coach Dennis Allen.
No one should be surprised if the same ignominious fate befalls Joe Philbin by the time he's back on terra firma in South Florida.
Even if the Miami Dolphins head coach keeps his job, this season has fallen apart so quickly there's little reason to believe he can keep it through December.
No one should be expecting a turnaround following Sunday's 27-14 loss to the New York Jets at Wembley Stadium. The Jets opened a 20-point lead while thrashing Miami in the same type of convincing fashion the 2014 Dolphins handled the Raiders in what proved Allen's final game in Oakland.
Remember all this offseason optimism surrounding the Dolphins following a slew of offseason personnel moves headlined by the Ndamukong Suh signing? It's long gone and replaced by a painful reality.
The Dolphins are 1-3, having lost three straight games following a lackluster season-opening victory over Washington. The run defense Suh was supposed to improve will likely be ranked last in the NFL after getting gashed for 207 yards by the Jets (Chris Ivory gained 166 of them). Miami's pass rush has produced just one sack.
The offensive picture is actually uglier. Miami's ground attack has no punch. Quarterback Ryan Tannehill can't hit deep passes and is taking a beating behind an overmatched offensive line.
Not all of this is Philbin's fault. The front office failed to adequately fix the guard and linebacker positions during the preseason. Cameron Wake, Miami's top pass rusher, is a shell of himself because of a hamstring injury and fellow end Olivier Vernon hasn't picked up the slack.
There's also something to be said for Dolphins players not quitting on their head coach Sunday by rallying enough to keep within striking distance until late in the fourth quarter.
That still may not be enough to save Philbin's job.
Philbin had three other seasons to get Miami into the playoffs and failed. The Dolphins have faded from the postseason picture by collapsing in December for two straight years under his watch. Philbin was and is still insistent that Kevin Coyle remain his defensive coordinator, a decision that has badly backfired.
The firing of top football executive Mike Tannenbaum or general manager Dennis Hickey also wouldn't cause a locker-room ripple or appease a fan base where disappointment has become par for the course. Philbin's dismissal would achieve both even though there isn't an obvious choice on his coaching staff who could fill-in on an interim basis and provide a spark.
"They're defeated man," ex-Dolphins cornerback Patrick Surtain wrote on Twitter during the first half. "I don't know what else to say."
We now wait to learn what Dolphins owner Stephen Ross tells Philbin on what will be a long ride home.