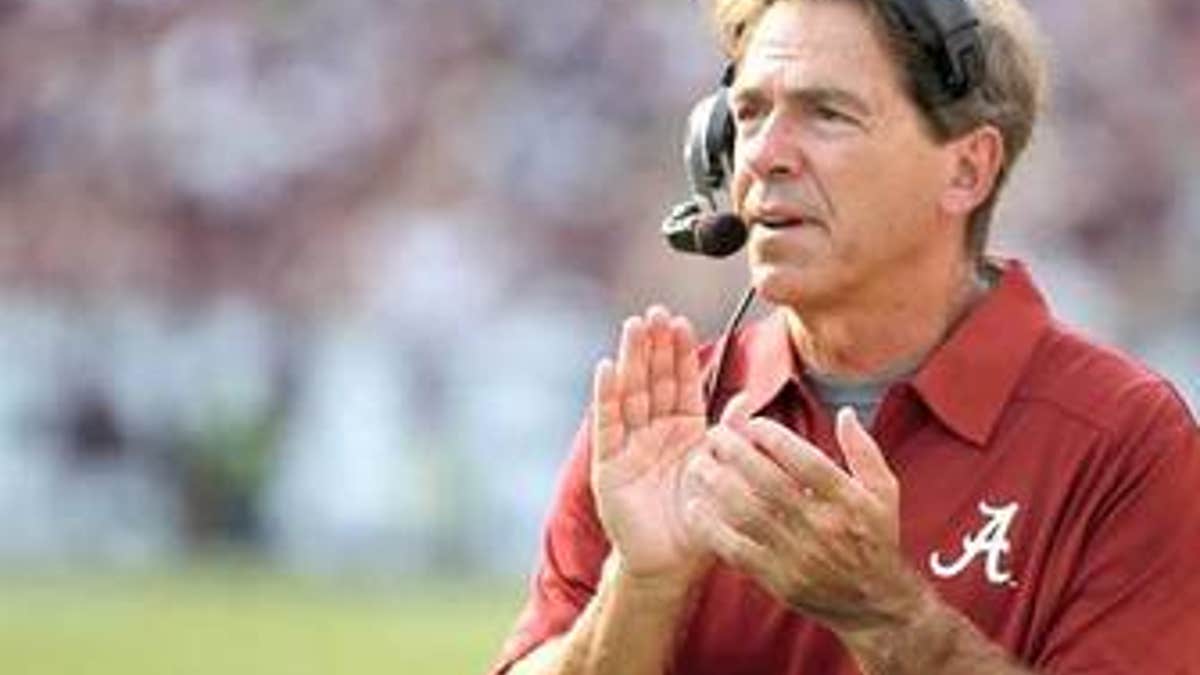 The much-hyped 'Game of the Year,' Marcus Mariota's Heisman-worthy day, time is ticking down on Mack Brown and more from Week 3 in college football.
ALL EYES ON COLLEGE STATION AND ALABAMA-TEXAS A&M
The world halted and clung to its axis for three-and-a-half hours Saturday. That's the easiest way to describe watching No. 1 Alabama at No. 6 Texas A&M.
Things stopped.
Johnny Manziel has a way of making you pause. He passed for 464 yards, rushed for 98, threw five touchdowns. He also lost, his Aggies falling 49-42 to the Tide, his two interceptions playing a substantial role in that outcome, his defense much more so.
We spent almost a year panting in anticipation for this game, and this game, so hyped up and broken down for months, delivered brilliance. It allowed us to escape to a place devoid of signals stemming from anywhere but College Station. Manziel captivated all of us to different degrees. As I watched him lead the Aggies to a quick 14-0 lead and then Alabama methodically march back into it, I was struck by something much different and probably much less universal:
I realized my great admiration for Nick Saban, which isn't necessarily the same as liking Nick Saban.
Truthfully, there's plenty to dislike about Saban's public persona. He can bully. He can be combative without reason, it seems. He can be terse and disengaged and forceful when even a half-assed "no comment" would serve his purpose best. Instead, he delivers diatribes, ruthlessly, preferring the friction of painstakingly drilling home a point: He's in control of everything, always. This is not Saban's best side, but it's the one we're coldly served.
It rose again this week when he was forced to address a Yahoo report that one of his former players, D.J. Fluker, allegedly received impermissible benefits during his Alabama career.
It doesn't take an investigative report lined with accusations against his program to make Saban this way. It could be his quarterback's toe or his receivers or his defense or his anything. This persona fuels the perception Saban is dismissive and demeaning, and everything about it is abrasive and off-putting.
Yet when I watch Alabama, I'm reminded of my admiration for him as a coach. It's unsettling and conflicting and difficult to explain.
This must have been the worst of weeks in Saban's world for everything having nothing to do with football.
Alabama-Texas A&M was saturated in hyperbole and excess, every question another external factor to manage, every non-football item another gravitational force pulling Saban further from a goal. Watching Saban attempt to harness this hurricane of chaos oddly reminded me of two John Wooden, the late UCLA basketball coach, anecdotes.
They are both are about maximizing time, and the first is a quote, which goes like this:
Time lost is time lost. It's gone forever.
Some people tell themselves that they will work twice as hard tomorrow to make up for what they did not do today. People should always do their best. If they work twice as hard tomorrow, then they should have also worked twice as hard today. That would have been their best.
The second is a story Wooden liked to tell, a story he credits comedian Robert B. Lee for and one you've probably heard:
Pretend every morning your bank account filled with $86,400, and every evening it emptied. What you don't spend, you lose and never gain back. The next day, another $86,400 is dumped in, and so on. If this were true, what would you do with that money every day? You'd spend all of it, of course.
"You have such a bank account - it is called time," Wooden says. "Every day it credits you with 86,400 seconds. A balance is not carried over to the next day, and you're not allowed over-drafts. Each day the bank named 'Time' opens a new account with you. Each night it burns the records of the day.
"If you fail to use the day's deposits, the loss is yours."
Wooden loved this, he said, because it helped him place a tangible value on his day. He accomplished more and wasted less in 24-hour increments. It made Wooden and his program into machines of efficiency.
Saban, too, would love that story. Two years ago at one of his summer camps in Tuscaloosa, he had his version of this moment. Barely four minutes into his welcome address to youth campers, Saban went into this pitch about "investing" time versus "spending" time (begins around 4:30):
"You're gonna do one of two things with your time. -- you can invest your time or you can spend it," Saban says in the video. "When you invest your time, you make a goal and decision of something you want to accomplish and something you wanna do. Whether it's make good grades in school, be a good athlete, be a good person, do some community service and help someone in need. Whatever it is that you choose to do, you're investing your time in that.
"When you spend your time, you play Xbox. That's spending time. It accomplished nothing. I know all of you who would say, 'Oh man, I need my relaxation time.' You know what I say to that, and excuse me to all the mommas here, that's bull----. You don't need to do that. You need to figure out what you want to do. Invest your time in that."
This feels mildly savage and impersonal and mostly unrealistic, to make the expectation an existence of constant pursuit.
It also feels, to me, worthwhile and true. Coaches always talk about the real joys of their jobs being in the building of a program, the striving. Saban, through his bland quotes about "the process" and managing factors and focusing on only the next task, seems to be always investing, always striving, never spending, never believing his definition of success will come before the work.
We openly mock him because he's fanatical and perhaps excessive, but I think, in an honest moment, all of us who care dearly about achieving something would admit there's nobility in leading a life somewhat, if not entirely, like that.
I don't want to make excuses for Saban. It's possible he's privately had as profound an impact on his players' lives as Wooden did, but we won't remember the two men similarly.
Saban has chosen not to reveal himself with such intimacy. He approaches his public life with a robotic efficiency that lacks some human feel, making a connection with him impossibly difficult. In some instances, he could be much kinder, more accommodating in a way that really wouldn't charge him anymore time or effort. So some of the public blistering he receives is deserved, delivered to his front door by him alone.
But I also don't think Saban is disingenuous or mean-spirited. His short answers and uncomfortable press conferences and limited niceties are simply unfortunate and unintended byproducts of his maniacal chase.
To calculate those would take effort, and what evidence exists out there that suggests Saban is the kind of person who'd allocate energy on anything so trivial? On anything that couldn't be classified as "football matters?"
After Ben Malena scored to put Texas A&M up 14-0 midway through the first quarter, it felt like the Aggies were another quick explosion or two from taking real control. They strike fast and attack in spurts, a mixture of intoxicating highs and lulls.
Alabama crashes into shore in sets, one after another in rhythm. A.J. McCarron hit Kevin Norwood for a 22-yard touchdown. Then he connected with DeAndrew White for 44 yards, then Kenny Bell for 51 yards on a screen, then T.J. Yeldon ran one in, then Vinnie Sunseri picked off Manziel and ran one back.
Bama put up 35 unanswered points before A&M scored again with 9:33 remaining in the third quarter. The Tide attack in an almost melodic method, just staying with it, grinding the opponent a little more, making another play, surviving one more explosive burst. Some teams seem to strike and then rest, strike and then rest. Alabama seems to be constantly moving forward, at its own pace, on its own path, rolling toward whatever is next.
These are the moments, like Saturday, when I find myself in admiration of Saban. No, I don't love everything about how he presents himself publicly. I don't relate or connect with his personality.
I admire him because I do think he's honest in his pursuit of what he sees as success. I don't think he wants the friction that seems to follow him around, I just think he's too stubborn about what he's after to change. Everything in his life, from what he allows us to see, is a process built on simple, unbending principles.
Time lost is time lost. It's gone forever.
TWO NOTABLE QBs YOU MIGHT HAVE MISSED DURING BAMA-A&M
While we were all fixated on College Station, two notable quarterbacks did notable things:
Marcus Mariota grabbed your Heisman ballot to make sure his name is on there: Oregon crushed Tennessee, 59-14, making the 28-point spread seem ridiculously underestimated. In the Ducks' blowout, Mariota went 23-of-33 for 456 yards and four TDs without an interception. He also rushed for 27 yards and a TD on six carries. Based on Oregon's first three games - Nicholls State, at Virginia, Tennessee - it's difficult to truly measure the Ducks' offense without Kelly. We'll know in time if there really is anything missing in Eugene or not - and it sure doesn't seem so - but for now let's just marvel at Mariota.
The other day, I spoke with the offensive coordinator of another up-tempo team, and he was running through a quarterback's priorities in a system of that nature. The most important thing for the QB to do, the coach said, is simply to know the down-and-distance and maintain a pace, like a metronome of the offense. Quick tempo doesn't necessarily mean quick strikes or quick scores. A screen that goes for only four yards is still a successful play. Just make good decisions quickly, and keep it rolling.
For all of Mariota's physical gifts - size, speed, quickness, arm strength, athleticism, etc. - that's what jumped out against the Vols. He has good feet and is superb at just getting the ball out and getting the offense in motion. I appreciated that aspect of his game Saturday a little more than his standard buffet of beautiful throws and strong runs.
<A href="http://msn.foxsports.com/video?videoid=6c28f3db-b50c-4106-ac25-a4aa82a9ddb0&src=v5:embed:syndication:&from=shareembed-syndication" _cke_saved_href="http://msn.foxsports.com/video?videoid=6c28f3db-b50c-4106-ac25-a4aa82a9ddb0&src=v5:embed:syndication:&from=shareembed-syndication" target="_new" title="Highlights: Tennessee vs. (2) Oregon">Video: Highlights: Tennessee vs. (2) Oregon</A>
Jameis Winston is back for seconds: You know what's crazy? Out of the three QBs we've already mentioned playing during the same time slot Saturday - McCarron, Manziel, Mariota - the freshman in Tallahassee could very well be the best of the group, in time. It took Florida State a little while to get going against Nevada, taking its first lead at 10-7 with 3:21 left in the first half, but then the Seminoles went to a gear the Pack just doesn't possess, winning 62-7.
Winston, 12 days removed from his stellar debut against Pitt, went 15-of-18 for 214 yards and a TD (with one pick). He's also added a rushing TD. They aren't mindboggling numbers on paper, but what's impressive about Winston is, for such a young player, he seems to have an advanced feel for efficiency. In two games this season, he's completed almost 89 percent of his passes and allowed his running backs to bear a healthy portion of the offensive burden.
Against Nevada, FSU had two backs go for more than 100 yards rushing (Karlos Williams, Devonta Freeman) and three others average at least 7.5 yards per carry. Winston seems to understand high-percentage versus low-percentage attempts and doesn't appear to be smitten with always making the highlight-worthy play. If he was a pitching prospect, scouts would say he has, in addition to raw stuff and command, good "pitchability."
THE MACK BROWN COUNTDOWN TICKS AWAY A LITTLE MORE
I'm starting just to feel a little sad for Mack Brown.
He's been one of the best coaches in college football for the last 15 years, the face of one of the sport's most important programs and someone who's figured out how to win a lot of football games without the words "sex with a hostess" showing up in an investigative report about his football team. So, that's good.
But with Texas dropping to 1-2 after a 44-23 loss to Ole Miss at home Saturday, it feels like each day is another step down a plank of destruction for Brown and Texas. After Texas allowed the most yards ever in Brown's tenure to BYU last week, he fired defensive coordinator Manny Diaz and replaced him with Greg Robinson, who has been working for Texas as a defensive specialist since July.
In Robinson's first game leading the Texas D, the Longhorns allowed 449 yards, 272 of which came on the ground. The Horns couldn't do anything with Jeff Scott, who racked up 164 yards and a TD on only 19 carries. The only thing Ole Miss quarterback Bo Wallace needed to do was not forget the snap count when he got under center.
Texas' next six weeks look like this: Kansas State, bye, at Iowa State, Oklahoma, bye, at TCU. That's probably two losses, could be three. How bad does it need to get in Austin for Brown not to make it to the end of the season? If the Horns are 2-5 before November, would that do it? It's difficult to imagine Texas without Mack Brown on the sideline. Unfortunately, as the days pass, it's becoming almost equally difficult to imagine the Horns with him through the year.
ONE OF THE WEEK'S BEST GAMES WASN'T MUCH ABOUT FOOTBALL
Just a quick mention of UCLA at Nebraska, a game the Bruins won 41-21 after falling behind 21-3 in the first half.
A week ago, it looked like one of the better games of the slate this week. Two good quarterbacks in Brett Hundley and Taylor Martinez, two interesting coaches, two top-25 teams playing at noon ET, a great setting in Lincoln. And then the game became about something different entirely when Bruins wide receiver Nick Pasquale was killed early last Sunday morning after being run over by a car.
Other than a few public comments UCLA coach Jim Mora made, the school shut down all media access to players and coaches this week so they could focus on their loss and at least try to move forward enough to play football on Saturday. Mora has tweeted 32 times since Pasquale's death, with each one being a link to donate to a foundation in Pasquale's name or some other mention of the fallen Bruin.
I don't like attributing too much of a victory to playing in the honor of someone who died. It feels uncomfortable at best, insensitive at worst, and if the team suffering loses the game, does it mean they were any less inspired that day? Of course not. But, you know, sometimes these things really do have a powerful impact in sports. And if Brett Hundley wants to say the game was "so much bigger and we understand that now," then we should believe him. It was also great to see the efforts Nebraska made to support UCLA and honor Pasquale. Thoughts to the Bruins family.
THE BUZZER
Five completely non-football related things.
After Alabama beat Texas A&M, crazy Crimson Tide fan Harvey Updyke - yes, he who poisoned the Toomer's oaks - had some trash talk to deliver to Johnny Manziel.
Alabama running back T.J. Yeldon is trying very hard to make Nick Saban very angry at him.
Lane Kiffin might have cooled his hot seat just a bit with USC's win against Boston College Saturday. But before the game? Trojans fans hung signs at their tailgates letting everyone know how they felt about the head coach.
Scary: Saturday morning, a gun fight broke out around the corner from Ohio State's hotel in Oakland.
This may cause a few tears, but it's a great story: After learning he had cancer, young Ohio State fan Grant Reed named it "Michigan" and then beat it . Thatta boy Grant!
NOTES FROM THE NATION
An assortment of links from around college football.
SEC
Alabama had a great two weeks of practice after the game against Virginia Tech, and it showed against Texas A&M , writes Andrew Gribble.
Nick Marshall helped Auburn end its SEC losing streak , writes Brandon Marcello.
With Kent State's Dri Archer hobbled, LSU's defense dominated , writes James Moran.
A goal line interception sealed South Carolina's victory over Vanderbit, writes Ryan Wood.
Hugh Kellenberger writes after Ole Miss' big win in Austin, it's time to start up the hype machine .
PAC-12
For one day, anyway, USC replaced the boos with some buzz , writes Bill Plaschke.
UCLA's victory was special, and the Bruins might be too , writes Helene Elliott.
Oregon shook off a slow start to crush Tennessee , writes Ryan Thornburg.
Stanford was a little shaky but still took care of Army , writes Mike Tully.
Oregon State overcame plenty to beat Utah in overtime , writes Steve Gress.
BIG 12
It was the same 'ol story with the same 'ol outcome for Texas , writes Cedric Golden.
All is 'Bell' in Soonerland , writes Berry Tramel.
Oklahoma State's romp of Lamar was a release in an unpleasant week for the program, writes Jenni Carlson.
Iowa State fans expected more against Iowa , writes Randy Peterson.
Kansas State ran over Massachusetts , writes Kellis Robinett.
ACC
Jameis Winston and FSU overcame a slow start to crush Nevada , writes Bob Ferrante.
Tim Jernigan is 'The Helmetless One,' writes Patrik Nohe.
Georgia Tech trampled Duke in its ACC opener, writes Ken Suguira.
Maryland beat UConn and is now 3-0 on the season , writes Alex Prewitt.
Syracuse blew out Wagner , writes Brent Axe.
BIG TEN
The Michigan defense redeemed itself on the final play against Akron , writes Mark Snyder.
With Braxton Miller sidelined, Kenny Guiton stepped up for the Buckeyes , writes Bill Rabinowitz.
Central Florida raced past the Nittany Lions , writes Travis Johnson.
Missed opportunities doomed Illinois against Washington , writes Vaughn McClure.
Northwestern struggled a bit but ended up handling Western Michigan , writes Teddy Greenstein.
OTHERS
Notre Dame survived a scare at Purdue , writes Brian Hamilton.
Utah State scored TDs on its first seven drives en route to its biggest win since 1964 , writes Kyle Goon. Chuckie Keeton and the boys are a real threat to USC next week.
Bowling Green used big plays to drop Kent State , writes Elton Alexander.
Idaho couldn't complete the upset against Northern Illinois, writes Josh Wright.
Stony Brook had a nice comeback, but Buffalo won in five overtimes , writes Greg Logan.
Teddy Mitrosilis edits and writes college football for FOXSports.com. You can follow him on Twitter ( @TMitrosilis ) and reach him at tmitrosilis@gmail.com.