Aaron Rodgers throws first INT at home since 2012 -- then throws another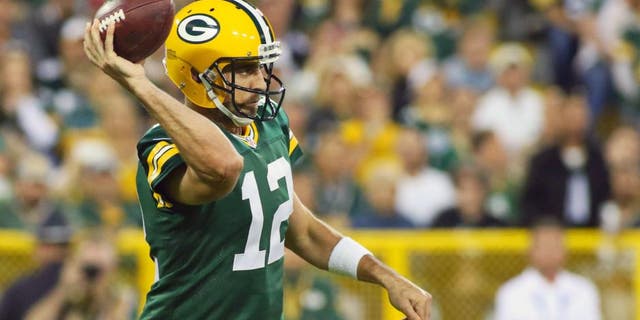 NEWYou can now listen to Fox News articles!
Aaron Rodgers' streak of spotless play at Lambeau Field has come to an end.
Against the St. Louis Rams on Sunday, linebacker James Laurenitis picked off the Green Bay Packers quarterback on a first-quarter throw that was batted up in the air at the line of scrimmage. The interception was Rodgers' first since Dec. 2, 2012, and it didn't take him long to throw another. The Rams' Trumaine Johnson jumped a a short second-quarter out route for Rodgers' second interception of the day.

Rodgers had attempted 586 consecutive passes at Lambeau Field without an interception. Before his errant toss on Sunday, he started the 2015 season with 12 touchdown passes without an interception. His 12th TD pass came earlier in the game to rookie wideout Ty Montgomery.
Before Rodgers' second interception, five of his last six picks were off tipped passes, according to Ryan Rood of Press-Gazette Media. This stat indicates just how difficult it is for a defender to get a clean look at one of Rodgers' passes, on the road or at home. The 2014 NFL MVP had 38 touchdown passes and only five interceptions last season.
MORE NEWS: Want stories delivered to you? Sign up for our NFL newsletters.