A promise kept as US women take gold in rowing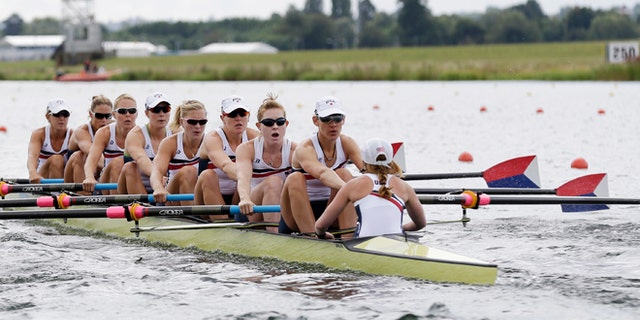 When the United States held off Canada to win a second straight Olympic gold in the women's eight Thursday, American rower Taylor Ritzel also fulfilled a very important promise.
Ritzel's mother, Lana, was dying of breast cancer in 2010 when the future star promised her, "I will get to the Olympics," Reuters reports.
"When I was walking through the course today I saw the sun peak through the clouds. I know she is here and I dedicate to her what I have done," Ritzel told Reuters.
Ritzel had another sort of personal anguish on her road to the Olympics when she received the devastating news of a deadly shooting in a movie theater in her hometown of Aurora, Colo., in which 12 people were killed and 58 injured.
When she heard about the shooting during a midnight showing of the new Batman movie, she got in touch with her father to make sure he was fine. Then came the agonizing task of scanning the list of victims to see if she recognized any names.
"I'm very grateful I didn't," Ritzel said. She also said she would do "everything in my power to make Colorado proud."
And proud it should be.
The U.S. led from start to finish to win in a time of 6 minutes, 10.59 seconds to maintain its six-year dominance of the event. Canada finished a half-length behind in second and the Netherlands took the bronze to close the second day of finals at Dorney Lake.
The U.S. hasn't lost a competitive race in the eight since winning the world title here in 2006, but Canada had closed the gap in the past 12 months, even qualifying for the final in a faster time in the heats.
The Americans successfully defended the title they won in the Beijing Games in 2008. The country's only previous Olympic gold in the discipline came at Los Angeles in 1984.
The U.S. crew -- Mary Whipple (coxswain), Caryn Davies, Caroline Lind, Eleanor Logan, Meghan Musnicki, Ritzel, Esther Lofgren, Susan Francia and Erin Cafaro -- threw their arms up after crossing the line, screaming in delight. Some leaned back into their teammates' lap.
Relief was evident on their faces but, in truth, there was only ever going to be one winner once the U.S. established a lead of 2.3 seconds by the halfway 1,000-meter mark.
They kept that cushion into the final 500 meters and although Canada gradually trimmed the advantage, the Americans stayed smooth and were in full control.
Reuters and The Associated Press contributed to this report.