8 things you might not know about Talladega Superspeedway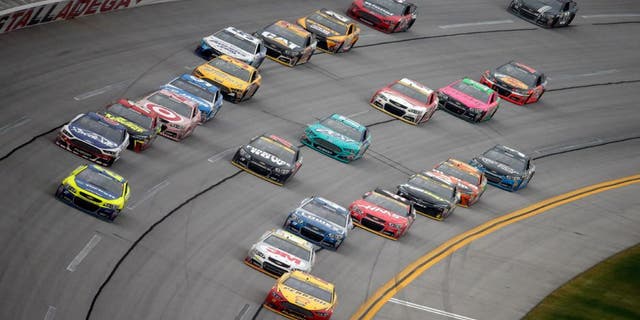 Talladega Superspeedway is unlike any other track in NASCAR, a place where wild finishes and even wilder crashes are commonplace.
Sunday's GEICO 500 (FOX, 12:30 p.m. ET) promises to be another wide-open affair, with 188 laps of white-knuckle racing that likely will come down to a last-lap shootout, as it typically does.
Without question, Sunday's race will be unpredictable; they always are here at Talladega.
To get you in the spirit of the weekend, here are 8 things you might not know about the Talladega track:
8. IT'S IN THE NAME -- When it opened in 1969, Talladega was first called Alabama International Motor Speedway. The name was changed to Talladega Superspeedway in 1989.
7. FIRST TO TOP 200 MPH -- Talladega was where the late, great Buddy Baker became the first person to drive a stock car on a closed course at more than 200 miles per hour. On March 24, 1970, Baker turned a lap of 200.447 miles per hour in a Dodge Daytona, shattering a barrier once thought impossible to reach.
6. TALLADEGA JINX -- Racers will tell you all about the "Talladega Jinx," which refers to some of the strange things that have happened here over the years. Some believe the track was built on ancient Indian burial grounds and was cursed as a result. The strangest thing that ever happened here might have been in 1973, when the late Bobby Isaac parked his car mid-race and got out because voices in his head kept telling him to get out.
5. SIZE MATTERS -- At 2.66 miles, Talladega is the longest track in NASCAR, a mere 0.16 miles longer than either Daytona International Speedway or Indianapolis Motor Speedway. The rumor was that when NASCAR founder Big Bill France began putting the Talladega plan together, he wanted the track to be bigger than either Daytona or the Brickyard.
4. PACING THE FIELD -- Prior to the start of the 1986 Winston 500 at Talladega, someone stole the pace car and drove it around. And he probably regretted it deeply as soon as he got out of the car and was roundly whipped by the crowd that intervened.
3. FIRST-TIME WINNERS -- Since it first opened in 1969, Talladega has produced 10 first-time NASCAR Premier Series winners. Only four of the 10 --Davey Allison, Ken Schrader, Brad Keselowski and Brian Vickers -- ever won another race at NASCAR's top level.
2. LABOR WOES -- At the first Talladega race in 1969, Richard Petty led a walkout of the sport's top drivers, who left the track concerned about tire wear caused by the high speeds. Unheralded Richard Brickhouse won the '69 event, his first and only NASCAR Premier Series victory.
1. FASTEST TRACK IN NASCAR -- It's hard to even fathom this today, but on April 30, 1987, Bill Elliott set the all-time fastest pole lap in NASCAR history, qualifying his No. 9 Ford at 212.809 miles per hour. But later that weekend, Bobby Allison cut a tire, sending his car into the catchfence in a horrifying crash. Ever since then, NASCAR has mandated the use of restrictor plates and Elliott's record has never been challenged.