49ers' Gabbert anticipates no issues running Chip Kelly's offense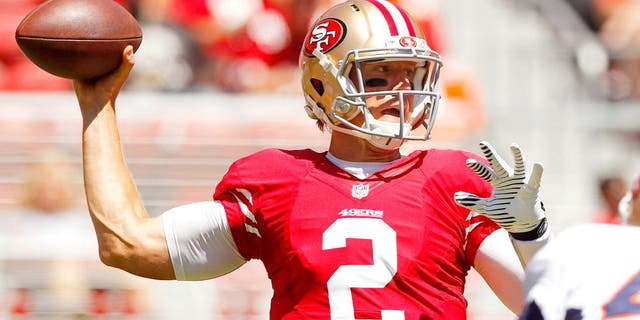 The biggest question surrounding the San Francisco 49ers this offseason is whether beleaguered quarterback Colin Kaepernick's career can be resurrected by the hiring of coach Chip Kelly.
Someone forgotten in the conversation is Blaine Gabbert, who had his own career resurrected after replacing a benched Kaepernick at midseason. Gabbert is enthused about what Kelly can bring to an offense that averaged a league-worst 14.9 points last season.
"He has a proven track record of winning, so the mindset he's going to bring is a good one," Gabbert said Tuesday during an appearance at a Super Bowl-related function, per the San Jose Mercury News. "He's going to bring that culture to the building and I know we all can't wait to start working with him."
Gabbert went 3-5 in his eight starts, helping to rebuild his reputation after a disastrous three-year stint with the Jacksonville Jaguars during which he compiled a 6-22 record and lost his last 10 starts.
Acknowledging that he's "extremely excited" by the prospect of Kelly's fast-paced offense, Gabbert said he's confident he can thrive in such a system.
"I think the biggest thing from the quarterback standpoint is you have to distribute the ball to your playmakers," Gabbert said. "The quarterback has to be in control of the game, so from that standpoint, you need a guy back there who knows the system in and out and knows where to go with the football."