3 years after winning Wimbledon, Bartoli says she is ill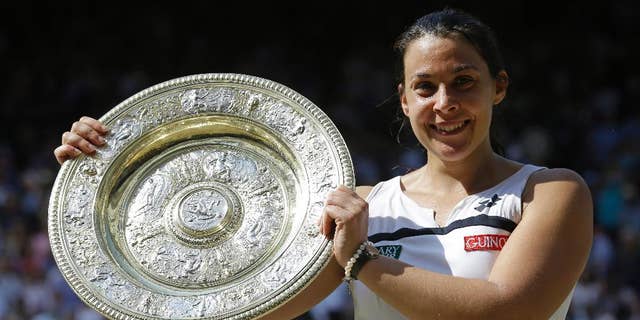 NEWYou can now listen to Fox News articles!
LONDON – Three years after winning the title at Wimbledon, Marion Bartoli said she has contracted an unknown virus and her life is an "absolute nightmare."
The 31-year-old Frenchwoman is now extremely thin and said it's because she is ill.
"My life right now, it's an absolute nightmare," Bartoli said in an interview on British channel ITV's "This Morning" show. "What I'm going through, I wish it to absolutely nobody."
Bartoli won the women's title at Wimbledon in 2013, and retired from the sport the next month. She now works in fashion and also does TV commentating at tennis events.
She is working at Wimbledon, and had planned to play in the women's invitational tournament for former players but said her doctors told her she couldn't.
Serena Williams, a longtime rival on the court, praised Bartoli for going public with her problem.
"I was really proud to hear she did say something," Williams said Thursday after reaching her ninth Wimbledon final. "She took it upon herself to acknowledge what she's been fighting through. I really admire anyone that is courageous like that."
Bartoli said she believes she contracted the disease while on a long flight in February.
She said she can only eat organic leaves and cucumbers without skin because her body rejects other food. She also can't be in contact with tap water, she said, adding she has been seeking treatment.
"As a Wimbledon champion, I'm trying to fight my hardest to go through it and to survive," Bartoli said. "I think my Wimbledon title is actually the strength I have inside me. I just really want people to understand I don't do that to myself on purpose."