2015 season preview: Arkansas Razorbacks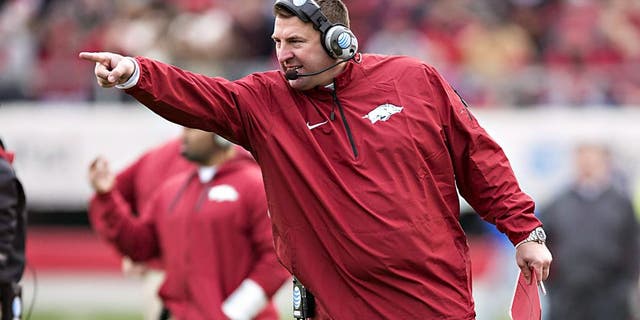 The consensus this offseason among observers and media members is that Arkansas's biggest concern heading into the 2015 season is replacing its four NFL draft picks on defense.
The Razorbacks lost defensive end Trey Flowers, defensive tackle Darius Philon and weakside linebacker Martrell Spaight, all of them All-SEC players, as well as nickelback Tevin Mitchell, leaving several significant voids.
But at his first fall press conference, coach Bret Bielema was straightforward about his concerns on defense, and they weren't the ones everybody expected.
Bielema told reporters that he is less concerned about the loss of Spaight, who is being replaced by shifting middle linebacker Brooks Ellis over to the weak side, and more concerned about replacing Ellis in the middle. Of the middle linebacker spot, Bielema said simply, "We need more consistency out of Khalia Hackett," according to Whole Hog Sports.
Hackett played primarily on special teams as a freshman last year and also served as Spaight's backup, but Whole Hog Sports reported that, thus far in the offseason, it's been redshirt freshman Josh Harris taking charge at the position.
Bielema also reportedly pointed to the loss of graduated safety Alan Turner, a three-year starter who was a leader both in the secondary and in the locker room. Rohan Gaines now is the only senior in the secondary, and Bielema told the media that Gaines will be counted on to help stabilize the safety situation.
"A key for him is going to be consistency," Bielema said, per Whole Hog Sports. "He can play as well as anybody as there is at that position. It's just that he will play eight great plays and then two of them might hurt you. We are going to really have to harp on him about being consistent."
(h/t Whole Hog Sports)