19-year-old Sage Northcutt finishes first UFC fight in 57 seconds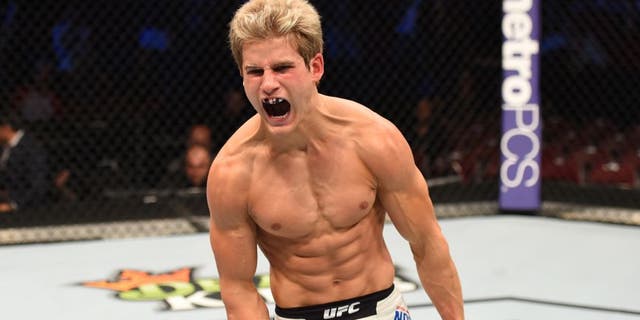 NEWYou can now listen to Fox News articles!
Nineteen-year-old phenom Sage Northcutt needed just 57 seconds to tear through his first fight at UFC 192 on Saturday night in Houston.
Northcutt (5-0) is a highly-touted prospect out of Texas, who was the center of attention for a big part of fight week for making his UFC debut.
The teenager wasted no time going after his opponent, Francisco Trevino, as he trapped the veteran fighter against the cage and started unloading a huge flurry of punches.
Trevino had no answer except to try to weather the storm, but Northcutt continued his onslaught by scooping up his opponent for a takedown and dumping him on the mat.
The Texan followed up with a lightning-fast series of elbows and punches while Trevino turtled up on the canvas with nowhere to go.
A few moments later, referee Herb Dean saw enough and called a stop to the fight 57 seconds into the first round. Trevino popped up from the canvas and complained about the stoppage, but the replay was clear that he was eating a lot of shots and not doing much to defend himself.
"This feels amazing, it's such an honor to be here," Northcutt said after the win. "The crowd, everyone around the UFC, were all amazing and this was just an incredible experience. I've been training for this since I was 4 years old.
"The fight went just how I visualized it. I thought about throwing kicks to kind of intimidate him and see what he was going to do. I caught him and just followed up with some elbows. People see a lot of my standup, and that's what I'm known for since I was trained in karate and kickboxing, but I also have ground game."
Northcutt had a mountain of pressure on him for a 19-year-old fighter debuting at home, but he showed up in a huge way. With a win under his belt, Northcutt already is looking forward to his next fight, and he's ready to go international.
"I want to fight again as soon as I possibly can," he said. "I know there's a card in Australia and South Korea -- either of those would be great! I can't wait for the next one. Whatever Dana White and Joe Silva have planned for me, I'm ready."