16th Seeded Norfolk State Sets Out to Upset In NCAA Tournament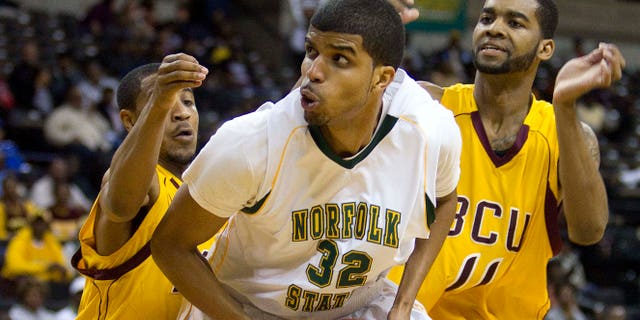 History could very well repeat itself for that state of Virginia in the NCAA tournament when the Norfolk State Spartans meet Missouri this Friday afternoon.

While no 16th seeded team has ever beaten a top seed in NCAA tournament history, the glass slippers have fitted well for four 15 seeded teams in the tournament.
More surprisingly, three of those teams have been from the state of Virginia, sending off their No. 2 seed opponents to an early spring break.

As is customary with the 64-field bracket that everyone in America has now filled out, schools outside the powerhouse programs are often not given a chance. However the very confident Spartans forward, Marcos Tamares, would beg to differ.

Nothing will rattle the Mid-Eastern Athletic Conference champions when they meet Tigers from the Big 12.

"We're all excited to play. I know, me personally, I'm don't have any jitters. I'm excited," Tamares, the son of Dominican immigrants told Fox News Latino in a phone interview Tuesday night. "I think they did a good job of putting us against a team that's kind of similar to us and I think we can beat them."
March Madness Rundown: First Four Begin
Missouri finished the season ranked third, averaging 80.3 points per game, the sixth highest offense in the nation. However they still have their work cut out for them dealing with Kyle O'Quinn, the 6'10" Norfolk senior center and MEAC Player of the Year.

According to Tamares, O'Quinn is a definite "NBA draft prospect. He's special man."

"He came a long way too. He wasn't really that good in high school. He's worked hard. Missouri is going to have their hands full with him," Tamares said.

The last team from the Commonwealth of Virginia to win a tournament game as the 15th seeded team was Hampton during the 2001 tournament, edging Iowa State, 58-57. Before that it was
Coppin State, who scored a 78-65 win South Carolina in 1997. The other team from the state was Richmond, taking out Syracuse 73-69.

Whether you're seeded 1st or 10th or 15th, it's just a number. The impossible can happen.

"That's the beauty of this tournament. I feel like this is the best tournament is sports. I mean dreams come true here. Anything is possible. That's how we are going about it right now. In the bottom of our hearts we think we can win this game. I know that's not how most people feel but that how we are looking at it. And if we do it, then that will shock the world."
March Madness: Latinos Take Part in The NCAA Tournament
Tamares said Norfolk State (25-9) was just expecting to get either the 15th or 16th spot in one of the four regions.

There weren't any big time programs scheduled on the calendar except for Marquette, the only ranked opponent they faced all season. In the two games the teams played, Norfolk was defeated both times, once at Marquette on Nov. 14 and then on a neutral site at the Paradise Jam in the Virgin Islands on Nov. 21.

"I knew we were going to be a low seed because that's just what we we're going to be. We've played good competition all year so we're not really nervous or anything. We were expecting to really get a 15 or 16. We're ready to play Missouri and we're looking forward to it," said the fifth-year senior from Queens, N.Y, who also would look to land a contract playing professionally.

During Tamares' time with the Spartans, losing has been synonymous with the basketball program at Norfolk State. They posted 20 losses last season and 19 in 2009, his first season after transferring from Maryland-Baltimore County.
NBA Round-Up: Knicks' Slide Continues, Spurs Out of Sync at Home, and More
But this season everything changed.

"The last couple of years have been kind of difficult. We were losing a lot of games but this year it's been completely different. We've been working hard from last summer," Tamares said.

"It's just been kind of like a storybook, kind of magical in a sense. We've been working. I wish we could have been doing this from the beginning," he added.

Nothing phases the 23-year old, who knows what March Madness entails. As a redshirt freshman he was on the 2008 Maryland-Baltimore County team made it to the tournament but lost to Georgetown.

"I feel like I have seen it all. As far as playing Missouri, I'm not worried. I would love nothing more to beat one right before I graduate."
That 'we can do it' attitude he learned from his mother Dulce, an accountant, who had to learn English on the fly, and his father, Miguel, a former professional basketball player in the Dominican Republic, will come in handy.
"She definitely taught me that anything is possible."
Adry Torres, who has covered MLB, NFL, NBA and NCAA basketball games and related events, is a regular contributor to Fox News Latino. He can be reached at elpiloto137@gmail.com or follow him on Twitter: @adrytorresnyc.
Follow us on twitter.com/foxnewslatino
Like us at facebook.com/foxnewslatino