16 key questions for Euro 2016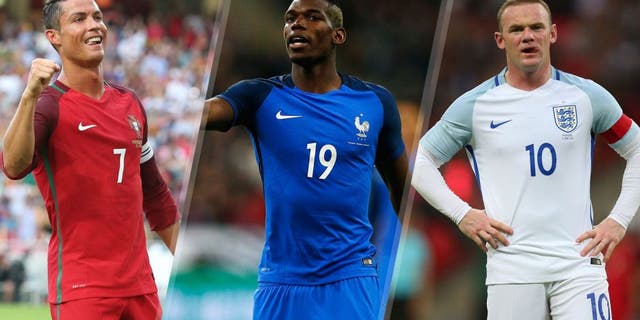 NEWYou can now listen to Fox News articles!
Just as the Copa America Centenario is truly starting to pop off, the "Summer of Soccer" is about to kick into an even higher gear with the European Championships starting on Friday.
Before France and Romania get the ball rolling in the Stade de France, we've come up with 16 questions that will need to be answered over the next four weeks. That's a lot of questions, so let's cut the foreplay and get right to it.
Will the tournament be safe?
Just over six months removed from the Paris terror attacks, which included a hit at the Stade de France, safety remains the most critical issue. Unprecedented measures have been taken to try and ensure it, including deploying 90,000 police officers, soldiers, security guards and first responders, and setting up no-fly zones and anti-drone measures around all stadiums and practice facilities.
Yet fear inevitably remains. France's foreign office cautioned visitors that "stadiums, fan zones, bars and stations" are all terror targets, as will be the hundreds of trains carrying them across the country. And after police thwarted another terrorist plot just this week, Interpol issued a "high threat" warning for an ISIS attack.
How will the expanded field affect the quality of play?
There'll be those who say expanding from 16 to 24 teams will have diluted the tournament, but it actually might only enhance it.
Bumping every team's chance to make the Round of 16 leaves more room for error, and just might inspire bolder tactics. And a deeper field and extra round definitely brings in more cash, more fans, and better odds at juicy upsets and intriguing storylines. Either way, proponents and opponents of World Cup expansion will be watching closely how it all unfolds.
Can France's defense hold up their end of the bargain?
The hosts are betting favorites to win it all despite a relatively inexperienced squad, and there's a simple reason for that. Even without Karim Benzema, who's sitting this one out over some, um, improprieties, France is absolutely loaded.
But while Didier Deschamps has an embarrassment of riches in attack and midfield -€" oh God, that midfield -€" the back line could be Les Bleus' downfall. Losing Raphael Varane to a knee injury is massive, and Patrice Evra is somehow still a starter. Unless the midfield dominates, Hugo Lloris may need to be at his best if France want to win their second trophy on home soil in 18 years.
Speaking of shaky defenses, can Germany figure out theirs?
Germany were worried about their makeshift back line two years ago and ended up winning the World Cup, but at least that side had Philipp Lahm, its captain, playing in or ahead of it. Lahm and Per Mertesacker are now retired from the team, the hobbled Mats Hummels isn't ready for Germany's opener, and his replacement Antonio Ruediger just tore his ACL. With Bastian Schweinsteiger still unfit (again) and Ilkay Gundogan ruled out with injury (again), Jogi Low is also short of experienced defensive midfielders.
Low could turn to either Shokdran Mustafi or Benedikt Howedes to fill the gaps, but Bayern starlet Joshua Kimmich and Liverpool's Emre Can are also options. No matter the solution, the backline won't have any experience playing together, and with just one clean sheet from their last nine games, Germany's defense looks wobblier than two years ago.
Is Belgium's golden generation really up to the task?
The Red Devils were a trendy pick in Brazil two years ago, but never really convinced despite reaching the quarters. Remember, they were a Chris Wondolowski sitter away from getting knocked out by the U.S. Have they gotten that much better since?
Kevin De Bruyne is a bonafide star now and Toby Aldereweild suddenly became the best defender in the Premier League. But Eden Hazard's stunning dip in form and the loss of defensive anchor Vincent Kompany have cast some doubt over just how far Belgium, with zero games of Euro experience between them, can go.
How will Roy Hodgson manage Wayne Rooney?
Stop us if you've heard this before - this is England's year! No, please, let us finish. Blind pre-tournament optimism may have routinely burst into flames by the second weekend over the last couple decades, but this year it isn't blind. The new-look Three Lions, who finished qualifying as the only team with a perfect record, are the youngest in the entire tournament, and led by Tottenham's Harry Kane and Leicester City sensation Jamie Vardy, one of the most exciting.
Of all people, though, it's captain Wayne Rooney who could do them in. While Kane and Vardy lit the league on fire, England's all-time top scorer had a miserable campaign. Roy Hodgson will stick with Rooney anyway, pairing the three forwards together. Whether or not it works, and what Hodgson decides to do if it doesn't, might ultimately decide England's fate.
Is Italy any good?
Never sleep on the Italians at a major tournament, even if they try to lull you to sleep. Once again, the Azzurri are flying under the radar with a roster bereft of much attacking talent but, as per usual, anchored by a rugged Juventus defensive spine led by Gianluigi Buffon in goal and Giorgio Chiellini, Leonardo Bonucci and Andrea Barzagli ahead of him. Led by the intense (ex-Juventus coach) Antonio Conte, they just might outwork everyone else to spring another surprise like four years ago. If only Mario Balotelli was involved this year.
Has everyone suddenly forgotten about Spain?
Soccer is funny. Spain won three straight major tournaments from 2008 to 2012, but one shocking World Cup group stage exit later, the two-time defending champs enter Euro 2016 as perhaps third or fourth favorites.
Hold on, let me double check something. Yup, turns out Andres Iniesta, David Silva, Sergio Busquets, Cesc Fabregas, Thiago Alcantara, Sergio Ramos, Gerard Pique and David De Gea are all still on the team. Spain may have stunk in Brazil, but La Furia Roja deserve more respect and, should they win their tricky group, their draw will open up considerably. Germany, France and Belgium (if they win their groups) would all be on the other side of the bracket.
Will anybody miss the Netherlands?
Probably not.
Is Cristiano Ronaldo's new supporting cast better?
It should be. Two years after another disappointing World Cup, the Selecao has stocked up significantly on new talent. Valencia's Andre Gomes, Sporting's Joao Mario and William Carvalho, Porto's Danilo Pereira and Bayern's $40 million signing Renato Sanches are all 24 or younger and form one of the world's most promising midfields.
They couldn't arrive at a better time for Ronaldo, who at 31 won't have many more chances at international glory and desperately needs help. Twelve years after making the final as a 19-year-old in his home country, this could be CR7's best opportunity to get there again.
Can Zlatan finally make a run with Sweden?
Even at 34, Zlatan remains the best out-and-out No. 9 in Europe not named Robert Lewandowski, and after having to sit out the last World Cup - an international tragedy - he's back for one last run with the national team.
Unfortunately, the team has never been good enough around him to make any noise. In the Zlatan era, Sweden failed to qualify for the last two World Cups and crashed out of the group stage in the last two Euros. Zlatan only made a quarterfinal once, in 2004, back when he wasn't even a starter. The players around him aren't any better this time around, so a similar fate likely awaits.
But prove us wrong, Zlatan. Please, please, please prove us wrong.
What are the best games of the group stage?
Germany vs. Poland will be a fun one, as should Turkey vs. Croatia, a rematch of an all-time classic quarterfinal at Euro 2008. Belgium vs. Italy in the "Group of Death" is perhaps the sexiest matchup, but the Azzurri probably won't allow it to be very watchable. Finally, there's Wales vs. England.
Gareth Bale's Wales will relish a shot to upset their giant neighbors, while the whole of England seeks revenge for a devastating loss in the Rugby World Cup last year. This one could be an up-and-down, emotional affair, and one you cannot afford to miss.
Which of the minnows make it out?
Five nations qualified for the tournament for the first time -€" Albania, Iceland, Northern Ireland, Slovakia and Wales -€" while Hungary hasn't been here since 1972. Of those six, Wales are the most obvious threat to advance. Having the world's most expensive player ever in your midst will do that for you.
But keep an eye out for Iceland and Wales' groupmate Slovakia. The latter, led by Napoli's Marek Hamsik, beat Spain in qualifying and Germany last weekend, while the former got out of a group with the Czech Republic and Turkey at the expense of, yes, the Netherlands.
Who is the breakout star of the tournament?
Every two years, one or two prodigious talents catapult themselves to the upper echelon of football fame, and Real Madrid will immediately try to sign them.
This summer, the best bets to break out are Germany's Leroy Sane, England's Dele Alli and France's Kingsley Coman. The latter two burst onto the scene with Tottenham and Bayern this year, while Schalke's Sane just might play himself into Jogi Low's starting XI after the loss of Marco Reus.
Who is the dark horse?
Just twelve years ago, Greece won it all. Eight years ago, Turkey came this close to the final. In 1992, Denmark won the title despite only qualifying after Yugoslavia were barred just 10 days before the tournament as part of the United Nations' sanctions on the war-torn country.
In short: weird stuff happens at Euros, and why not this year with a deeper field? David Alaba leads an Austria side that's perhaps its best ever. Lewandowski could keep Poland in any game. And after years of being "kinda good," doesn't it feel like Croatia are due for a crazy run to the semifinals a la the 1998 World Cup?
Who wins it all?
Germany. No, France. Spain for a third time? Hey, maybe it really is England's year. Oh, what do we know, just watch the games and enjoy.
MORE FROM FOX SOCCER