10 years ago today, Dennis Green unleashed one of the NFL's most famous rants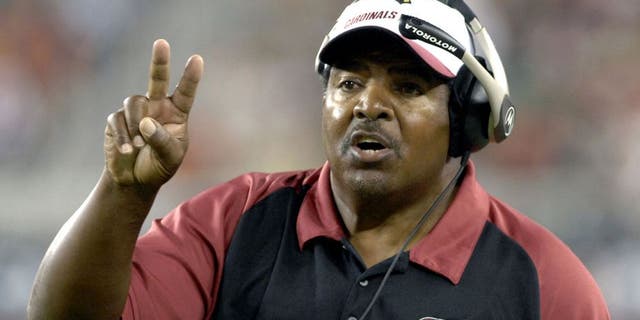 The late Dennis Green accomplished more than he tends to get credit for during his lengthy career in football.
One of the first black head coaches in both the college and professional ranks, Green won a Super Bowl as an assistant with the 1988 San Francisco 49ers and took Minnesota to the playoffs in eight of his 10 seasons on the Vikings' sideline during the 1990s.
And while Green was often derided for not winning the big one, his '98 Vikings -- a team led by a 35-year-old Randall Cunningham and a 21-year-old Randy Moss -- went 15-1, featured one of the most prolific offenses in NFL history and very well may have delivered Green that elusive championship had Gary Anderson not chosen the worst time possible to miss his only kick of the year.
In 13 total seasons as an NFL head coach, Green won 113 regular-season games, plus four more in the playoffs. He was also a mentor to Tony Dungy and was responsible for putting Larry Fitzgerald, Karlos Dansby, Darnell Dockett and Antonio Smith on the Arizona Cardinals roster that eventually reached the Super Bowl in 2008, two years after Green was fired by the team.
But despite all he brought to the game, Green's career begins and ends for many with a volatile press conference held 10 years ago Sunday, after a 24-23 loss to the Chicago Bears.
Going into the Monday night game, Green's Cardinals were 1-4 and the Bears -- the eventual NFC champs -- were 5-0. Yet after three quarters, Arizona held a surprising 23-10 lead. But with five minutes to go, Peanut Tillman returned an Edgerrin James fumble for a touchdown, and two minutes after that, Devin Hester returned a punt 83 yards for what proved to be the game-winning score.
Afterward, an understandably grumpy Green was asked about his defense's showing against Chicago quarterback Rex Grossman, who threw four picks in the game. But rather than answer the question at hand, the usually mild-mannered Green unleashed a rant that was nothing short of legendary:
"The Bears were what we thought they were," Green shouted. "What we thought they were. We played them in preseason. Who the hell takes the third game in the preseason like it's (expletive)? We played them the third game, everybody played three quarters. The Bears are who we thought they were. That's why we took the damn field.
"If you want to crown them, then crown their (expletive)," Green added before storming off. "But they are who we thought they were. And we let them off the hook."
At the time, Green's tirade did little to encourage his team, which lost its next three games before eventually finishing 5-11. But in the years since, it has become a punchline -- and as much a part of his legacy as anything he ever did on the sideline.
In some ways, that's a shame, as Green, who passed away at age 67 in July, should be remembered for more than an unforgettable diatribe against his own team. But even Green, himself, had a sense of humor about it all, in the end: In November 2007, a little over a year after the presser, he unsuccessfully attempted to trademark the phrase that came to define him.
You can follow Sam Gardner on Twitter or email him at samgardnerfox@gmail.com.