10 toughest non-conference schedules in college football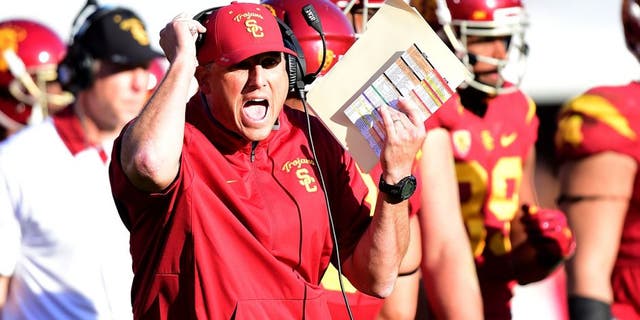 NEWYou can now listen to Fox News articles!
Last week's top 10 examined the Power 5 conference teams with the softest non-conference schedules. This week it's the teams with the toughest non-conference slates. I've based this on my evaluation of the average opponent's merits for 2016 on the following points system: five points for a top-5-caliber team; 4.5 for a top-15; four for a top-25; 3.5 for a top-40; three for a top-60; 2.5 for a top-80; two for a top-100; 1.5 for a fringe FBS program or strong FCS team; and one for a complete cupcake. Also, I've added bonus points for a road game (0.5) or a neutral site game (0.25).
The Trojans' entire schedule is a meat grinder. Eleven of their 12 opponents played in bowl games last season. The opener is against defending national champion Alabama in Texas. The closest of their three non-conference games to being seen as a breeze is against a Utah State team that has won 36 games the past four seasons and is 3-3 against ranked opponents under coach Matt Wells. The third game is against Notre Dame, which like Bama should be a top-15-caliber team this fall.
Bad enough the Bruins have to face former offensive coordinator Noel Mazzone and a defense with the best set of defensive ends in the country, but UCLA has to play Texas A&M in College Station. The next week things lighten up a lot against a rebuilding UNLV team. After that, it's back on the road against a BYU team that has gone 93-37 the past 10 years and defeated top-25 opponents each of the past three seasons.
Urban Meyer's program has the fewest returning starters in the country and most of the attrition has come on defense, where OSU had two D-linemen, two linebackers and two defensive backs picked in the first four rounds of the NFL Draft. Not easy when you're facing three of the nation's top 13 offenses in FBS football from last season -- Bowling Green (4), Oklahoma (7) and Tulsa (13). Only Bowling Green of the three doesn't have its prolific passer returning. The games against BG and Tulsa should be good tests for an inexperienced defense before the Buckeyes have to go on the road to visit Baker Mayfield and Co.
Christian McCaffrey's team opens with a visit from Kansas State. Bill Snyder's team was down last year -- at one point they were relying on their fifth-string quarterback against Oklahoma State (and winning), and the Wildcats are never fun to prep for. Then Stanford visits Notre Dame before playing Rice at home. The Owls are no powerhouse, but they have won 30 games the past four seasons and been to bowl games in three of those years. They also have 16 starters back, including nine on defense.
The opener is against a very good Houston team in Houston, although it's not at UH's stadium. It's at NRG, and the Sooners have a lot of alums down there. The game is part of the Cougars' season ticket package, so expect a pretty big UH crowd. A few weeks later, the Sooners get a visit from Ohio State, who is still loaded with talent. In between, there's a tune-up against Louisiana-Monroe.
This is a pretty nasty bunch. The Noles open in Orlando with an Ole Miss team that's beaten Bama in consecutive seasons and returns star quarterback Chad Kelly. Their "cupcake" game is actually against a very strong FCS team in Charleston Southern, who just went 10-2. The Noles have to play at South Florida, which just won eight games, and then get a visit from Florida.
The opener should be easy enough, against an FCS Furman program that went 4-7. The other two non-conference games are rough: at Notre Dame and then against BYU.
The Cards don't have any FCS opponents, although Charlotte is still pretty new to FBS football and is coming off a 2-10 season. Louisville does have two tough road games, at Marshall -- who won 10 games last year -- and on a Thursday night at Houston, who won 13. The other game is against arch-rival Kentucky, who should be improved from last season.
The Justin Fuente Era beings with FCS Liberty, who was 6-5 in 2015. Then there is the "neutral" site game in Bristol against Tennessee, who is primed for a top-10 season. Later in the year, the Hokies visit Notre Dame, another team with a shot at the Playoff. The fourth opponent is a rebuilding East Carolina program.
Last year, Texas got blasted in South Bend. This year, the Irish visit Austin, which should be much more manageable but still is a heavy lift for any young team. The easiest of the three non-conference games is against UTEP. That's followed by a West Coast trip to Cal, a game that got quite a bit more formidable with the Bears adding former Texas Tech starting QB Davis Webb to take over the offense.