White House Taps Bush, Clinton to Help Lead Haiti Relief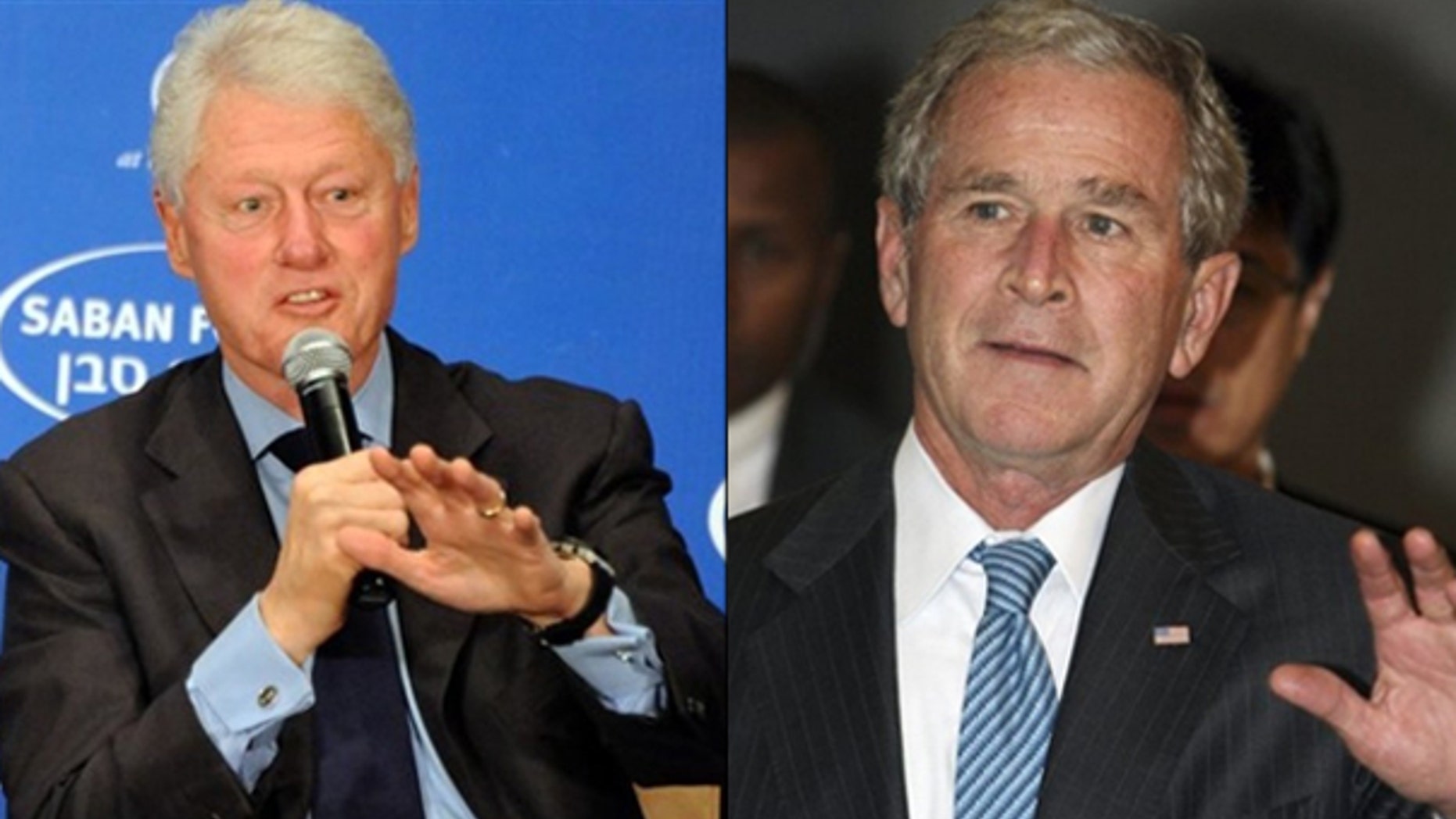 President Obama has tapped George W. Bush, a prime target of Democratic criticism during the presidential campaign for his response to Hurricane Katrina, to help lead Haiti relief efforts in the aftermath of the earthquake that devastated the country two days ago.
Bush will join up with former President Bill Clinton, who is also the United Nations special envoy for Haiti.
White House Press Secretary Robert Gibbs said Thursday that Obama, who spoke with Bush Wednesday evening, is looking to replicate the relief effort that Clinton and George H.W. Bush led after the 2004 tsunami that struck Asia.
"The president believed that the partnership that President George W. Bush created between his dad and former President Clinton was obviously a highly effective way of ensuring that after this phase of the operation ... obviously there is still going to be a tremendous need, and there will probably be a tremendous need for many, many months to come -- that that's the best vehicle and the most effective vehicle for setting that up," Gibbs said.
Bush and Clinton said in a joint statement they are "deeply saddened" by the situation in Haiti and have accepted Obama's offer to lead "private sector fundraising efforts."
"In the days and weeks ahead, we will draw attention to the many ways American citizens and businesses can help meet the urgent needs of the Haitian people," they said.
Obama's Republican predecessor may seem an unlikely candidate for the job considering how Obama and other candidates, even Republican John McCain, wailed on him in 2008 for what was widely seen as a bungled response to Katrina in 2005.
Obama accused the administration of "half-hearted leadership" and "half-measures" during one visit to New Orleans in early 2008. After taking office, Obama continued to criticize his predecessor over the response to the devastating 2005 hurricane blamed for more than 1,600 deaths.
"President Obama will keep the broken promises to rebuild New Orleans and the Gulf Coast," the White House Web site says to this day in a brief section on Katrina.
Gibbs downplayed the past criticism when asked about it Thursday.
"I think if you asked George Bush whether the government acted up to its ability in responding to Katrina, I think the answer to that would be no," he said. "Look, if everything ... I criticized precluded me from ever doing something with them on an issue that we agreed on, we'd all be walking around as 300 million people unable to communicate or deal with anybody else."
Bush and his top officials in charge of disaster relief became political punching bags after Katrina. They were criticized for what was seen as ineffective evacuation efforts, slow response, the poor and neglected conditions of mass refugee shelters like the New Orleans convention center, and the seeming aloofness of those in charge.
Federal Emergency Management Agency head Michael Brown resigned in the aftermath but polls show the public blamed state and local officials for the chaos as well as the Bush administration.
But after the 7.0 magnitude earthquake struck Haiti, the United States appears to be summoning all resources to rescue survivors, feed and treat the population, and help rebuild the country.
Clinton wrote in an op-ed in The Washington Post Thursday that the reconstruction effort should aim to build "Haiti back better" with better schools, stronger buildings and infrastructure.
"In the coming days, stories of loss and the triumph of the human spirit will be told. They will call us to help -- not just to restore Haiti but to assist it in becoming the strong, secure nation its people have always desired and deserved," Clinton wrote.
Fox News' Mike Emanuel contributed to this report.