What, Me Worry? Sen. Reid Downplays Poll Showing Him Losing To Nev. Gov. Sandoval In 2016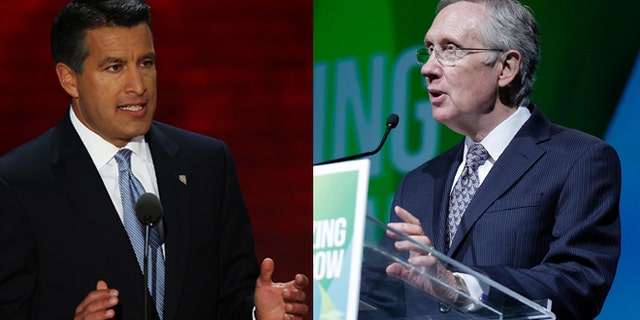 NEWYou can now listen to Fox News articles!
A recent poll of Nevada voters showed U.S. Sen. Harry Reid trailing Gov. Brian Sandoval in a match-up for Reid's Senate seat in 2016, but the Majority Leader is downplaying the results.
The Harper Polling survey showed Reid, a Democrat who has served five terms, 10 points behind Republican Sandoval should the two face each other two years from now.
It remains unclear if Sandoval, who is expected to handily win re-election as governor this November, will run for the U.S. Senate.
"I thought he would be up by more," Reid said recently, according to Politico. "He's out there every day; I'm back here [in Washington, D.C.] slogging it out. I was surprised it was so close. Really!"
The Harper poll showed Sandoval leading Reid 53-43 percent. About 58 percent of respondents held a favorable view of Sandoval, while just 41 did so of Reid.
Politico noted, "With Sandoval skating to a second term this fall, Republicans and Democrats both agree that the moderate Hispanic governor would be Reid's toughest opponent, particularly given the Nevada Democrat's poor approval ratings."
Sandoval reportedly is not anxious to run against the veteran lawmaker but that doesn't mean Republicans won't try to change his mind.
"I would anticipate that will be a topic of discussion after November," said Nevada's other U.S. senator, Dean Heller (Rep.), who, according to Politico, urged Sandoval to think about running.
Sandoval's challenger in the gubernatorial race is little-known Democrat Bob Goodman.
In the lieutenant governor's race, meanwhile, Reid is pushing hard for Democratic assemblywoman Lucy Flores against the governor's candidate, state Sen. Mark Hutchison.
Nevada is one of the most heavily Hispanic states in the country, making up 27 percent of the total population, according to Pew Research Center. That is quite a jump from 1960, when Hispanics comprised just 4 percent of the state's residents.
Follow us on twitter.com/foxnewslatino
Like us at facebook.com/foxnewslatino