War Criminals or Common Thugs? Critics Question Obama's Recognition of Terror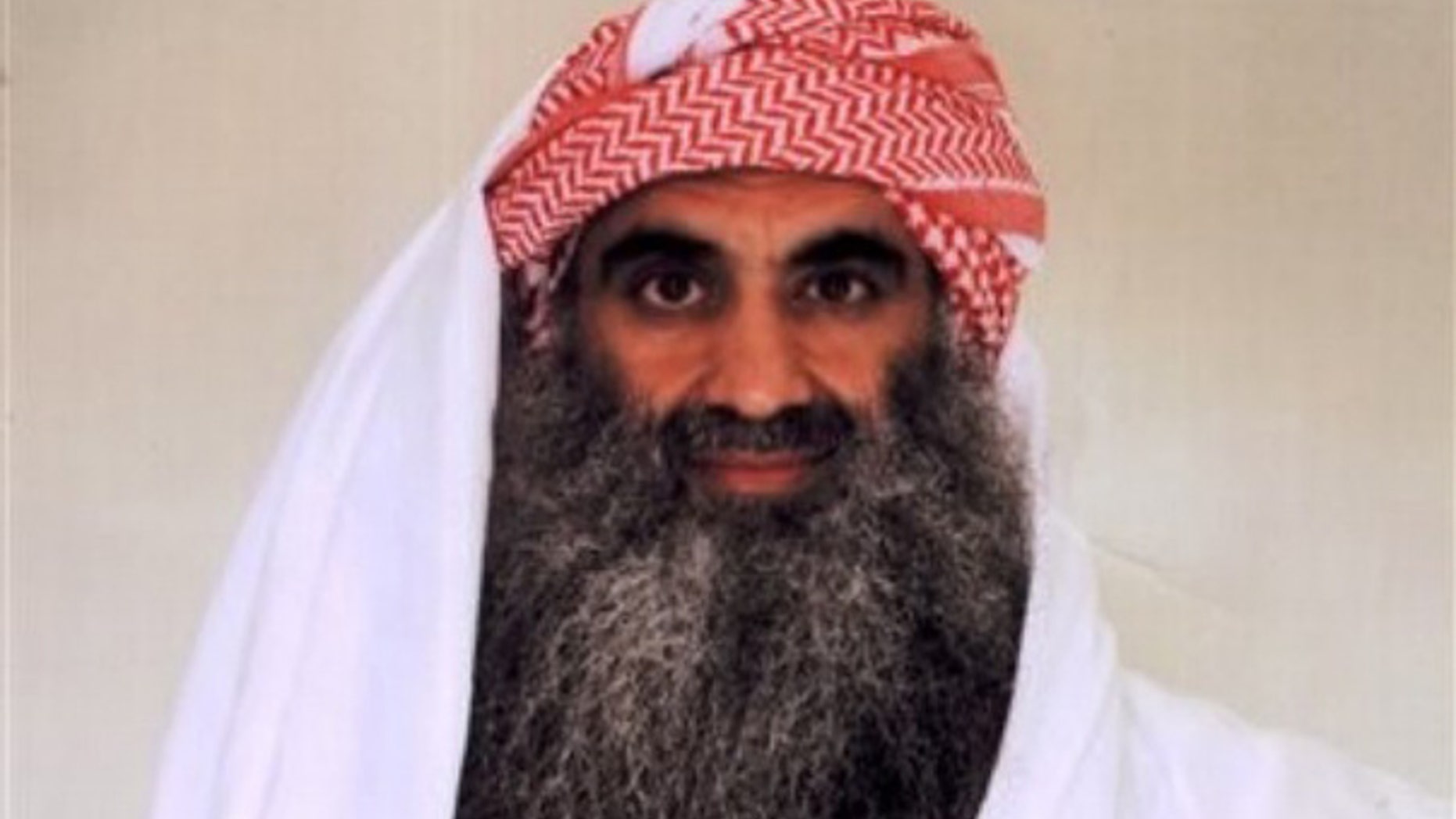 The Obama administration's decision to prosecute five Sept. 11 terror suspects in New York rather than in a military tribunal has sparked furor among those who say the White House is wearing blinders when it comes to the ongoing War on Terror.
"America is still at war whether (President Obama) wants to admit it or not. The president needs to see the world the way it is, not the way he wants it to be," said Rep. Pete Hoekstra, R-Mich., the top Republican on the House intelligence committee.
"This decision is further evidence that the White House is reverting to a dangerous pre-9/11 mentality -- treating terrorism as a law enforcement issue and hoping for the best," House Minority Leader John Boehner said in a written statement. "We need a real strategy for fighting and winning the war on America's terrorist enemies that includes an effective, credible and consistent plan for all terrorist detainees."
Obama was in Japan Friday as Attorney General Eric Holder announced that the self-proclaimed architect of the Sept. 11 terrorist attacks Khalid Sheik Mohammed and four other Guantanamo Bay detainees will stand trial in a federal civilian courtroom down the street from the site where the World Trade Center's twin towers once stood.
Holder said his department worked with the Defense Department and in a detention policy task force to conclude that the most successful outcome for the Sept. 11 cases would come from a trial in a New York federal court.
"Cases are typically tried in the place where the offense occurred," Holder told reporters. "This is a matter that happened in this country opposed to overseas which is different from what we might do to those who will be tried in the military commissions."
A Justice Department official told Fox News that as a general rule of thumb, detainees at Guantanamo accused of terror acts against U.S. citizens will be tried in a civilian court, including the accused Sept. 11 suspects.
Those detainees who are "more tied to military" sphere, -- namely being captured on the battlefield or offenses involving attacks against military personnel -- would go to military commissions.
Five detainees, including a key suspect in the bombing of the USS Cole, Abd al-Rahim al-Nashiri, will face trial before a military commission.
Holder argued that the decision to pick different courts for different suspects was not a matter of guaranteeing the outcome.
"If one looks at what has happened in federal court, we have certainly done and have a great deal of experience with bringing terrorist cases when it comes to cases that violate the (laws of war)," Holder said.
"Certainly, with regard to the Cole bombing, that was an attack on a United States warship, and that, I think, is appropriately placed into the military commission setting. At least one of the others involves an attack on one of our soldiers. So that is among the factors that we considered in making determinations as to whether they go into civilian federal courts or the military commissions," he added.
But critics questioned the wisdom of that logic.
"This was an act of war when they struck in New York," said terrorism analyst Neil Livingstone, noting that the attack led to the wars in Afghanistan and Iraq. "It would be like us trying the Japanese who attacked Pearl Harbor in civilian courts."
Already, the decision to make a distinction between the locations of terror attacks led Nancy Hollander, a defense attorney for Al-Nashiri, to contend that her client's being sent through the military tribunal system shows that the Justice Department doesn't have a case against him.
"My client is going to a commission, and I just want to be clear that this case, the Cole case, was first investigated as a criminal case," Hollander said during a conference call held by the American Civil Liberties Union. "There's an indictment that's been pending since May 2003 in the Southern District of New York. So the only reason I can understand for the government to try to try him in a military commission is that the government does not have the evidence to go to a legitimate federal courts, and in seeking a conviction will try to do it in a court that frankly Americans cannot be proud of."
Former New York City Mayor Rudy Giuliani said bringing the terror detainees to the U.S. for trial has brought the country full circle to a pre-9/11 mentality.
"Khalid Shaikh Mohammed should be treated like the war criminal he is and tried in a military court," he said in a written statement. "He is not just another murderer, or even a mass murderer. He murdered as part of a declared war against us - America."
But Mayor Michael Bloomberg expressed support for the Obama administration's decision.
"It is fitting that 9/11 suspects face justice near the World Trade Center site where so many New Yorkers were murdered," Bloomberg said in a written statement. "We have hosted terrorism trials before, including the trial of Omar Abdel-Rahman, the mastermind of the 1993 World Trade Center bombing.
"I have great confidence that the NYPD, with federal authorities, will handle security expertly," he added. "The NYPD is the best police department in the world and it has experience dealing with high-profile terrorism suspects and any logistical issues that may come up during the trials."
Several Democratic lawmakers who vigorously opposed military tribunals during the Bush administration said Friday that trying the terror detainees in criminal courts is the best way to demonstrate America's values.
"I have always believed that the nation's federal courts are capable of trying high profile terrorism and national security cases," said Senate Judiciary Committee Chairman Patrick Leahy, D-Vt. "I hope these cases will move forward promptly. By trying them in our federal courts, we demonstrate to the world that the most powerful nation on earth also trusts its judicial system -- a system respected around the world."
"I am a strong believer that we need anti-terrorist type efforts, including holding those accountable," Rep. Joe Sestak, D-Pa., told Fox News. "But I also believe you don't break the ideals of not bringing people into their day of court and prosecuting them under the law."
But not all Democrats supported prosecuting the terror detainees in civilian courts.
Sen. Jim Webb of Virginia said he didn't dispute the president's authority to try international terrorists on U.S. soil but he added, "I remain very concerned about the wisdom of doing so."
"They do not belong in our country, they do not belong in our courts, and they do not belong in our prisons," he said. "I have consistently argued that military commissions...are the most appropriate venue for trying individuals adjudged to be enemy combatants."
Sen. John McCain said the military tribunals were rigorously reviewed and approved by Congress specifically to serve as courts for terror suspects.
"I have worked tirelessly with my colleagues in Congress and with the Obama administration to make our military tribunals system better able to dispense justice efficiently and fairly while protecting secure information," McCain, R-Ariz., said in a statement. "If military tribunals are suitable for the terrorists who attacked our sailors aboard the USS Cole, as the Obama administration has decided, then military tribunals are certainly the right venue to try the Al Qaeda terrorists."
Livingstone said liberals have long argued that the U.S. should not deal with terrorism as a military issue.
"For years, many of us regarded that as a fool's errand," he told FoxNews.com.
Sestak, a former vice admiral in the U.S. Navy, dismissed the notion that the decision was an attempt to appease the left.
"This is to make sure that we stand up to our ideals ... Appeasement? Absolutely not. There's only one appeasement that needs to be done, and that's justice. And that we don't have good enough court systems in America, that we aren't going to be able to bring him to bear? We don't know that until it's brought forward," he said.
But former New York Gov. George Pataki said those interested in civilian courts have not learned the lesson from the trial of the terrorists responsible for the 1993 bombing of the World Trade Center -- in which four men were convicted and imprisoned for life
That was a "complete fiasco of propaganda" and led to the Sept. 11 attacks, Pataki told Fox News. "But then again, this is a group that's investigating our own CIA officers instead of being aggressive and going after the War on Terror. They won't even use that term."
Pataki, who was governor at the time of the 2001 attacks, said military tribunals are the only logical option for prosecuting the suspects.
"This isn't someone holding up the neighborhood grocery store. This is an act of terrorism in a war of terror," he said. "And we have the absolute legal and constitutional right to try them in military tribunals for war crimes and that's what they committed."
Fox News' Mike Levine and Foxnews.com's Stephen Clark contributed to this report.