U.S. Law Enforcement Plays Critical Role in Haiti Relief Efforts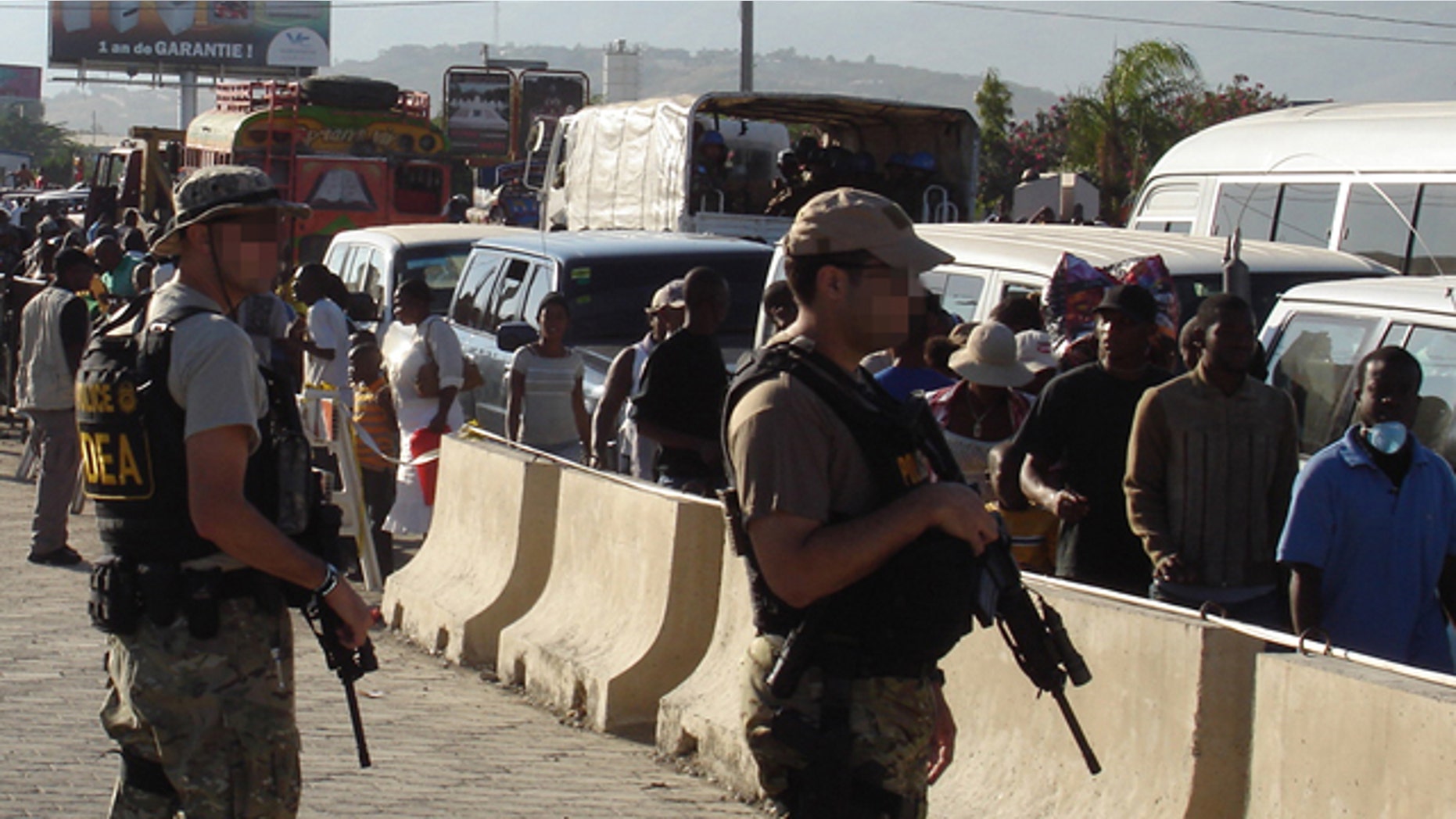 While rescue teams tried to save survivors immediately after last month's devastating earthquake in Haiti, the U.S. law enforcement community there faced its own daunting tasks: preventing desperate Haitians from overrunning the U.S. embassy, keeping America's secrets secure inside the embassy, and keeping the environment safe enough for embassy staff and relief workers to do their jobs.
But at that time the entire U.S. law enforcement community in Haiti -- a country of nine million -- consisted of eight people, one of them a Drug Enforcement Administration agent unable to pitch in because her house had collapsed on her.
"It's been one of the most challenging periods of my life," Darrel Paskett, head of the DEA's office in Haiti, told Fox News. "Everybody here is kind of tired to the bone, but we're hanging in there so far. ... This is just too big of a problem to walk away from right now."
When the earthquake struck at 4:53 p.m. local time, Paskett and his wife were heading home from their offices in the Haitian capital of Port au Prince.
"I left a little bit early for me, honestly," Paskett confessed.
He and his wife were looking forward to a "big event" at the U.S. ambassador's house that evening, and they wanted some extra time to get ready.
"Fortunately, I didn't get out quite as early as I had hoped, and that very probably saved our lives," Paskett said.
Two of his agents had been heading to a beach in northern Haiti, hoping to disrupt a cocaine "off-load," but they immediately "turned around," according to Paskett.
As "thousands of pedestrians were rushing in every direction," the radio provided by the embassy for emergencies "was coming alive" with reports of devastation, Paskett said.
The State Department official in charge of security for the U.S. embassy, Steve Lesniak, had also left the office for the day, but he quickly returned to the embassy - and wouldn't leave it for another 24 hours.
"My immediate concern was [the prospect] of numbers of persons rushing the embassy for shelter and aid," Lesniak said in an e-mail to Fox News. "Perimeter security and internal defense became the number one priorities."
Not only was the safety of Americans at stake, but classified information was being stored inside the embassy compound.
Protecting classified information is a "significant concern" that "often goes hand in hand with protecting the people who work in the embassy," a spokeswoman for the State Department's Bureau of Diplomatic Security said via e-mail.
But Lesniak was short-staffed. One of his two agents was providing first aid to critically injured embassy personnel, while the other was on a motorcycle, looking for staffers who had yet to check in by radio.
So Lesniak drafted the two DEA agents who had been chasing suspected drug-traffickers just hours before.
"That very first night he came to them and said, 'We are now three American law enforcement people who are the sole protection for the outer perimeter of the embassy compound,'" according to Paskett, adding that his agents were "well armed" and wearing bullet proof vests as they stood at "strategic locations."
Inside the embassy, military guards kept watch over the classified information, according to Paskett.
But the huge crowds feared that night never materialized.
"I think what saved [Lesniak] from that first night was that so many Haitians were simply running around town without telephone connections trying to find out the status of their families," Paskett said.
It took almost seven hours for authorities to determine which of the more than 120 Americans working at the embassy were alive, injured or missing.
The DEA agent whose house had collapsed on her had been found alive.
The next day, Diplomatic Security officers secured a landing zone near the embassy for U.S. military and Coast Guard helicopters to begin medical evacuations, according to Lesniak.
Meanwhile, the DEA was fast becoming more "Disaster Emergency Assistance" than Drug Enforcement Administration, "repeatedly" responding to what Paskett called a "smorgasbord" of security needs.
In particular, many of the 45,000 U.S. citizens in Haiti were descending on the U.S. consulate, hoping to be approved for evacuation. Non-Americans followed suit.
"What had been a line of people trying to be processed and evaluated for evacuation had turned into a blob, just a mob of people competing to see who could get through that door next," Paskett said.
It was "chaos" and inching toward "a riot situation," he said.
DEA agents, many of them in Haiti for years, offered more than just manpower.
"They speak Creole," Paskett said. "They can talk to people in the line and explain to them what we need, and keep it much more calm and orderly than some of the ... out-of-towners."
In the first few days, the U.S. consulate approved nearly 5,000 people for evacuation, which Paskett called a "tremendous" statistic.
The DEA - with its armed agents and armored vehicles - was also providing a secure way of getting around Haiti, at one point escorting the comptroller of a major relief agency.
The comptroller needed to securely move hundreds of thousands of dollars in cash from a bank, which had opened for the single transaction, to the embassy for "emergency cash disbursements."
In addition, Paskett and his agents escorted embassy staffers to their homes, so they could retrieve a change of clothes or personal items.
"In many cases they did not know if they had a home to go back to," Paskett said. "Unfortunately, I've had to put an arm around a shoulder on more than one occasion as people realized that their home's gone, that they lost their possessions."
DEA and Diplomatic Security officials also felt an obligation to assist their Haitian counterparts, so they helped the Haitian police form a response plan, which included ensuring food for themselves.
"They were facing a crisis that would test a well-developed law enforcement institution," Paskett said, noting that nearly half of Haiti's 49 narcotics officers are currently homeless.
Two days after the earthquake, the eight U.S. law enforcement officials - including a U.S. Coast Guard liaison officer - were finally joined by other U.S. law enforcement officials.
A Diplomatic Security team of 20 had driven from the Dominican Republic.
Paskett said much of what he and his agents have been doing is "not our normal mission."
"In time we're going to have to look at how we transition back," he said. "But for the time being, we're just looking to do whatever we can do to lend our expertise and our unique skill set to facilitate what everybody else is trying to do."