U.S. General: Al Qaeda May Step Up Iraqi Operations After Troops Leave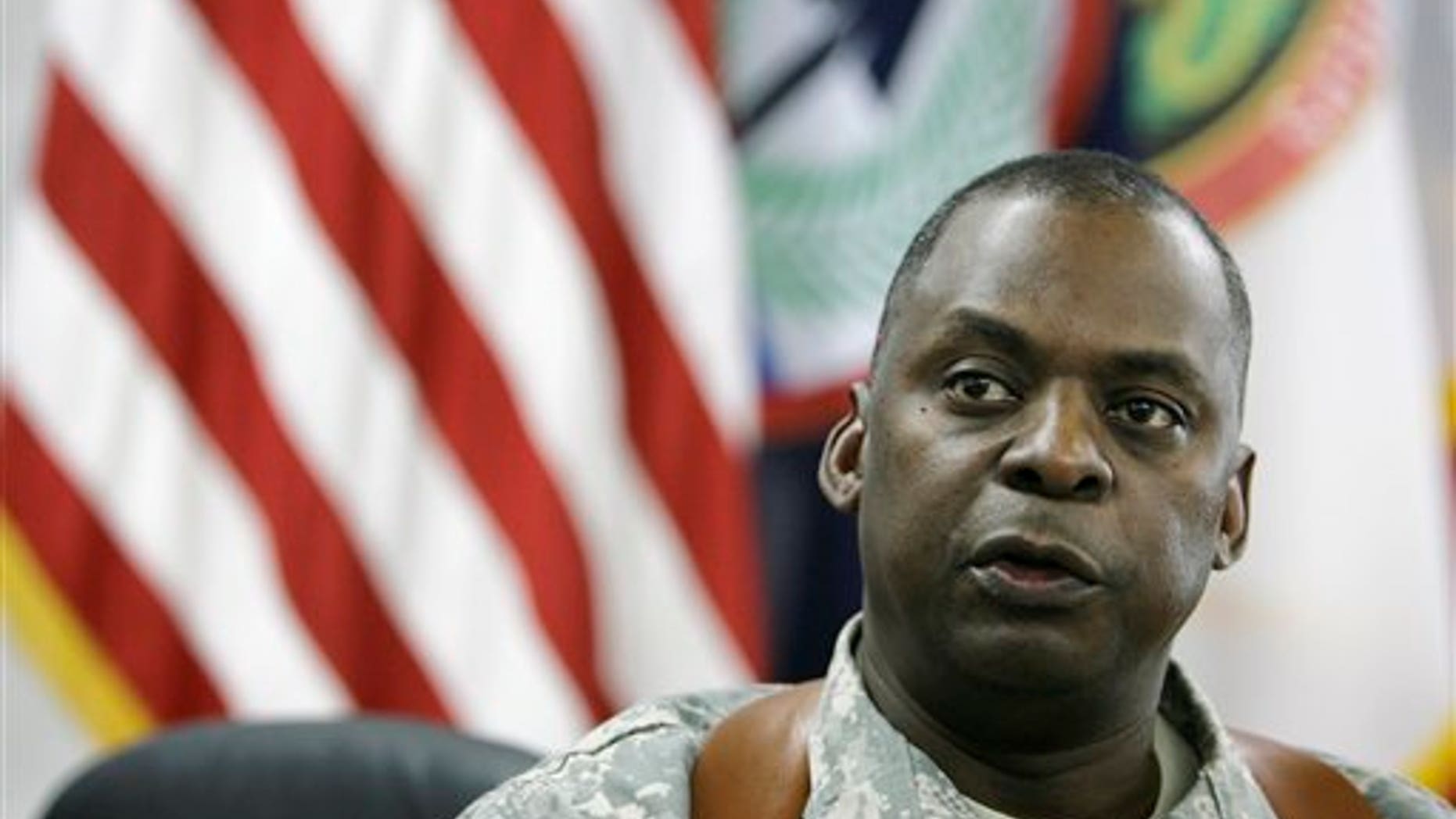 BAGHDAD – The top American general in Iraq said Monday that Al Qaeda and other insurgent groups might seek to step up operations after U.S. forces leave at the end of the year.
Gen. Lloyd Austin also told reporters in Baghdad that while he expected "turbulence," he did not see the situation completely disintegrating. He noted that security did not collapse after U.S. forces pulled out of Iraqi cities in 2009.
"As we leave, you can expect to see some turbulence in security initially, and that's because you'll see various elements try to increase their freedom of movement and freedom of action. Al Qaeda will be one of those elements," Austin said.
The capabilities of Al Qaeda in Iraq have deteriorated greatly since the height of the insurgency in 2004-2007 when the organization essentially controlled cities such as Fallujah and regularly carried out large-scale suicide attacks with seeming impunity.
But the organization is still able to carry out deadly, sometimes sophisticated attacks. While they originally targeted American troops, now their focus is mainly the Iraqi government and security forces, along with Shiite mosques or Shiite neighborhoods.
Austin also highlighted the risk that Shiite militias, which have so far mostly attacked American forces, will pose to the Iraqi government once U.S. forces have left. He warned that they could become the equivalent of Lebanon's powerful, Iranian-backed Hezbollah movement.
"I think the Iraqi government has to treat them based upon what they really are. These are elements that are really focused on creating a Lebanese Hezbollah kind of organization in this country. A government within a government, and those elements would have their own militia," he said.
The U.S. says that Shiite-majority Iran has cultivated ties with many Iraqi Shiite militias, as it has with Hezbollah. Austin nonetheless played down concerns that Iraq would fall under Iran's sphere of influence.
"I think at the end of the day, the Iraqis will do what's best for Iraq, and I think they will make their own decisions," said Austin.
He acknowledged he is concerned about the threat Shiite militias, supported by Iran, will pose to American diplomats who will remain in the country. Even after American forces leave Iraq, the U.S. will have a massive American diplomatic presence in the country.
The U.S. Embassy in Baghdad will be the largest in the world, and the State Department will have offices in the northern cities of Irbil and Kirkuk and in the southern oil city of Basra.
Austin highlighted other problems that Iraq's military faces, saying it does not yet have the ability to protect the country's borders.
Iraq's top general has also said his forces will not be able to protect their own borders until at least 2020.
"I don't think they have very much of a capability at all to address an external threat," Austin said.
The Iraqis have been bolstering their capability for conventional warfare with purchases of American tanks, howitzers and other armaments, and Baghdad has said that it would like to purchase as many as 36 F-16 fighter jets. But for the most part, the Iraqi security forces have been focused on fighting the insurgency that has raged inside the country almost since Saddam Hussein was ousted.
All American forces must be out of Iraq by the end of this year according to a security agreement signed by the U.S. and Iraq in 2008. Austin said there are just under 20,000 troops and eight American bases left in the country as the military rapidly packs up its equipment and people, down from 170,000 at the height of the deployment.
The U.S. and Iraq negotiated for months this year about extending the American troop presence in Iraq. They were never able to come to an agreement over what type of legal protections to give those forces, however, and the Americans had to stick to their original withdrawal deadline.