U.S. Considers More Legal Challenges Against State Crackdowns on Illegal Immigration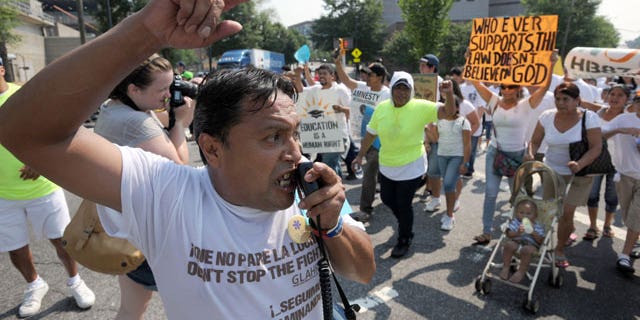 After suing Arizona and Alabama over their strict immigration laws, the Obama administration is seriously weighing whether to legally challenge similar measures in four other states.
"To the extent we find state laws that interfere with the federal government's enforcement of immigration law, we are prepared to bring suit," said Justice Department spokeswoman Xochitl Hinojosa. "The department is currently reviewing immigration-related laws that were passed in Utah, Indiana, Georgia and South Carolina."
"In reviewing these, the department is proceeding consistently with the process followed and the legal principles established in United States v. Arizona," she said. "Based on that review and applying those principles, the United States will decide whether and when to bring suit challenging particular state laws."
Sen. Chuck Grassley, the top Republican on the Senate Judiciary Committee, which oversees federal immigration policy, criticized the administration's move.
"The administration should be working with states, not against them, to enforce our immigration laws," he said. "This latest attempt to challenge a state's efforts to enforce the rule of law, while turning a blind eye to cities and states that knowingly harbor illegal immigrants through sanctuary policies, is undermining the very same rule of law that our country was built on."
Arizona set the stage last year for the epic battle between the states and the federal government over cracking down on illegal immigration. Arizona passed its law in April 2010 after years of complaints that the federal government hasn't done enough to assist Arizona, the nation's busiest illegal entry point, with border security. The legislation inspired protests, led to lawsuits seeking to overturn the law and sparked a debate about whether the law would lead to racial profiling.
A federal judge blocked the most controversial parts of Arizona's law last year after the U.S. Department of Justice sued, arguing the law intrudes on the federal government's exclusive powers to regulate immigration. A federal appeals court judge upheld the decision and Arizona Gov. Jan Brewer has appealed to the U.S. Supreme Court.
The other immigration laws are similar but have their differences.
Georgia passed its law in May. But a month later, a federal judge blocked parts that penalize people who knowingly and willingly transport or harbor illegal immigrants while committing another crime and other parts that authorize officers to verify the immigration status of someone who can't provide proper identification.
In March, Utah passed a softer version of Arizona's law, requiring people to prove their citizenship if they're arrested for serious crimes – ranging from certain drug offenses to murder – while giving police discretion to check citizenship after traffic infractions and other lesser offenses.
But a federal judge temporarily blocked it in May on the same day it was to go into effect.
In June, South Carolina passed its law that requires police in South Carolina to call federal immigration officials if someone is suspected of being in the country illegally. It also creates a new police force to enforce a law that would also make it a felony to make fake photographic identification for illegal immigrants. People convicted of that felony could face $25,000 fines and five years in prison.
It doesn't take effect until January.
Indiana passed its law in May, which required public employers and state contractors to verify workers' immigration status using the federal government's E-Verify system. But a federal judge blocked parts of it the following month, saying it was the latest failed effort of states to deal with a primarily federal issue.
On Wednesday, a federal judge refused to block key parts of Alabama's law that requires public schools to verify the citizenship status of students and report statistics to the state, among other things. U.S. District Judge Sharon Blackburn said that some parts of the law are in conflict with federal statues, but others aren't.
She said federal law doesn't prohibit checking students or suspects pulled over by police. She also refused to stop provisions that allow police to hold suspected illegal immigrants without bond; bar state courts from enforcing contracts involving illegal immigrants; make it a felony for an illegal immigrant to do business with the state; and make it a misdemeanor for an illegal resident not to have immigration papers.
The Associated Press contributed to this report.