Trump says Saudi Arabia 'didn't know how to use' US-made bombs in Yemen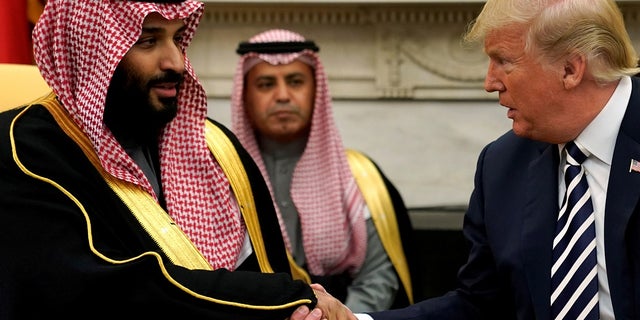 President Trump said in an interview broadcast Sunday that members of the Saudi-led coalition fighting in Yemen's civil war "didn't know how to use" an American-made bomb when they blew up a school bus this past August, killing dozens of children.
Trump described the Aug. 9 attack, which killed at least 51 people including 40 children, as "a horror show" in an interview with "Axios on HBO." However, he pointed out that the weapon "wasn't operated by U.S. people."
"We don't do that," Trump went on. "Our people are the best operators in the world ... That was basically people that didn't know how to use the weapon, which is horrible."
The interview was broadcast four days after the Trump administration demanded a cease-fire and the launch of U.N.-led political talks to end the Yemen conflict, which has devolved into a proxy war between the Saudis and Iran. Defense Secretary Jim Matts called for a halt to hostilities within 30 days.
An estimated 10,000 people have been killed since the conflict erupted in March 2015, one year after the Shiite Muslim Houthi minority took over Yemen's capital, Sanaa, and toppled the government. A Saudi-led, U.S.-backed coalition supporting the largely exiled government has blockaded the rebel-held north and waged a devastating air campaign. The U.S. has also sold billions of dollars' worth of arms to Saudi Arabia and provides logistical and other support to the coalition.
TRUMP AMPS UP CRACKDOWN ON VENEZUELA
The war has also left around two-thirds of Yemen's population of 27 million relying on foreign aid, and more than 8 million at risk of starvation.
"What's going on in Yemen generally is a terrible thing," said Trump, who added: "It is probably right now the worst place on Earth."
The U.S.-Saudi alliance has come under strain in recent weeks following the Oct. 2 kidnapping and murder of Jamal Khashoggi, a U.S.-based Saudi activist who contributed opinion pieces to The Washington Post. The State Department on Friday said it would continue to seek a full investigation into what happened to Khashoggi after he entered the Saudi consulate in Istanbul and never came out.
MIGRANT CARAVANS GROW IN SIZE, GET HELP ALONG THE WAY
Trump told Axios that he would "be talking about a lot of things with the Saudis," but added, "certainly I wouldn't be having people that don't know how to use the weapons shooting at buses with children."
Earlier Sunday, Yemeni officials said more than 150 fighters on both sides had been killed over the weekend amid escalating fighting around the key port city of Hodeida. The rebels said they had repelled the offensive, killing or wounding 215 troops and destroying 20 armored vehicles.
The Associated Press contributed to this report.