Trump says Rubio is 'weak' on immigration and his personal finances are a 'mess'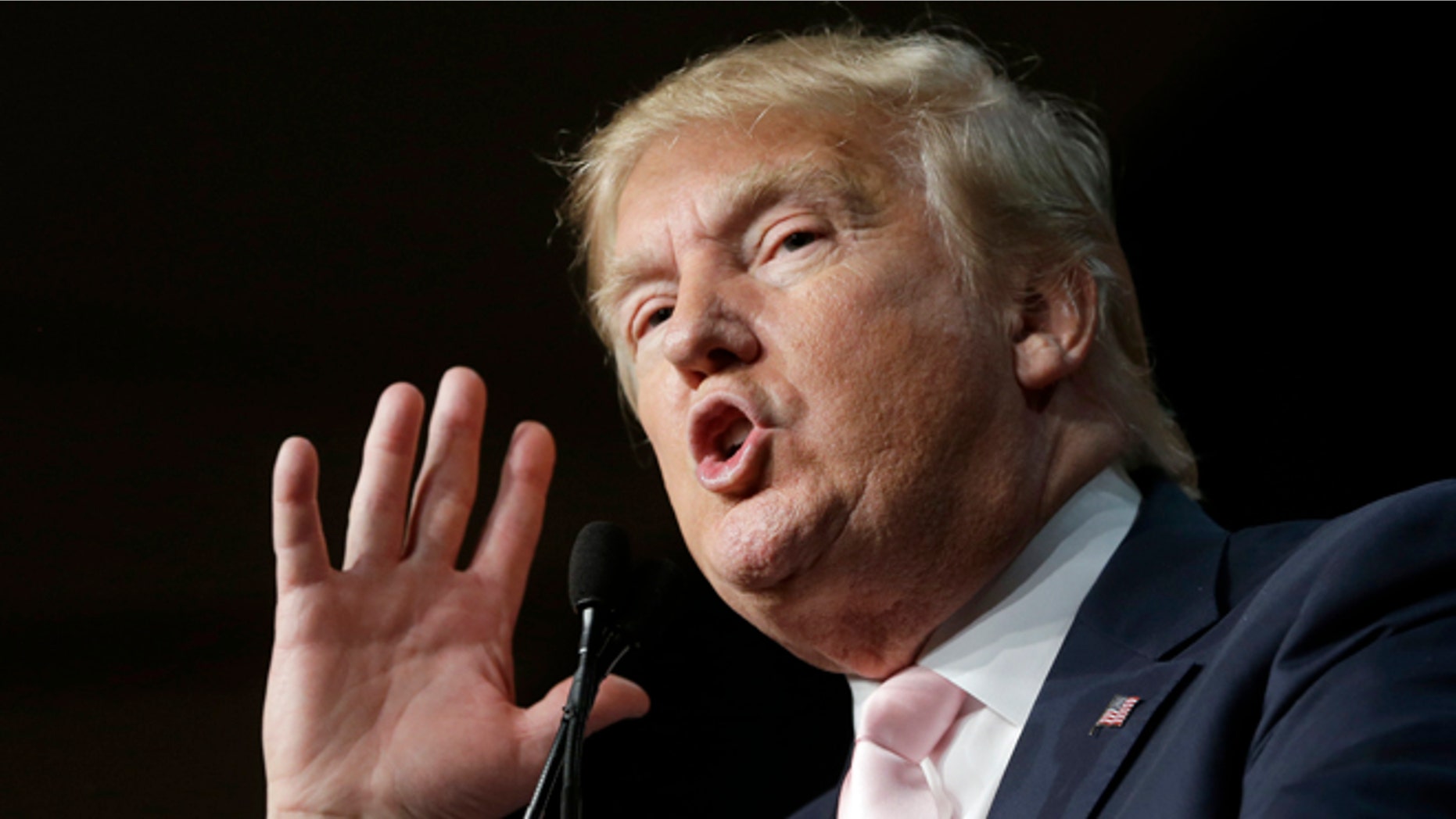 The Donald Trump show returned to his hometown of New York City Tuesday morning for the release of the Republican presidential candidate's latest book and, true to form, the real estate magnate spared no one during his remarks.
During a lengthy question-and-answer session with the press gathered inside Trump Towers, the controversial billionaire once again broached one of his favorite campaign topics – immigration – and slammed his fellow Republicans for being weak on the issue.
"That's right, there will be a wall built. It will go up and it will be built and people will come into the country legally," Trump said. "I'm much different than, you look at Marco Rubio. Very, very weak on illegal immigration."
Rubio, the Florida senator who has seen his stock rise after two strong debate performances, was a major target of Trump's during his remarks - along with retired neurosurgeon Ben Carson, who just surpassed Trump in a recent NBC/Wall Street Journal Poll.
"Marco is overrated," Trump said. "Marco doesn't show up to the United States Senate…Marco is a sitting Senator and he doesn't show up for the people of Florida."
The Florida lawmaker was hit last week by a scathing opinion piece in the South Florida Sun-Sentinel calling for Rubio to resign from the Senate. Later, during the debate, Jeb Bush – the former governor of Florida – slammed his rival by saying that Rubio has skipped too many votes in the Senate as he campaigns for president.
Bush added that Rubio should do his job. He says "this was a 6-year term and you should be showing up to work."
"What is this a French work week?" Bush said in jest.
Rubio has pushed back on the attacks– saying media criticism of his voting record is an example of bias against conservatives and that Bush is only piling on the attack because "we're running for the same position and someone has convinced you that attacking me will help you."
After criticizing Rubio for his Senate attendance, Trump kept at the freshman senator by calling his position on immigration "trouble for him" and slamming his rival on his personal finances.
"All you have to do is look at his credit card," Trump said. "He is a disaster."
Trump added: "For years, I have been hearing that his credit cards are a disaster…He has a very bad record of finances if you look at what happened with his houses. He certainly lives above his means."
Rubio has in the past dismissed questions about whether his history of personal financial woes disqualifies him from being in charge of the federal government.
A bank once moved to foreclose one of Rubio's homes. He couldn't account for thousands of expenses from political committees he ran. Last year, he sold retirement funds to pay bills despite earning millions over the past decade.
Rubio dismissed those problems as discredited attacks and said his struggles to provide for his four children are the reason he is pushing a tax plan that would help families. He also recounts his humble upbringing as the son of immigrant parents who worked as a bartender and a housekeeper to provide for their children.
Trump's latest book, entitled "Crippled America," makes the case that Trump has the experience and business savvy to accomplish things that traditional, all-talk, no-action politicians can't. It comes as Trump is continuing to adjust to a new phase of the campaign in which the once undisputed front-runner is now facing heightened competition from a number of his GOP rivals.
"This book is designed to give the reader a better understanding of me and my ideas for our future," Trump writes. "I'm a really nice guy, but I'm also passionate and determined to make our country great again."
Many presidential candidates write books aimed at getting their stories before the public, and almost all of them feature cover photos of the candidates looking friendly, poised, competent and, well, presidential. Trump's cover features him with furrowed brows and a deep scowl, in keeping with his often irascible demeanor.
"I'm sitting there with an angry face and everybody said that's really got to be the picture because the book is explaining all that's the wrong in the country," Trump said Tuesday on ABC's "Good Morning America."
The Associated Press contributed to this report.