Trump says not going to White House Correspondents dinner
President Trump said Saturday that he will not attend the White House Correspondents' Association dinner, escalating his battle with the news media and raising questions about the future of the annual event.
"I will not be attending the White House Correspondents' Association Dinner this year," Trump tweeted. "Please wish everyone well and have a great evening!"
The comment was just the latest turn in Trump's adversarial relationship with the news media, which essentially began at the start of his campaign in July 2015 and took another questionable turn Friday.
White House Press Secretary Sean Spicer excluded several news organizations from an informal, but on-the-record gathering known as a "gaggle" -- held Friday in place of the regular, daily press briefing.
Among those excluded were the New York Times, the Los Angeles Times, CNN and Politico.
The Associated Press and purportedly Time magazine chose not to participate upon learning about Spicer's move.
Those allowed to attend included Fox News and the conservative website Breitbart News. The site's former executive chairman, Steve Bannon, is chief strategist to Trump.
The White House defended the decision by saying so-called "pool reporters," who record events for others, were invited "so everyone was represented."
Earlier Friday, in a speech before the Conservative Political Action Conference, Trump again railed against "dishonest" members of the media and what he calls "fake news."
The annual black-tie dinner scheduled for April 29 was already unraveling before Saturday. Some of the most prestigious news gathering groups, including Bloomberg, Vanity Fair and The New Yorker, said they would not hold exclusive parties before or afterward. In addition, the casts of "Veep," "House of Cards" and "Scandal" all said they would not be attending this year.
Even before Trump was elected, the party -- known to some as the "nerd prom" -- was being criticized for becoming an event more for Hollywood types than for the journalists who cover the White House.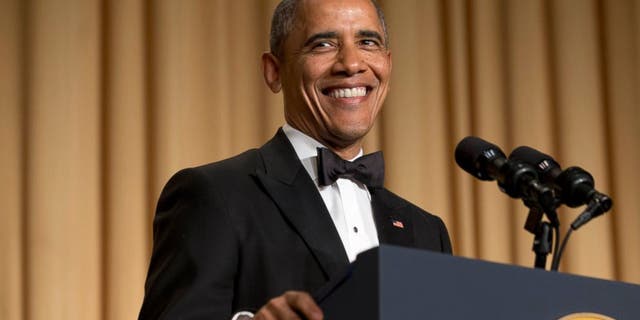 Jeff Mason, a Reuters reporter and president of the White House Correspondence Association, told Fox News on Saturday that the dinner has "no chance" of being canceled and that Trump has yet to be formally invited.
Though U.S. presidents and reporters frequently have adversarial relationships, the event is one each year in which the sides put aside their differences and give speeches that poke fun.
President Obama roasted Trump at the 2011 event.
The Associated Press contributed to this report.