Trump campaign says plans for massive deportations yet 'to be determined'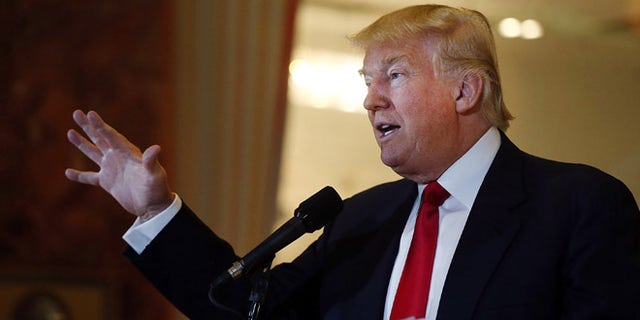 NEWYou can now listen to Fox News articles!
The specifics of the plan to deport millions of undocumented immigrants set forth months ago by Republican presidential nominee Donald Trump are yet "to be determined" and will be developed in the coming "weeks," campaign manager Kellyanne Conway told CNN.
Conway thus left up in the air one of the most controversial proposals of the New York magnate, who has said during his presidential run that he intends – if elected – to create a deportation force that will expel all 11 million undocumented migrants from the United States.
"What (Trump) supports is to make sure we enforce the law, that we are respectful of those Americans who are looking for jobs, and that we are fair and humane to those who live among us," said Conway, a political adviser and voter survey analyst who last week was named the mogul's campaign manager in a shake-up of top campaign officials.
Trump's plan to deport the 11 million undocumented living in the U.S. has been a cornerstone of his campaign – along with his call to build a massive wall along the U.S.-Mexico border – but it has caused major rift between him and the Hispanic community in the U.S.
A recent Fox News Latino poll found Trump lagging significantly behind Clinton among Latino voters, partially due to some of the more critical comments on immigration he has made since entering the race.
Over the weekend, Trump held a sit-down meeting with his new Hispanic advisory board made up of elected officials, business and faith leaders that hopes to ignite and improve relations with Latino voters.
The meeting was held in the 25th floor boardroom of Trump Tower in midtown Manhattan.
Helen Aguirre Ferre, director of Hispanic communications for the Republican National Committee, called the meeting a "game-changing" opportunity.
"Their participation is just one component of our expansive effort to engage the Hispanic community, and their contributions will help us compete for every vote in every community all the way through Election Day," said RNC Chairman Reince Priebus in a statement.
However, despite taking a more inclusive, less caustic tone this week during his campaign appearances, Trump continued to rail against the impact of illegal immigration.
In a stop in Fredericksburg, located between Richmond and Washington in the critical battleground state of Virginia, on Saturday afternoon, Trump claimed that an influx of undocumented immigrants to the state was putting "enormous pressure" on local schools and public services.
And he blamed "border-crossers" who are "being relocated to the state" for taking jobs away.
EFE contributed to this report.