Trump calls out Sessions over FBI lawyer Lisa Page's no-show at Congress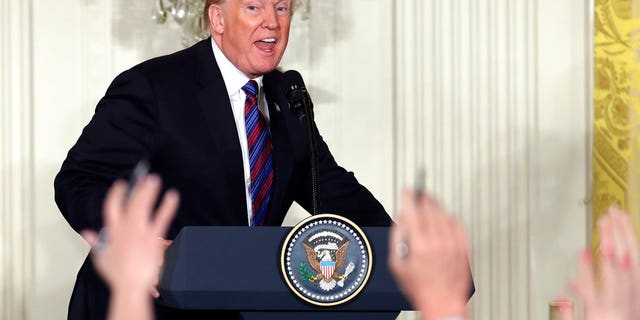 President Trump in an early morning tweet Thursday nudged Attorney General Jeff Sessions to act over FBI lawyer Lisa Page's refusal to comply with subpoena and testify before Congress.
"As I head out to a very important NATO meeting, I see that FBI Lover/Agent Lisa Page is dodging a Subpoena & is refusing to show up and testify," Trump tweeted early Thursday morning.
He continued, "What can she possibly say about her statements and lies. So much corruption on the other side. Where is the Attorney General?"
Sessions has been the target of Trump in the past. The presiden slammed him for recusing himself from the Russia-collusion investigation and for his "weak position" on former presidential candidate Hillary Clinton's "crimes."
"The Russian Witch Hunt Hoax continues, all because Jeff Sessions didn't tell me he was going to recuse himself...I would have quickly picked someone else. So much time and money wasted, so many lives ruined...and Sessions knew better than most that there was No Collusion!" Trump tweeted last month.
Trump also aired out his frustration with Sessions' lack of fervor in tackling allegations of government surveillance abuse, calling out his "disgraceful" decision to instruct the Department of Justice's inspector general to probe the allegations.
"Why is A.G. Jeff Sessions asking the Inspector General to investigate potentially massive FISA abuse. Will take forever, has no prosecutorial power and already late with reports on Comey etc. Isn't the I.G. an Obama guy? Why not use Justice Department lawyers? DISGRACEFUL!" Trump tweeted.
Trump's remarks came as Page defied a subpoena to appear on Wednesday before the House Judiciary and Oversight and Government Reform Committees, even as her lawyer claims she "will cooperate with this investigation."
The chairman of the House Judiciary Committee, Rep. Bob Goodlatte said Wednesday that U.S. Marshals were called in to serve Page with a subpoena to testify and accused her of "apparently" having "something to hide."
Attorney Amy Jeffress told Fox News that Page didn't testify on Wednesday as they didn't have enough time to prepare, noting that she would ask lawmakers to schedule another date for the interview behind closed doors.
Members of Congress seek to grill Page regarding about her anti-Trump text messages with embattled FBI agent Peter Strzok, with whom she had an affair. Strzok, meanwhile, is set to testify publicly for the first time on Thursday before House Republicans who are investigating bias at the FBI.
Fox News' Catherine Herridge contributed to this report.