Ten National Leaders Honored By White House In Cesar Chavez's Name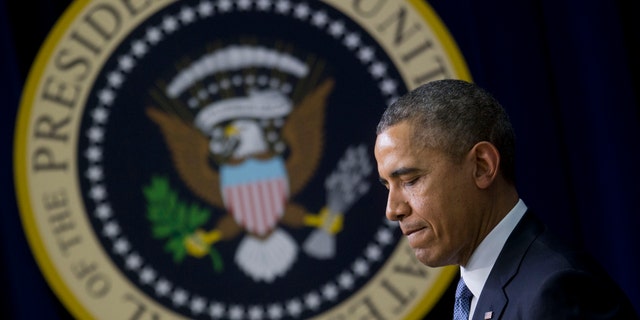 The labor leader and civil rights activist Cesar Chavez, who would have turned 87 on Monday, was remembered by the White House with "Champions of Change," an event that honors community leaders who embody the spirit of the impassioned farmworker.
Administration officials recognized 10 men and women who represent the values and determination of Chavez to organize and work for "a more just tomorrow."
"One of the great lessons of Cesar's life (is) that you don't give up the fight. No matter how long it takes, no matter how long the odds, you keep going, fueled by a simple creed – sí se puede," said President Obama last week, at a private screening of the new feature film "Cesar Chavez."
The event, closed to the press, was moderated by Lisa Garcia Quiroz, Chief Diversity Officer and Senior Vice President of Corporate Responsibility at Time Warner Inc., and Marco Davis, Deputy Director of the White House Initiative on Educational Excellence for Hispanics.
These are "Champions of Change" recognized on this newly established Cesar Chavez Day:
Khin Mai Aung, Director of the Educational Equity Program, Asian American Legal Defense and Education Fund (New York, NY)
AALDEF's Educational Equity Program advocates on issues such as bilingual education, language access, bias-based harassment, school discipline, post 9-11 and gang profiling, affirmative action, and school integration in kindergarten through 12th grade and higher education.
Germain Castellanos, Program Director for the SHINE Educational Leadership Program (Waukegan, IL)
This workforce development program serves over 300 at-risk youth at Waukegan High School since 2008, where the student population is over 70 percent Latino. The son of immigrants from Mexico, Castellanos also works to create change and opportunity for the residents of his home town of Waukegan by serving as Vice President of the Habitat for Humanity Lake County Board of Directors; Program Chair and Member of the Board of Directors for Youth Conservation Corps; and as Member of the Lake County Workforce Investment Board's Youth Council.

Armando H. Chavez, Principal of Columbus Elementary School (Columbus, NM)
The school serves a population in which 99 percent of the students enter as monolingual Spanish language students. Most of this unique group of students were born in the United States and live across the border in Mexico. During his tenure as the leader of the school, he has emphasized the importance of education. His vision is to unite two nations and two languages in order to produce productive citizens of the United States.

Sandra Gutierrez, National Director of Abriendo Puertas/Opening Doors (Los Angeles, CA)
Abriendo Puertas is the nation's first, evidence-based comprehensive training program for Latino parents with children aged 0-5. Ms. Gutierrez led the development of the AP/OD program and curriculum, which is designed with parent input and uses the "popular education" approach to engage parents in lessons that authentically reflect their culture, communities and experiences.

Helen Gym, Board Member, Asian Americans United (Philadelphia, PA)
A former school teacher and journalist, Gym leads the board of Asian Americans United, a 28-year old organization serving Philadelphia's diverse Asian American and immigrant communities. At AAU, she has organized against predatory gambling and led a campaign to address human rights issues in immigration and deportation practices.

Nahla Kayali, Founder & Executive Director of Access California Services (Anaheim, CA)
AccessCal is a health and human services non-profit culturally and linguistically competent family resource center dedicated to enhancing the quality of life for underserved Arab-American and Muslim-American communities. Under Ms. Kayali's leadership, the organization provides programs in 15 languages delivered by 30 staff including 10 AmeriCorps members.
Herb Lee, Jr. Executive Director of the Pacific American Foundation
(Kāne'ohe, HI)
Herb Lee, Jr. , is a Native Hawaiian that has led multiple and highly successful youth leadership programs, career planning and development, environmental education and culture-based curriculum projects including the award winning " Kāhea Loko and the Aloha 'Āina" projects. His programs have trained over 3,500 teachers and benefited over 70,000 students throughout the State of Hawaii spanning grade levels K to 12.

Xavier A. Munoz, AmeriCorps Member / ESOL Instructor with the Literacy Council of Northern Virginia (Alexandria, VA)
As an AmeriCorps member, Munoz has been teaching English to adult immigrants and refugees in family literacy and beginning-level ESOL classes since September 2012. In addition to teaching full-time, he leads a staff task force to compile and design an online collection of instructional resources suitable for use with learners with low levels of English language proficiency.

Diego Uriburu, Executive Director for Identity, Inc. (Gaithersburg, MD)
Diego Uriburu, originally from Argentina, has promoted the rights of Latino, immigrant, and LGBT communities in the Washington, D.C. area since immigrating to the U.S. In 1998, he co-founded Identity, Inc., a community-based organization in Montgomery County, Maryland, and serves as its Executive Director.
Luis Urrieta, Jr., Coordinator of the Cultura en Acción (Culture in Action) After School Program (Austin, TX)
Luis Urrieta, Jr., Ph.D. has dedicated his life and career to raising awareness about Latina/o community issues, especially immigrant, and indigenous communities. His professional and academic work in Education has been dedicated to raising awareness and valuing Latina/o immigrant family and community knowledge as well as the importance of nourishing and supporting strong ethnic and linguistic identities in Latina/o children and youth, while promoting and creating the conditions for high academic achievement.
Follow us on twitter.com/foxnewslatino
Like us at facebook.com/foxnewslatino