Ted Cruz warns Texas voters that 'Sen. Joaquin Castro' would hurt Lone Star values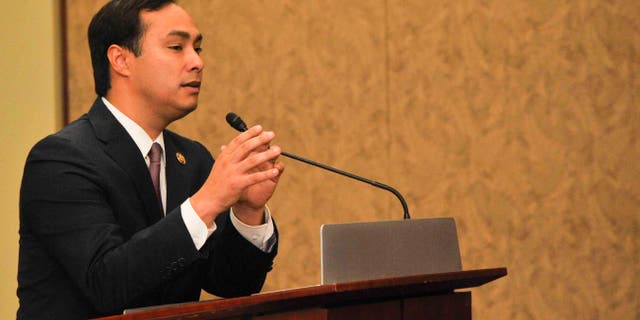 NEWYou can now listen to Fox News articles!
The emails to supporters pull no punches.
Sen. Ted Cruz, the Tea Party former presidential candidate who is seeking re-election in 2018, is warning in several emails in the past week that Texas, a Republican-leaning state, is in danger of turning blue – political parlance for Democratic.
"Transparent attempts by Texas Democrats to bring the values of Washington D.C. and the party of Barack Obama and Hillary Clinton to The Lone Star State cannot go unanswered," a recent Cruz email said.
One of the main catalysts for Cruz's alarms? Fellow Texan and Latino Rep. Joaquin Castro, a Democrat and former state legislator who recently suggested that he may run for Senate in 2018.
"If the Castro brothers…get their way, the Texas we know will never be the same," the Cruz email said. "Ted Cruz is the champion Texas needs to continue battling the Washington corruption and liberal values of the Democrat Party in D.C."
The emailed alarms began when in an interview on "CBS This Morning" last week, Joaquin Castro and his brother, Julian, who heads the U.S. Housing and Urban Development agency, were asked which one of them would run against Cruz.
Julian Castro said "probably zero of us," but Joaquin Castro said: "He's speaking for himself."
"I'm going to take a look at it in 2018, I'll take a look at that and other opportunities," Joaquin Castro. "I've never been somebody that said in two years I've absolutely got to run for Senate or governor, but I will take a look at it."
Julian Castro, who had been rumored to have been on Clinton's short list for vice president before she announced her choice was Sen. Tim Kaine of Virginia, will no longer be in his HUD post in January.
At a Democratic National Convention reception last week in Philadelphia, Julian Castro said he didn't know what he was going to do after leaving Washington.
Former gubernatorial candidate Wendy Davis, a Democrat, also has indicated she may run for the Texas Senate in 2018.
"I don't know. I honestly don't know," she said when asked by reporters at the Democratic National Convention last week. "We'll see what the future holds."
Some of Cruz's emails also raised warnings about Davis.
Cruz's emails cited a quote that Joaquin Castro gave to Fox News Latino last week saying: "I think it is winnable."
"That was the first response from the Castro brothers after I alerted you of their plans for Texas in 2018," Cruz's email said.
"I hope you will join me in saying to any liberal with designs on turning Texas blue – 'Come and Take it!'"
Like us on Facebook