States hit hard by Sandy vow to be ready on Election Day, even if voters aren't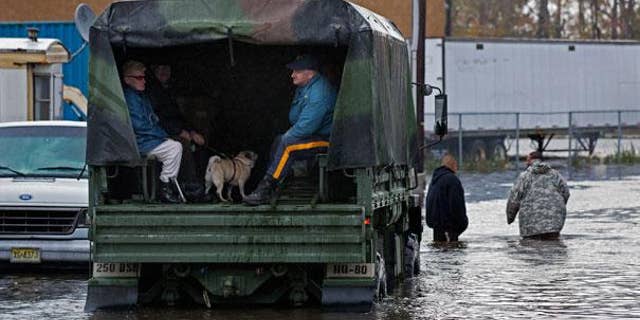 NEWYou can now listen to Fox News articles!
Come hell or high water - which superstorm Sandy brought - elections will go on as scheduled in New York, New Jersey and Connecticut, officials vowed.
While elections officials can't do much about the effect Sandy's aftermath will have on turnout, they said those who want to vote will get the chance on Tuesday, even if it's by filling out a paper ballot or making their choice in a makeshift booth aboard an Army truck. While the three states hit hardest by the storm are solidly blue, all but ensuring their electoral votes go to President Obama, votes from New York, New Jersey and Connecticut will skew popular vote totals, and there are House and Senate races that will be affected.
"This is unprecedented, we won't really know what will happen until that day," New Jersey-based GOP pollster Adam Geller said to FoxNews.com. "My guess would be that turnout will be low especially in areas affected by the storm. There will probably be a lot more provisional ballots.
[pullquote]
"In the closer races, there may be a lot of questions about the final count, especially by the losing side," he added.
One major race that could be affected by low turnout or trouble at the polls is the Connecticut race for retiring Sen. Joseph Lieberman's seat. Polls have that race, between Republican Linda McMahon and Democrat Rep. Chris Murphy, neck and neck. In the other area Senate races, Democrats Bob Menendez, of New Jersey, and Kirsten Gillbrand, of New York, are expected to retain their seats. Congressional races, however, could be thrown into chaos on Tuesday, Particularly on Long Island which was especially hit hard with power outages.
All four congressional districts on New York's Long Island are up for grabs, including the 1st district on the eastern end, where a rematch from a 2010 contest is taking place between Republican Randy Altschuler and incumbent Democrat Timothy Bishop. The results of their first face-off was not determined until weeks after election day. The current race was expected to be just as tight before Sandy unleashed its wrath.
The three states are taking unprecedented measures to ensure that voting stations are up and running by Tuesday. Officials have asked utility companies to work on bringing power back to polling areas first.
"We've provided lists of poll sites to local utilities, and some of the voting machines do have battery backup," New York State Board of Elections spokesman Tom Connolly said. "We are also planning to get generators to polling sites, but it's not like we have an unlimited supply of generators."
New Jersey will deploy military trucks to serve as polling places on Election Day in storm-battered communities, secretary of the state and Lt. Gov. Kim Guadagno announced Thursday during a visit to the flood-ravaged town of Moonachie. The state is also extending the deadline on mail-in ballots.
"[Voters will find] a DOD truck with a well-situated National Guardsman and a big sign saying, 'Vote Here,'" she said on Thursday, adding that it was still unclear how many of the state's 3,000 polling stations are likely to be without power.
Alternative voting sites will be set up in areas where the original locations were wiped out by the storm.
New Jersey also extended the deadline for when county clerks may accept mail-in ballot applications to the close of business Friday. Officials said they could be handed in as late as Election Day, before polls close.
Guadagno urged as many people as possible in storm-damaged areas to vote by mail-in ballot because, she said, "obviously in places like Seaside Heights and Sea Bright, there is no polling place, it's gone."
But she added, "there's no reason not to vote, there's no reason not to vote today, there's certainly no reason not to vote on Tuesday, five days from today."
In Connecticut, Gov. Dan Malloy already extended the voter registration deadline from Oct. 30 until this past Thursday to accommodate people affected by the storm.
Connecticut has some of the strictest voting rules in the country, with no early voting andabsentee ballots only available to residents who are out of the area — all of which added urgency to the task of preparing polling places.
Connecticut Secretary of State Denise Merrill said in a released statement that nearly a hundred polling stations were still without power on Thursday.
"At this point, we are monitoring the situation very closely with our partners at the local level who must administer the presidential election on Tuesday November 6th," she said in the statement.
"At the local level, towns and cities are already executing their election preparation functions and backup plans where necessary for preparing voter lists and making sure the voting machines are ready to use next Tuesday. We will be ready to vote next Tuesday no matter what…"
The Associated Press contributed reporting to this story.