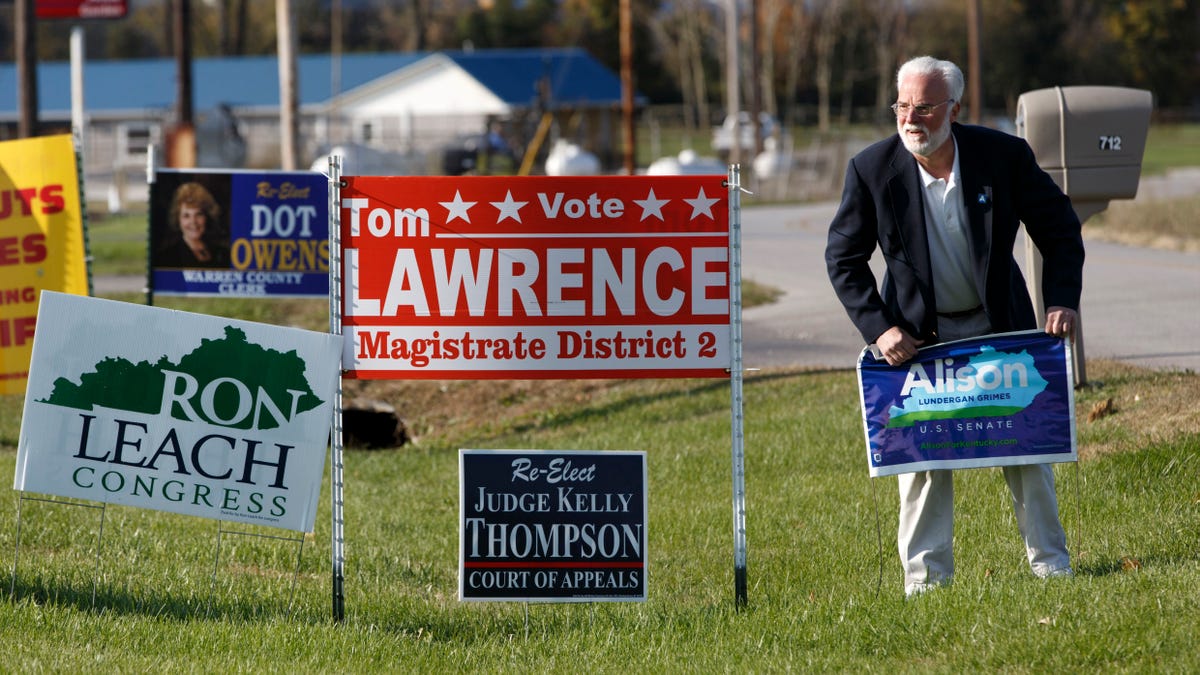 WASHINGTON – As the hard-hitting contest between Mitch McConnell and Democratic challenger Alison Lundergan Grimes hogs all the attention in Kentucky, another potential battle is brewing at the state legislative level that could change the labor landscape in Coal Country.
Kentucky is one of the last remaining pro-union holdouts in the South that does not have a so-called right-to-work law -- or law allowing workers not to pay union dues if they don't want to.
But if Republicans do well in the state legislative races in Kentucky, the Bluegrass State could become the new face of the right-to-work movement. The GOP holds a majority in the Kentucky Senate and needs to win only five House seats to secure a majority in that chamber. If that happens, Republicans are poised to push through a list of stalled conservative measures -- including a "right to work" bill, telephone deregulation and anti-abortion legislation.
Kentucky Senate Majority Leader Damon Thayer has already gone on the record to say if both the state House and Senate go Republican, the first order of business will be getting a right-to-work bill passed.
This possibility has pro- and anti-union groups pitted against each other in Kentucky's legislative contests.
With more than 194,000 union members, if the state flips on right-to-work, it would deal a big blow to the power of organized labor in Coal Country.
"In a state like Kentucky, you have a lot of union money coming in," Patrick Semmens, spokesman at the National Right to Work Committee, told FoxNews.com, adding that union bosses are trying to send a message by spending money on the elections. According to the Center for Responsive Politics, unions accounted for 17 percent of all outside spending in the 2012 elections. The Bureau of Labor Statistics says unions represented 11 percent of the nation's workforce in 2013, down from 20 percent in 1980.
Kentucky has a Democratic governor, but that may be no obstacle for a GOP-led Legislature. Kentucky law allows the state Legislature to override a gubernatorial veto with a simple majority in both houses.
The last time Republicans held a majority in the state House was in 1921.
Currently, 24 states have passed Right to Work laws. Labor unions still operate in those states, but workers cannot be forced to join as a requirement of their job, according to the National Conference of State Legislatures.
"All we want is a fair wage, decent benefits, and respect on the job," Shannon McMurray, a member of United Food and Commercial Workers Local 227, wrote in an opinion piece in The Courier-Journal. "Our employer is making profits and I happen to think a happy, healthy, unionized workforce is a big reason why. Right to work assumes that business and labor are unable to bargain a fair contract without the assistance of a bureaucrat. I think in Kentucky, we do just fine on our own."
Pro-union Democrats across the state have been targeted for their opposition to right-to-work laws. An August Bluegrass Poll, sponsored by the Lexington Herald Leader, the Courier-Journal, WKYT-TV and WHAS-TV, showed 55 percent of registered voters were in support of right-to-work laws while only 28 percent wanted to keep Kentucky's laws the way it has been.
McConnell has sponsored a federal right-to-work law. His opponent, Grimes, has publicly come out against the right-to-work campaign calling it the "right-to-work-for-less" measure.
The first right-to-work laws were passed in the 1940s and 1950s, predominantly in Southern states, according to the National Conference of State Legislatures. Most of those laws were enacted by statute but 10 states adopted it via constitutional amendments.
Interest in the issue surged in the 1970s and again in the 1990s.