Republicans dig deeper after Postal Service cited for workers' Clinton campaign aid
Republican lawmakers are casting a wider net in their search for wrongdoing at federal agencies in past election cycles, after learning the Postal Service violated the law by allowing employees to do union-funded work for Hillary Clinton's campaign while on leave.
The lawmakers blasted out letters on Monday to 10 other federal government agencies questioning their unpaid leave policy for union-related political work.
Senate Homeland Security Committee Chairman Ron Johnson, R-Wis., led the charge on the review of agencies' practices after spurring an investigation by the Office of Special Counsel (OSC) beginning in October 2016. That inquiry revealed that the USPS violated federal law by letting employees perform union-funded work for Clinton's campaign and other Democratic candidates while on leave from the agency.
House Oversight Committee Chairman Trey Gowdy, R-S.C., joined Johnson's efforts this week by penning joint letters to the departments of Commerce, Homeland Security, Defense, Justice, Labor, Transportation, Treasury, Agriculture, Veterans Affairs, and the Social Security Administration Monday. The letters concerned what's known as "union official Leave Without Pay (LWOP)" for political campaign activity.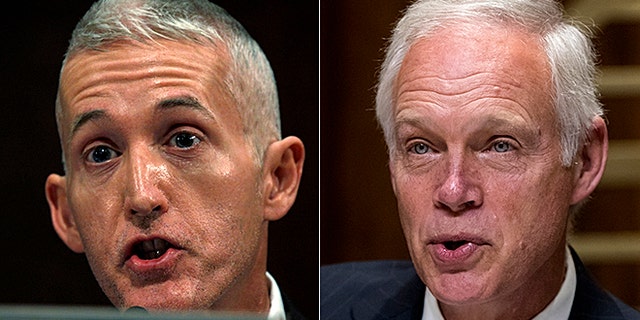 USPS BROKE LAW IN ALLOWING WORKERS TO BOOST CLINTON CAMPAIGN, WATCHDOG SAYS
The letters cited the OSC's findings regarding the USPS that "only [employees] who wanted to campaign for the [union's] endorsed candidates were given the opportunity to take several weeks of leave on short notice, over the objections of local supervisors who raised concerns about potential operational impact." The OSC's findings revealed that the USPS violated the Hatch Act, a federal law that limits certain political activities of federal employees. While employees are allowed to do some political work on leave, the report said the USPS showed a "bias" favoring the union's 2016 campaign operation.
"The procedures by which federal employees request LWOP, and by which managers and supervisors consider these requests, are the product of negotiation between the agency and the employees' collective bargaining representative," Johnson and Gowdy wrote, requesting specific information to "ensure federal agencies are granting LWOP in a politically neutral manner."
USPS TAKES HEARING HEAT FOR 'FAVORING' PRO-CLINTON UNION'S CAMPAIGN WORK
Johnson and Gowdy asked for information regarding "use of LWOP in the three months prior to a federal election" dating back to 2008, agreements between the agency and employees regarding their leave, written policies and all documents and communications related to the use of LWOP.
Johnson and Gowdy requested "state-by-state" data for the requested information, giving a deadline of 5 p.m. on Sept. 11.