Protests flare up in New Mexico after panel votes to repeal immigrant driver's license law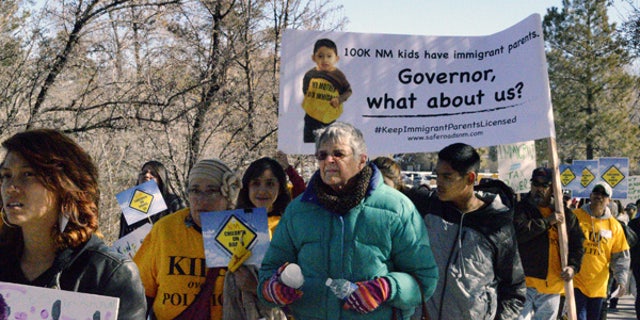 NEWYou can now listen to Fox News articles!
SANTA FE, N.M. (AP) – Days after a New Mexico House panel voted to repeal an immigrant driver's license law, more than a thousand advocates descended on the Capitol on Monday to rally and lobby key lawmakers.
The "Immigrant Day of Action March and Protest" outside the Statehouse drew immigrants and their allies from as far as Clovis who came to call on legislators to uphold law that they say other states are looking to replicate.
A proposal to repeal a New Mexico law that allows immigrants suspected of being in the country illegally to obtain driver's licenses cleared its first hurdle last week. After a more than four-hour hearing, the House Safety and Civil Affairs Committee voted 5-4 along party lines to move along the GOP-led proposal to another committee.
The Republican-controlled House is expected to pass the measure but its fate remains unclear in the Democrat-controlled Senate.
Gov. Susana Martinez, a Republican who ran for re-election on repealing the law, said she would sign the measure if it came to her desk.
Eli Cuna, 27, of Albuquerque, said the law has helped her and her parents integrate into New Mexico society and believes it continues to assists others. "I got a license when I was undocumented and was able to enroll at Santa Fe Community College," said Cuna, who is working on becoming a U.S. citizen. "Now I'm a graduate student."
Republicans say the repeal effort is based on public safety concerns and have cited cases of fraud as reasons for the change. "This has to do with the safety of our state," said Rep. Bill R. Rehm, R-Albuquerque. "It's not about race."
Democrats and advocates say, however, the repeal is based on anti-immigrant sentiment.
Marcela Diaz, executive director of the Santa Fe-based advocacy group Somos Un Pueblo Unido, said opponents are using fear and false links to terrorism to get residents behind repeal. "There is nothing wrong with the law," Diaz said. "It's working for many families."
Advocates vowed to crowd more committee hearings on the repeal proposal.