Obama's Feisty BET Interview Highlights Challenge He Faces in Rallying Black Voters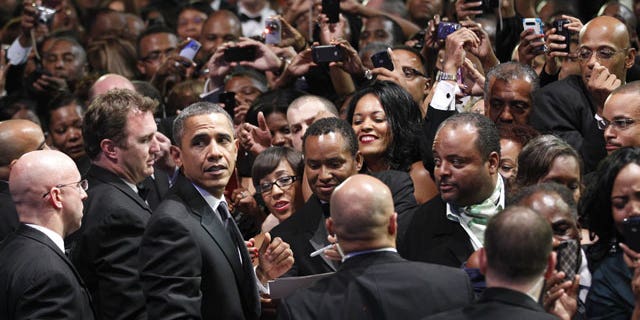 President Obama's testy exchange with a BET anchor over whether he's doing enough to help black Americans could be a case of bad timing.
Obama was coming off an enthusiastic appearance at the Congressional Black Caucus on Saturday in which he tried to turn complaints from black leaders into a call to arms. But on Monday, Obama tried to make the case in the BET interview that his $450 billion jobs bill disproportionately benefits minorities but still is aimed at "all of America" -- potentially setting up another "with us or against us" motif that has been the subtext of criticism from the black community.
In Monday's interview with BET that was taped on Friday, Obama bristled when he was asked to consider the plight of a young black on Chicago's South Side who has no father and whose mother is working 10 hours a day.
"You won't even say, 'Look, I am going to help you,'" BET's Emmett Miller said.
"Emmett, that is not what people are saying," Obama shot back. "What people are saying all across the country is we are hurting and we've been hurting for a long time. And the question is how can we make sure the economy is working for every single person."
Obama defended his policies as helping minorities even though he refuses to support programs that only target them.
"That's not how America works. America works when all of us are pulling together and everybody is focused on making sure that every single person has opportunity," he said. "And so when we put forward a program, like, for example, the health care bill, our focus is people who don't have health care. Now it turns out that the majority of folks who don't have health care are also working families, and disproportionately African American and Latino, but that doesn't mean that it's only for them."
Obama has been reaching out to the black community as part of his broader effort to drum up support for his $450 billion package of payroll tax cuts, business tax breaks and infrastructure spending. Black leaders have stepped up their criticism of Obama in recent weeks for not doing enough to help the black community, which is grappling with an unemployment rate that is nearly double the national rate at 16.7 percent.
On Saturday, in a speech at the annual awards dinner of the Congressional Black Caucus, Obama told blacks to quit crying and complaining and "put on your marching shoes" to follow him into battle for jobs and opportunity.
"Take off your bedroom slippers. Put on your marching shoes," he said, his voice rising as applause and cheers mounted. "Shake it off. Stop complainin'. Stop grumblin'. Stop cryin'. We are going to press on. We have work to do."
But Rep. Maxine Waters, who asked black voters last month to "unleash" her and other members of the Congressional Black Caucus on Obama, said she found it "curious" that he demanded black leaders to stop complaining.
"I don't know who he was talking to because we're certainly not complaining," she told CBS News on Sunday. "We're working. We support him, and we're protecting that base because we want people to be enthusiastic about him when that election rolls around."
Andra Gillespie, a political scientist at Emory University who is the author of the upcoming book "The New Black Politician: Cory Booker, Newark and Post-Racial America," said that the disagreement between Obama and Waters reflects a longstanding debate in the black community over how to address their problems.
But she told FoxNews.com that while enthusiasm for Obama in the black community has "definitely been tempered by this economy, that doesn't mean the numbers are going to change."
She noted that Obama received 96 percent of the black vote in 2008 and that 90 percent of blacks have voted for Democrats since 1964. She said the percentage of black voters supporting Obama in 2012 may drop to the low 90s. "But you're still not going to say that blacks are not the most overwhelming Democratic constituency in the United States. I would be more worried about the turnout numbers."
A new Washington Post-ABC news poll shows that 58 percent of blacks held "strongly favorable" views of the president, down from 83 percent five months ago.
Randall Kennedy, a professor at Harvard Law School and author of "The Persistence of the Color Line: Racial Politics and the Obama Presidency," says that Obama's black critics are in the minority but still carry enough weight to possibly shape the outcome of the 2012 election.
"It is often the case that a vocal, motivated minority can exercise influence that far exceeds their numbers. Enthusiasm matter," he wrote in an opinion article for CNN.com entitled "Why Obama's Black Critics Are Wrong."
"A drumbeat of complaint calling into question Obama's attentiveness to blacks might well diminish the fervency of the support he will need for his re-election effort," he wrote. "Furthermore, certain actions he might take to respond to the racial critique might well alienate other, nonblack, potential supporters."
He added that Obama will be ensnared by the race line no matter what he does, but it won't necessarily defeat him.
"Still, the sobering reality is that race remains an important, persistent force in American life despite the presence of a black family in the White House.