Obama expected to name AG nominee after midterms, setting up lame-duck battle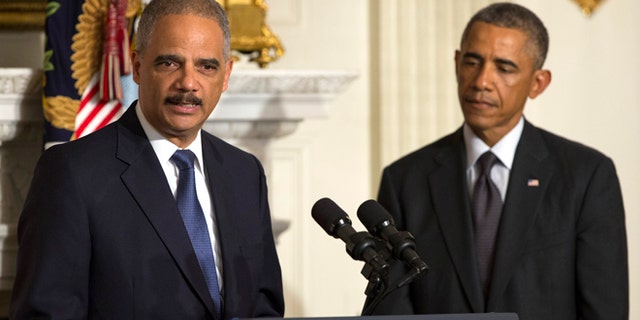 President Obama plans to wait on nominating a new attorney general to replace Eric Holder until shortly after the November election, setting up a likely battle in a lame-duck session despite calls from Republicans to wait even longer -- until the new Senate is seated.
A source close to the process on Tuesday confirmed to Fox News that the president plans to wait until after the Nov. 4 midterm elections. The source said the administration considers the appointment to be serious and wants to wait so the nomination doesn't get mired in election-year politics. Democrats reportedly had asked the president to hold off until after Nov. 4.
But some Senate Republicans wanted Obama to wait until the new Senate is seated in January to name his pick to succeed Holder.
By naming a nominee shortly after the election yet before the new year, the White House would be putting his or her confirmation in the hands of some lawmakers who are not returning in 2015 -- and thus no longer accountable to voters.
Further, the White House would be handing the nomination to a Democrat-controlled Senate, despite the possibility that control of the Senate could flip to Republicans in January.
Sen. Ted Cruz, R-Texas, has warned that confirming Holder's successor before a new Congress is sworn in "would be an abuse of power that should not be countenanced."
According to the Associated Press, Senate Democrats had asked Obama to hold off until after the midterms so controversy doesn't arise over whether they will support a specific nominee.
Iowa Sen. Chuck Grassley, the leading Republican on the Judiciary Committee that will hold hearings on the nominee, said Democrats are trying to "avoid making clear to the voters of their states where they stand on what could be a controversial choice for attorney general."
"This timing shows, once again, that the president and Democrat Senate leaders are willing to play politics with important policy decisions," Grassley said.
The delay also gives Obama more time to consider his options. A White House official told The Associated Press Tuesday that the president has not yet decided who he wants to replace Holder, a longtime friend who has led the Justice Department the entire six years Obama has been in office. Obama aides did not begin seriously considering candidates until Holder announced on Sept. 25 that he will resign when his replacement is confirmed, although his departure had been expected this year.
White House Press Secretary Josh Earnest, asked about the timing, said Tuesday that it will take a "little bit of time" to choose the right nominee for the job. But he urged the Senate to "act quickly and in a bipartisan fashion to confirm that person."
The lame duck timetable covers just seven legislative calendar weeks, not accounting time off for holiday recesses. But the White House has pointed out there is precedent for such a move. The day after the 2006 midterm, President George W. Bush nominated Robert Gates as secretary of defense and he was confirmed in less than a month with bipartisan support.
Obama seems to be looking most closely at those who already have served in his administration. Top contenders include Solicitor General Don Verrilli, former White House counsel Kathy Ruemmler and Labor Secretary Tom Perez, although those involved with the process say other candidates haven't been ruled out.
Other candidates whom administration officials have mentioned for consideration include Preet Bharara, the U.S. attorney for the Southern District of New York; Jenny Durkan, who recently announced she's stepping down as U.S. attorney in Washington state; former Homeland Security Secretary Janet Napolitano; Tony West, who recently resigned as the No. 3 at the Justice Department and has accepted a job at Pepsico; and Deputy Homeland Security Secretary Alejandro Mayorkas.
Fox News' Kimberly Schwandt and The Associated Press contributed to this report.