Obama Brushes Aside Concern About Potential Double-Dip Recession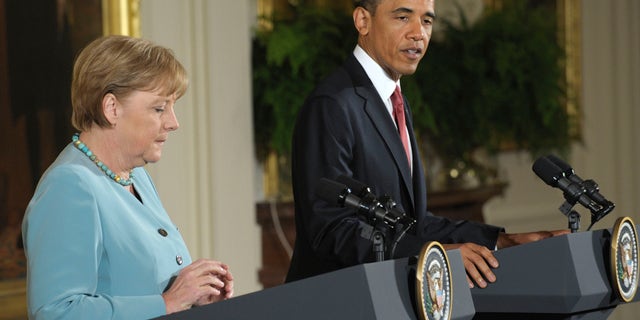 President Obama on Tuesday expressed concern about a weakening economic recovery after a spate of disappointing news last week, but he shrugged off worries about the economy falling back into recession.
"I'm not concerned about a double-dip recession. I am concerned about the fact that the recovery that we're on is not producing jobs as quickly as I want it to happen," he said at a White House news conference in the East Room alongside German Chancellor Angela Merkel.
"Obviously, we're experiencing some headwinds, gas prices probably being most prominent," he said. "It has enormous impact on family budgets and on the psychology of consumers."
The president's comments came on the heels of a series of weak government reports last week showing housing prices have fallen, manufacturing has stalled and the economy created only 54,000 jobs last month.
Gas prices have soared in recent months to $4 per gallon, but they have begun to slightly decrease in the past few weeks. The national average for gas prices were $3.76 per gallon on Tuesday.
As the numbers are added up, the Congressional Budget Office on Tuesday released its accounting of the first two-thirds of the year, which showed the federal budget deficit is $929 billion so far for fiscal year 2011 -- $6 billion less than the shortfall recorded over the same period last year. That may be attributed to a 10 percent increase in revenues over the same period last year, even as outlays are about 6 percent higher.
But with a stubborn jobless rate, weekly applications for unemployment staying well into the 400,000s -- far higher than is needed in a healthy economy -- and the resignation of Austan Goolsbee, one of his top economic advisers, the president is looking to pivot in a new direction.
"Some of the steps that we took during the lame duck session, the payroll tax, the extension of unemployment insurance, the investment in -- or the tax breaks for business investment in plants and equipment -- all those things have helped. And one of the things that I'm going to be interested in exploring with the members of both parties in Congress is how do we continue some of these policies to make sure that we get this recovery up and running in a robust way," he said.
During the news conference, Obama pointed to German investments as one source of jobs being created in America.
"Hundreds of thousands of American jobs are supported by our experts to Germany," he said. Hundreds of thousands of Americans work for German companies that have chosen to invest in America. I'm pleased that billions of dollars more in German investment is making possible new plants -- steel in Alabama, manufacturing in Tennessee -- all of which go to create thousands of new American jobs."
Obama said the German and the U.S. have agreed that the European debt crisis cannot be allowed to put the global economy at risk.
Obama was hosting Merkel at a state dinner later Tuesday. Merkel has now visited the United States six times since Obama took office. The two leaders have a cordial but not close relationship.
Obama said the two leaders discussed a range of issues, including the NATO operations in Afghanistan and Libya, and the Middle East peace process.
Obama hailed the relationship between their nations as the cornerstone of efforts to promote peace and prosperity around the world.
"This is the essence of our alliance, two peoples bound by common values and committed to the security, the prosperity and the dignity of not just of our own citizens but those far beyond our borders," Obama said."And that's also the essence of my partnership with Chancellor Merkel."
Obama rejected the notion that the two nations have different views on Libya, where Muammar al-Qaddafi continues to cling to power amid a NATO-led military campaign. Germany opted out of any military action in the North African country.
"I note that Germany's deployment of additional resources and personnel to Afghanistan has allowed other NATO allies to increase their support for the mission to protect the Libyan people," he said. "The chancellor and I have been clear. Qaddafi must step down and hand power to the Libyan people and the pressure will only continue to increase until he does."
Earlier Tuesday, Obama highlighted the alliance between the two nations at an elaborate arrival ceremony in which dozens of schoolchildren waving U.S. and German flags were among the crowd gathered on the South Lawn.
"At a time when some have asked whether the rise of new global powers means the decline of others, this visit reaffirms an enduring truth," Obama said ."Our alliance with nations like Germany are more important than ever. Indeed, they're indispensable to global security and prosperity."
"Germany, at the heart of Europe, is one of our strongest allies," Obama said. "And Chancellor Merkel is one of my closest global partners."
Merkel returned the pleasantry, noting that Obama, as a presidential candidate, spoke to more than 200,000 people in Berlin and proclaimed that America has no better partner than Europe. "Now it's my turn to say Europe and Germany have no better partner than America," she said.