Mitt Romney Announces Exploratory Committee for 2012 Presidential Bid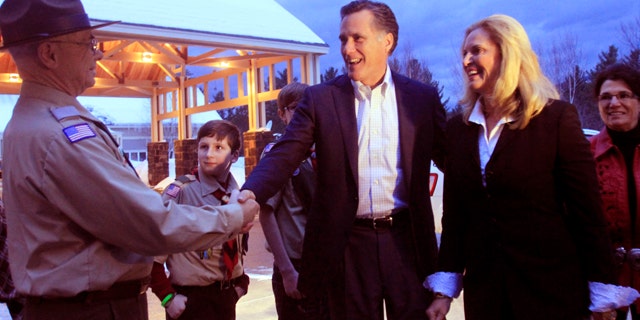 Mitt Romney announced Monday he's forming an exploratory committee, the first step toward launching a presidential bid.
In a YouTube video accompanied by a Twitter announcement, the former Massachusetts governor said it's time to restore America's greatness.
"It's time that we put America back on a course of greatness, with a growing economy, good jobs and fiscal discipline in Washington," he says in the two-and-a-half minute video, "Believe in America," taped at the University of New Hampshire.
In the video, Romney adds that President Obama's policies have failed because "he and virtually all the people around him have never worked in the real economy. They just don't know how jobs are created in the private sector."
Romney made the announcement one day shy of the fifth anniversary of the passage of Massachusetts' health care law that Obama and Democrats mockingly say was the model for the president's health care law, reviled by Republicans.
Romney has said the plan was changed many times from its original inception, but nonetheless health care is a state-by-state decision.
Romney, a businessman who ran Salt Lake City's Winter Olympics, has lined up donors, staff and advisers for his expected presidential bid. He has quietly built a by-the-books campaign organization that is stacked with experienced presidential operatives.
In his announcement video, recorded Monday, he underscored what is expected to be his overarching campaign theme.
"From my vantage point in business and in government, I have become convinced that America has been put on a dangerous course by Washington politicians, and it has become even worse during the last two years," Romney said. "But I am also convinced that with able leadership, America's best days are still ahead."
Romney lost the Republican nomination to John McCain in 2008. He had invested more than $40 million of his own money into the 2008 race and counted on early wins in bellwether states Iowa and New Hampshire that never developed.
Click here to view the YouTube video.
The Associated Press contributed to this report.