Michael Avenatti's rise and fall: From media darling and potential 2020 candidate to domestic violence arrest
Michael Avenatti's rise to fame may have come to a juddering halt after his Wednesday arrest on suspicion of domestic violence, the latest setback for the embattled lawyer just eight months after bursting on to the national spotlight with the Stormy Daniels case.
The lawyer, who gained such celebrity status that it made him consider a 2020 presidential run thanks to his opposition to President Trump and copious amounts of free airtime from CNN and MSNBC, was arrested after a woman – whose name remains unknown – filed a domestic violence report on Tuesday, leading to Avenatti's arrest on Wednesday.
He has denied the allegations of domestic violence and was released after posting $50,000 bail, and has said he is looking forward to the investigation clearing his name.
AVENATTI BAILED OUT AFTER BEING ARRESTED ON SUSPICION OF FELONY DOMESTIC VIOLENCE, SAYS HE'LL BE 'EXONERATED'
Avenatti lashed out on social media on Thursday, suggesting the incident was a set up to ruin his reputation. "First Mueller and now me. When we are fully exonerated I am coming for you Jacob Wohl aka Surefire," the tweeted, in reference to social media figure Jacob Wohl who's implicated in a scheme to offer women money to make false sexual misconduct allegations against Special Counsel Robert Mueller.
His top client -- Stormy Daniels -- also came out with a statement saying the allegations are "troubling, but right now that is all they are: allegations."
Even though Avenatti denies the accusations, first reported by TMZ, the fallout has been immediate, with Vermont Democrats canceling two appearances with the lawyer this weekend, indicating that even Democrats are fed up with the media-savvy lawyer and the controversies surrounding him.
Fellow progressives, who have already been wary of Avenatti after his comments that the 2020 Democratic presidential nominee should "better be a white male," also dumped him. Activist and actress Alyssa Milano, who previously appeared with him at a protest earlier this year, distanced herself from the lawyer in the wake of the reports of domestic violence.
"Totally disgusting," she tweeted. "And before anyone asks me, yes, I'm disavowing Avenatti. I do not care what side he's on."
Avenatti first entered the spotlight in March, appearing on CNN and MSNBC hundreds of times in just two months. He continued appearing on the networks, sometimes at the same time, even as there were no new developments with the case concerning Trump and his client Daniels, with networks putting him in a political pundit's seat.
He used this national spotlight as a springboard to building a following and openly floating the possibility of running for president in 2020. He recently started a PAC and began touring across the U.S., visiting early primary states such as New Hampshire and Iowa, raising speculation that he was actually serious about his 2020 presidential run.
MICHAEL AVENATTI'S HORRIBLE, VERY BAD WEEK: LAWYER HIT WITH AVALANCHE OF LEGAL, FINANCIAL AND PERSONAL WOES
But Avenatti's reputation began to suffer after spreading outlandish claims of sexual wrongdoing against Supreme Court nominee Brett Kavanaugh in the wake of allegations brought by California professor Christine Blasey Ford and Deborah Ramirez.
Both CNN and MSNBC amplified outlandish allegations raised by Avenatti's client Julie Swetnick who said Kavanaugh took part in "gang" and "train" rapes at parties in high school.
Avenatti was hit last month with two criminal investigation referrals for his role in pushing the allegations against Kavanaugh, with Senate Judiciary Committee Chairman Chuck Grassley directly accusing Avenatti of conspiring to provide false statements to Congress.
In the first referral, the Republican lawmaker cited contradictory statements by both Avenatti and Swetnick in media interviews and pointed to an NBC interview on Oct. 1, where Swetnick backtracked on her central claim that she saw Kavanaugh spiking punch at high school parties in the 1980s.
The second referral concerns the second sworn declaration Avenatti submitted to the committee that supposedly backed up Swetnick's allegations.
Grassley cited an NBC News report revealing – nearly three weeks after Kavanaugh's confirmation – that a second, unidentified accuser walked back on her allegations even before the lawyer could post her statement on social media, saying the lawyer "twisted" her words.
AVENATTI HIT WITH 2ND CRIMINAL PROBE REFERRAL AFTER CLIENT SAYS HE 'TWISTED' HER WORDS ABOUT KAVANAUGH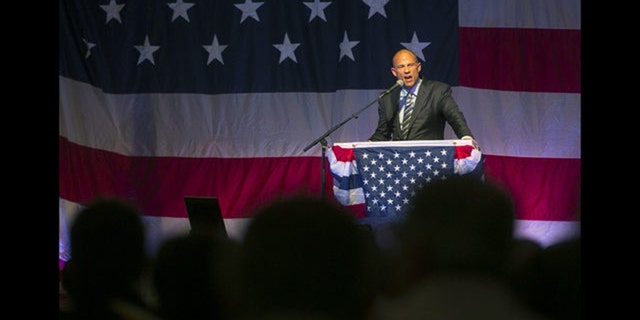 But problems with the Kavanaugh case aren't the only fires he needs to put out. He was recently ordered to pay out nearly $5 million to an attorney at his former firm, while his law firm was evicted from its offices in Orange County, California for unpaid rent.
Lisa Storie-Avenatti, his soon-to-be ex-wife, previously told Fox News that she needs "to be divorced and if [Avenatti] continues to paint the narrative, he can ignore our case!"
A source familiar with the divorce proceedings recently told Fox News that Avenatti has been ignoring the arrears to his estranged wife and has never shown up in court.
The allegations of domestic violence also resurfaced the claims made by his estranged wife under oath in court records, in which she called her husband "emotionally abusive" and "angry and vindictive" after he allegedly verbally ambushed and threatened her in the wake of their messy divorce.
"[Avenatti] is hot tempered and used to having his way – when he doesn't he gets extremely loud and verbally aggressive," she said, according to court documents.
"[Avenatti] is hot tempered and used to having his way – when he doesn't he gets extremely loud and verbally aggressive."
Avenatti denied his wife's allegations to Fox News in May. Storie-Avenatti later sent an email – shared with Avenatti – backtracking on her allegations that were made under oath.
PORN STAR LAWYER MICHAEL AVENATTI 'HOT-TEMPERED,' 'LOUD,' WIFE SAYS IN DOCS DETAILING MESSY DIVORCE
Storie-Avenatti's attorneys released a statement on Wednesday after TMZ incorrectly identified her as the victim of the alleged domestic violence incident that led to the arrest of the lawyer.
"Ms. Storie-Avenatti was not subject to any such incident on Tuesday night. Further, she was not at Mr. Avenatti's apartment on the date that this alleged incident occurred," the statement to BuzzFeed read.
"My client states that there has never been domestic violence in her relationship with Michael and that she has never known Michael to be physically violent toward anyone."