McDonnell Plays Down Talk of GOP Stardom After Winning Virginia Governor's Race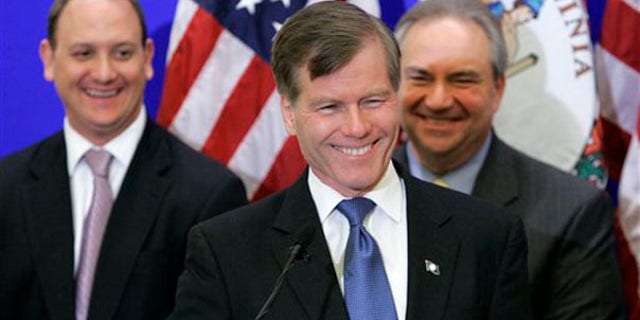 NEWYou can now listen to Fox News articles!
One day after crushing his Democratic opponent in the Virginia governor's race, Republican Bob McDonnell talked down speculation that his win puts him on the fast track to becoming a national GOP star.
McDonnell's double-digit margin of victory over Creigh Deeds only pumped up talk that the former attorney general is a savior of the lost-in-the-wilderness GOP and easily could be on the short list for vice presidential candidates in 2012 -- before the end of his term.
"Yeah, I think there's a lot of Kool-Aid in Washington," McDonnell told reporters Wednesday when asked about his status in the party. He reprised some of the humility he showed Tuesday night, saying his victory is "beyond my wildest expectations as a kid."
And he said he's focused on Virginia's problems -- rather than the problems of the national Republican Party.
"We are in some treacherous fiscal waters with both the unemployment rate and the budget, and I've got to spend an enormous amount of time getting up to speed on the challenges that face this commonwealth ... so I'm going to let folks talk about whatever they might want to talk about, but I'm focused on Virginia," McDonnell said.
Larry Sabato, director of the University of Virginia Center for Politics, said ahead of the election that McDonnell is in a position to become a "role model" for the GOP, and more.
"Unless McDonnell takes himself out, I can guarantee you he'll be on the short list for vice president in 2012," he said. "It's inevitable."
McDonnell acknowledged that Washington politics did have some bearing on his race, though. He said his resistance to policies like the cap-and-trade climate change bill and the stimulus package had "some impact on swaying independent voters to come back ... our way."
But he said it was "first and foremost" an election about Virginia issues. He said President Obama also called to congratulate him.
The top-of-the-ticket Republicans swept Tuesday's election, with Republicans winning the lieutenant governor and attorney general slots in Virginia as well.