Marco Rubio, onetime foe of Donald Trump, to address GOP convention after all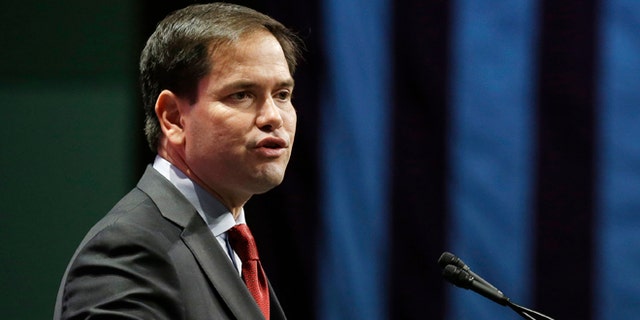 NEWYou can now listen to Fox News articles!
He and Donald Trump exchanged insults that made even the most thick-skinned political observers cringe.
But as Sen. Marco Rubio (R-Florida) likes to say every so often, it was just politics.
After saying he would give the GOP national convention in Cleveland a miss, the former presidential candidate decided, in the end, that he would address the gathering, albeit via video.
On Sunday, Rubio, who withdrew from the race in March after a humiliating loss in his own state's primary, was announced as a prime-time speaker, according to the Dallas Morning News. He is scheduled to deliver his speech Wednesday, the same night that his fellow Cuban-American senator and another former presidential candidate, Ted Cruz, is expected to speak.
Rubio and Cruz were Trump's stiffest competition, though in different ways.
Cruz won 10 states, including his home state of Texas, and held his own in the GOP debates. Rubio barely won any contests – claiming victory only in Minnesota, the District of Columbia and Puerto Rico – but it was generally agreed that the telegenic young senator performed strongest in the debates.
Rubio said in recent months that he would back Trump because he had won enough delegates to win the Republican nomination outright, but he made it clear that he still harbored strong differences with the real estate mogul over how hard line to be about undocumented immigrants, as well as how Trump expressed has his views on the subject.
Neither Rubio nor Cruz has outright endorsed Trump. Rubio said in a television interview a few months ago, when asked about whether he would speak at the convention, that Trump was better off having people there who more strongly shared his opinions.
Cruz, a favorite of evangelical voters, recently had a private meeting with Trump in Washington, D.C., and shortly thereafter the campaign announced that he would speak at the convention.
Both Rubio and Cruz are seeking re-election to the Senate.