Peaceful protests, rallies rule streets of Cleveland as GOP convention kicks off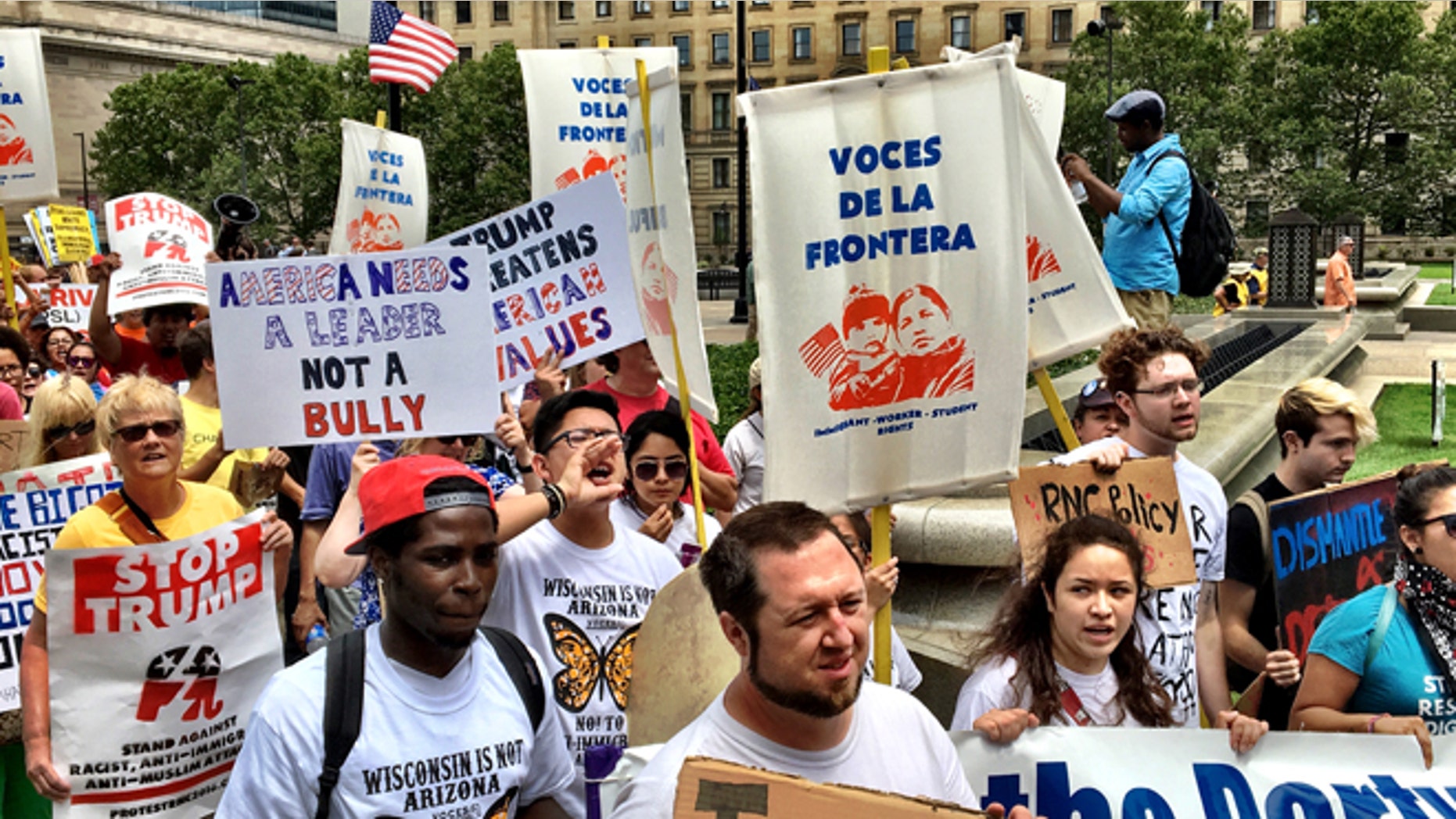 Cleveland – Presumptive Republican nominee Donald Trump's controversial statements about immigrants and his hardline positions on border issues helped draw hundreds of demonstrators to the streets of Cleveland on Monday afternoon, hours ahead of the first prime-time speeches of the 2016 the Republican National Convention.
Holding signs with slogans ranging from "Immigration Is Beautiful" to "Dump Trump" and chanting "Undocumented, Unafraid," protestors marched from The Mall in downtown Cleveland toward the Quicken Loans Arena, site of this year's RNC. The protestors were flanked on their route by a group of Cleveland police officers on bicycles and squad cars.
While the Rally to Stop Trump and March on the RNC was attended by various different left-leaning groups from socialists to civil rights activists, the most visible presence were immigration rights organizations like Voces de la Frontera (Voices of the Border) and the Minnesota Immigrant Rights Action Committee (MIRAC).
"We're here to say no to Trump," Leonel Mejia, an undocumented immigrant from Mexico and member of MIRAC, told Fox News Latino.
Mass deportations and a enormous wall on the United States-Mexico border have been two of Trump's calling cards during the campaign and have stirred activists on both sides of the issue to take to the streets. Trump rallies earlier this year in Phoenix and California saw violent clashes between supporters and opponents of the controversial real estate tycoon.
Less than a mile away from immigration activists on Monday, Trump supporters were holding their own event. Carrying lawn chairs and the occasional firearm – as is permitted under Ohio's open-carry law – about 200 people from groups like Bikers for Trump, Truckers for Trump and Students for Trump gathered to hold an "America First" rally.
Those in the group who had brought guns said they simply wanted to exercise their rights.
"You don't see Trump supporters doing anything that is extreme," said Josh Clark, of Erie, Pennsylvania. "It's more of a peaceful get-together."
Numerous analysts and law enforcement officials in Cleveland predicted widespread disruptions caused by protestors during the convention, but on Monday the situation remained civil between activists and police. Organizers of the event urged protesters to remain peaceful and have a "family friendly" march, as there were numerous children and elderly people among those gathered at the Mall.
"The message has to be peace," Rev. Jose Landaverde, a priest with the Anglican Church who walked more than 300 miles from Chicago to Cleveland in protest, told FNL. "That message has to come from both sides – the police and demonstrators – that we have to do things peacefully."
He added, "That, however, is very difficult given the times we are living in and the climate of the country right now."
Monday's protest – and a similar one held on Sunday – went off without serious incident, but both protestors and law enforcement expect tensions to ramp up as the week goes on.
Cleveland Mayor Frank Jackson said Sunday on ABC's "This Week" that city officials "aren't strangers to unrest and demonstrations and protests." He said that the city is prepared for an event that could draw tens of thousands of people.