Manafort trial could reveal embarrassing details about Dem consultants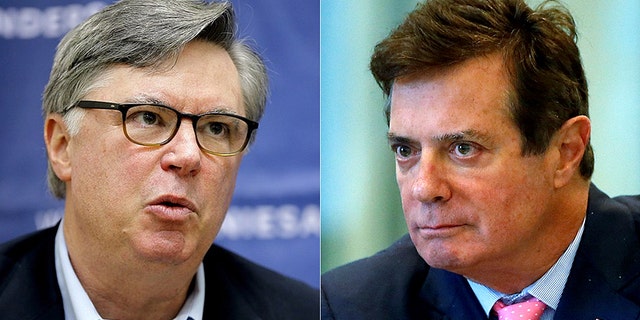 NEWYou can now listen to Fox News articles!
The upcoming federal court trial for President Trump's former campaign chairman, Paul Manafort, will be closely watched for revelations about Trump's campaign for the White House in 2016.
But it's also poised to potentially reveal embarrassing information about several Democratic political consultants, including a top adviser to 2016 Democratic presidential candidate Bernie Sanders and others who have worked in lucrative elections both in the United States and abroad, court filings indicate.
Manafort, facing charges of bank and tax fraud related to his work in Ukraine, has pleaded not guilty to the charges. His trial is scheduled to start in Alexandria, Virginia next week.
In a court filing last week by prosecutors detailing possible evidence it could present to the jury, Special Counsel Robert Mueller's team listed the names of several well-known Democratic operatives included in the exhibits.
MANAFORT JUDGE DELAYS START OF FORMER TRUMP CAMPAIGN CHAIRMAN'S TRIAL
"The United States of America, by and through undersigned counsel, hereby submits its list of trial exhibits," the filing states.
Among those is Tad Devine, the chief strategist for Sanders' 2016 presidential campaign who also worked for Al Gore and John Kerry's presidential campaigns in 2000 and 2004. Like Manafort, Devine also did work for Ukrainian President Viktor Yanukovych.
The court filing lists Devine 16 times, and lists a variety of documents, including memos, invoices and emails involving both Manafort and Devine.
Devine did not immediately return to a request for comment from Fox News on Monday left with his Democratic media consulting firm Devine, Mulvey and Longbaugh.
Other Democrats listed in Mueller's court filing are Julian Mulvey, Daniel Rabin and Adam Strasberg.
Mulvey is a partner of Devine's and worked on the Sanders campaign. Rabin, according to the website for his Democratic consulting firm, has created "television ads have played vital roles in political victories in the US and overseas." Strasberg is an ad maker who worked for Devine, as well as for the Sanders and Kerry campaigns.
U.S. District Judge T.S. Ellis III on Monday agreed to Manafort's motion to delay the trial, moving the start from this Wednesday to July 31. Mueller's defense attorney, Kevin Downing, had argued he needed more time to go through tens of thousands of documents.
Ellis also said Monday that he will grant immunity to five of the government's witnesses.
The case against Manafort stems from Mueller's Russia probe, but prosecutors have indicated the case against Manafort will not explore Russia's attempted interference in the 2016 election.
Manafort is also facing charges in a separate federal court case in Washington, including conspiring against the United States, conspiring to launder money, failing to register as an agent of a foreign principal and providing false statements.
But the case has faced skepticism, even from one of the judges. In May, the judge in the Alexandria case harshly rebuked Mueller's team, suggesting they were more interested in bringing down the president than in Manafort's past dealings.
"You don't really care about Mr. Manafort," Ellis told Mueller's team at the time. "You really care about what information Mr. Manafort can give you to lead you to Mr. Trump and an impeachment, or whatever."
Last month, Manafort was jailed after a federal judge revoked his $10 million bail based on new witness tampering charges.
Fox News' Jake Gibson and The Associated Press contributed to this report.