Longing on the Left: Magazine touts Elizabeth Warren against Hillary Clinton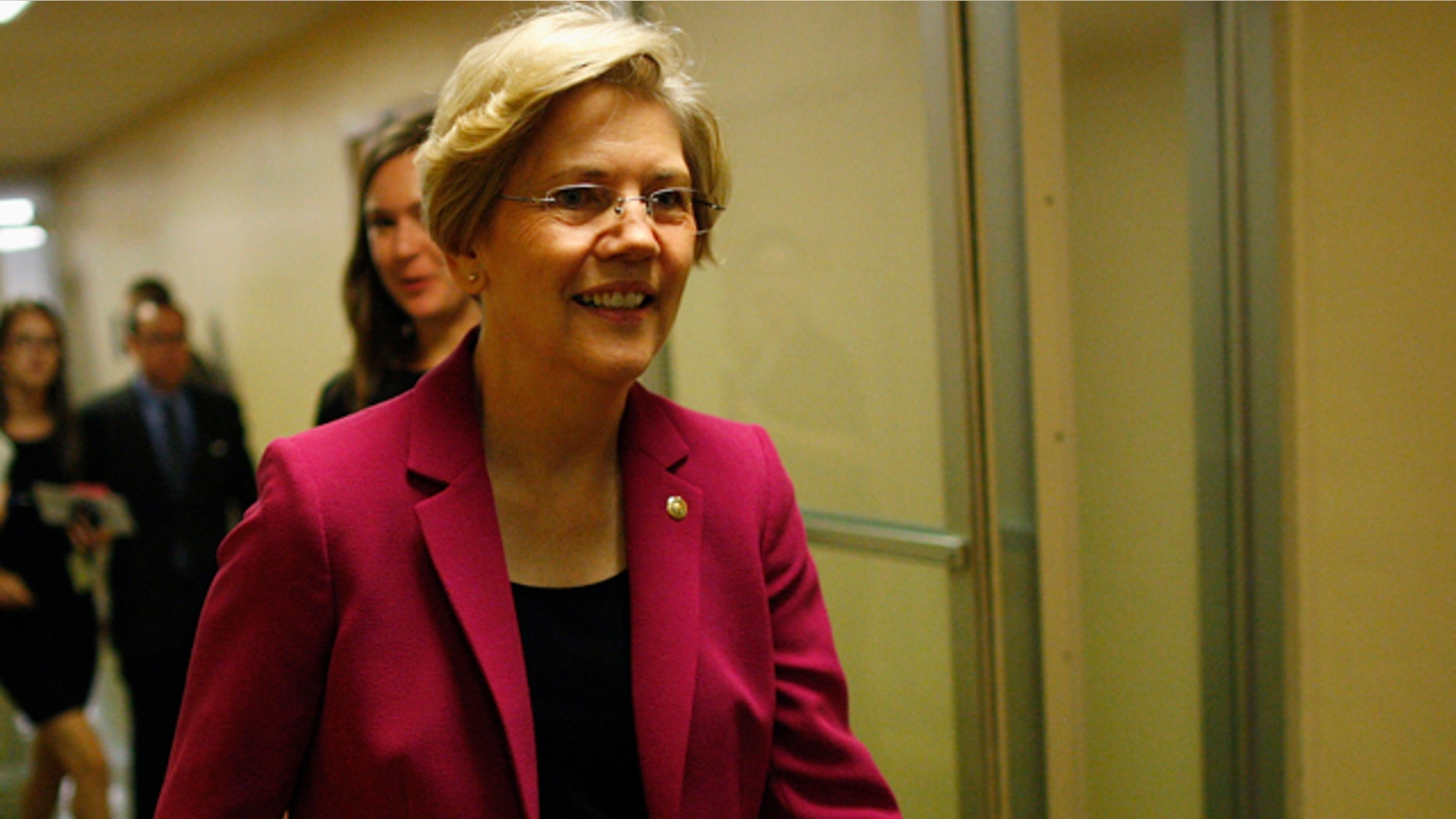 Chris Christie for president? That is so last week.
Elizabeth Warren for president? Now you're talking!
How long will this boomlet last? Well, we in the press have more than two years to kill until the Iowa caucuses. And the MSM have long had a soft spot for Warren.
As for Christie, who seemed unusually subdued during his Sunday show blitz, all that media love isn't helping him with the party's insurgent wing. And they're not staying quiet about the governor, as we see in this Jonathan Martin piece in the New York Times:
"To many in the conservative movement, Mr. Christie represents the kind of candidate the Republican establishment has foisted on the base in recent presidential elections — a media darling whose calling card is that elusive quality of electability and whose adherence to the party's principles is suspect.
"The more the news media and the establishment cheer on Mr. Christie, the more grass-roots activists — especially members of the Tea Party — resent it."
The problem for the political press is that all the action is on the Republican side, with Hillary widely seen as having frozen the field—thus depriving us of our constitutional right for two open presidential contests when there is no incumbent running.
What to do? Gin up a new challenger!
In recent weeks we've seen a little buzz for Howard Dean. But since he's not likely to run again, the pundits need a recognizable name to bandy about.
Now you might think that Elizabeth Warren, as a freshman senator, is a long shot, except that Barack Obama was also a freshman senator.
You might think she'd have to exhibit some interest in running before the 2016 chatter starts. But why wait for that? We're the media! We can draft people!
Thus, the New Republic does an Elizabeth piece and it quickly ricochets to the banner headline on the Huffington Post.
And since it's an explicit downgrading of Hillary, Noam Scheiber's story has all the buzzworthy elements:
"It's hard to look at the Democratic Party these days and not feel as if all the energy is behind Warren. Before she was even elected, her fund-raising e-mails would net the party more cash than any Democrat's besides Obama or Hillary Clinton…
"And then there's the way Hillary Clinton's weaknesses so perfectly align with the passions of the moment. 'There's very much a wait-and-see approach to Hillary among progressives,' says Adam Green, co-founder of the Progressive Change Campaign Committee. 'I think it's mutually exclusive to be a real hero for reform and accountability and to have a [fund-raising] strategy that relies on Wall Street.'…
"Warren would also benefit from the resentments of party elders. Because the Clintons have always placed a premium on loyalty, there is a generation of donors, fund-raisers, and activists who supported other candidates in 1992, or who were simply late to support the Clintons, and were largely frozen out as a result."
Scheiber does better in analyzing why Hillary doesn't make many liberal hearts beat faster than he does in building a case for Warren. Although such a primary would be entertaining:
"As in 2008, Greater Hillaryland, if not the Clinton campaign itself, would quietly work to disqualify Warren as a crazed, countercultural liberal."
But after all that, Scheiber is candid enough to admit that "Warren would probably lose."
Right.
"She remains a work in progress as a politician. She is still pedestrian in front of a crowd despite her strengths as a questioner and debater, and her Senate campaign last year was bumpier than it should have been."
Also, she'd have no foreign policy experience running against a former secretary of State.
Of course, many pols run for president to raise their profile, knowing full well they won't win. But I've seen no evidence that Elizabeth Warren falls into that category.
NYT on ObamaCare
I was critical of the New York Times for not running President Obama's semi-apology on health care on the front page, during a week when the paper ran a couple of upbeat stories on ObamaCare.
The buildup to the president saying he was sorry to the millions who have lost their policies was enormous before Obama sat down with Chuck Todd.
And on the day that Executive Editor Jill Abramson stuck that story inside, she fronted a piece about new administration rules requiring insurers to cover mental health the same way as physical illness.
As Capital New York asks, "What was the reasoning behind the Times' treatment of Obama's apology?"
"'The mental health story was ours exclusively and affects millions of people,' executive editor Jill Abramson told Capital in a statement given to us through a spokesperson. 'The Obama story was an "everyone has it" story,' Abramson said, though she allowed that it is "an important development in the ongoing controversy over the messy rollout of the HCA, which we cover very aggressively."
But sometimes a story that everyone has is the day's most important story; and there's nothing to stop a newspaper from offering a smart analytical take with plenty of reaction.
Top Twitter Talk